INGREDIENTS
310g (2 +1/2 cups) plain flour
1 teaspoon baking powder
1/2 teaspoon baking soda
1/2 teaspoon salt
1/2 teaspoon cinnamon (optional)
113g butter (1/2 cup), at room temperature
100g (1/2 cup) soft brown sugar
200g (1 cup) white castor sugar
60mls (1/4 cup), flavourless vegetable oil
1 teaspoon vanilla extract
3 medium eggs
2 1/2 bananas (1 1/4 cup), mashed
250mls (1 cup) buttermilk*
CHOCOLATE MASCARPONE FROSTING
200g Mascarpone, room temperature
60g (1/2 cup) cocoa powder
400mls cream
60g (1/4 cup) icing sugar
2 teaspoons vanilla extract
2 teaspoons vanilla extract
METHOD

1. Preheat the oven to 175C (345F) and line 2 x 8 inch (20cm) cake tins with baking paper.
2. In a medium sized bowl, sift flour, baking powder, baking soda, salt and cinnamon. Whisk to combine and set aside.
3. In a larger bowl, beat butter (with a hand held mixer or stand mixer with paddle attachment) until creamy. Gradually add the brown and white castor sugar and continue beating until it is light in colour and fluffy in texture. With the mixer still on, slowly add the oil and continue beating until combined.
4. Add eggs and vanilla extract to the butter mixture and mix until just combined. Mix in bananas. Add half the flour mixture and fold about 5 times. Now add 1/2 of the buttermilk and fold again. Add the rest of the flour along with the remaining half of the buttermilk and gently fold until combined (combining the ingredients this way helps to keep the batter light and prevents too much gluten from forming).
5. Divide the cake batter among the two cake tins and bake for 30 – 40 minutes or until a skewer comes out clean (or with a few loose crumbs). Leave to cool in cake tins for 5 minutes before inverting on a cooling rack.
6. Once completely cool, level the cakes with a serrated knife. Place one cake on a cake board and using a off-set spatula, spread 1/3 cup of frosting on the cake. Place the other cake on top and apply the rest of the mascarpone frosting. Decorate as desired then dig in!
7. To make the Chocolate Mascarpone Frosting: In a small bowl, mix the mascarpone and cocoa powder until well combined, set aside. In a separate bowl, beat the cream, icing sugar and vanilla until soft peaks form. Mix three tablespoons of the cream to the mascarpone mixture to loosen it up. Add mascarpone to the remaining whipped cream and beat together until combined (be careful not to over-mix, over-mixing will make the cream 'grainy').
NOTES
* Make your own buttermilk by placing one tablespoon of vinegar in a measuring cup and fill with milk to reach 250mls.
By Sarah Sears


PRO TIPS, TRICKS & EXTRAS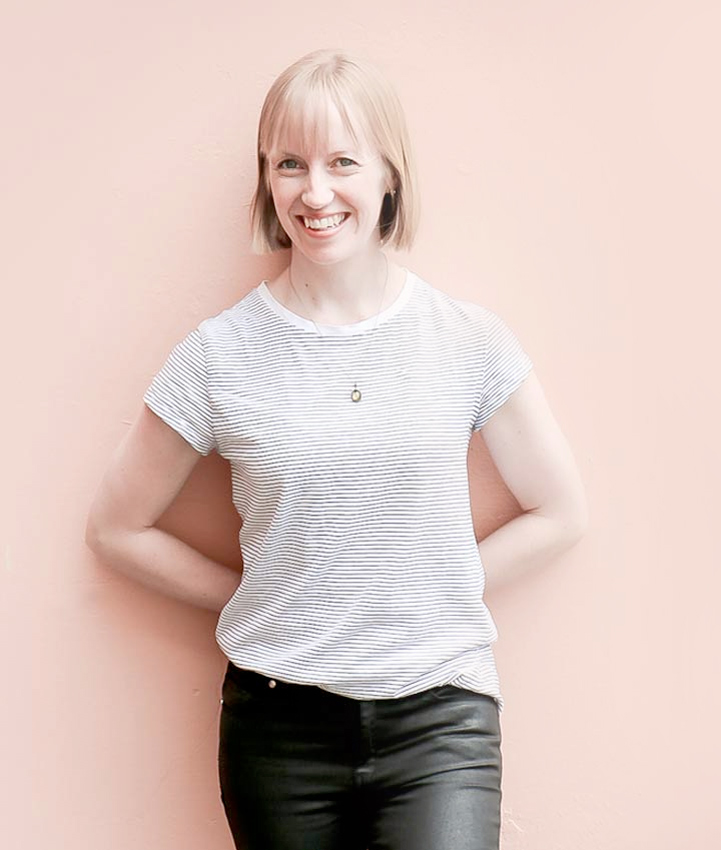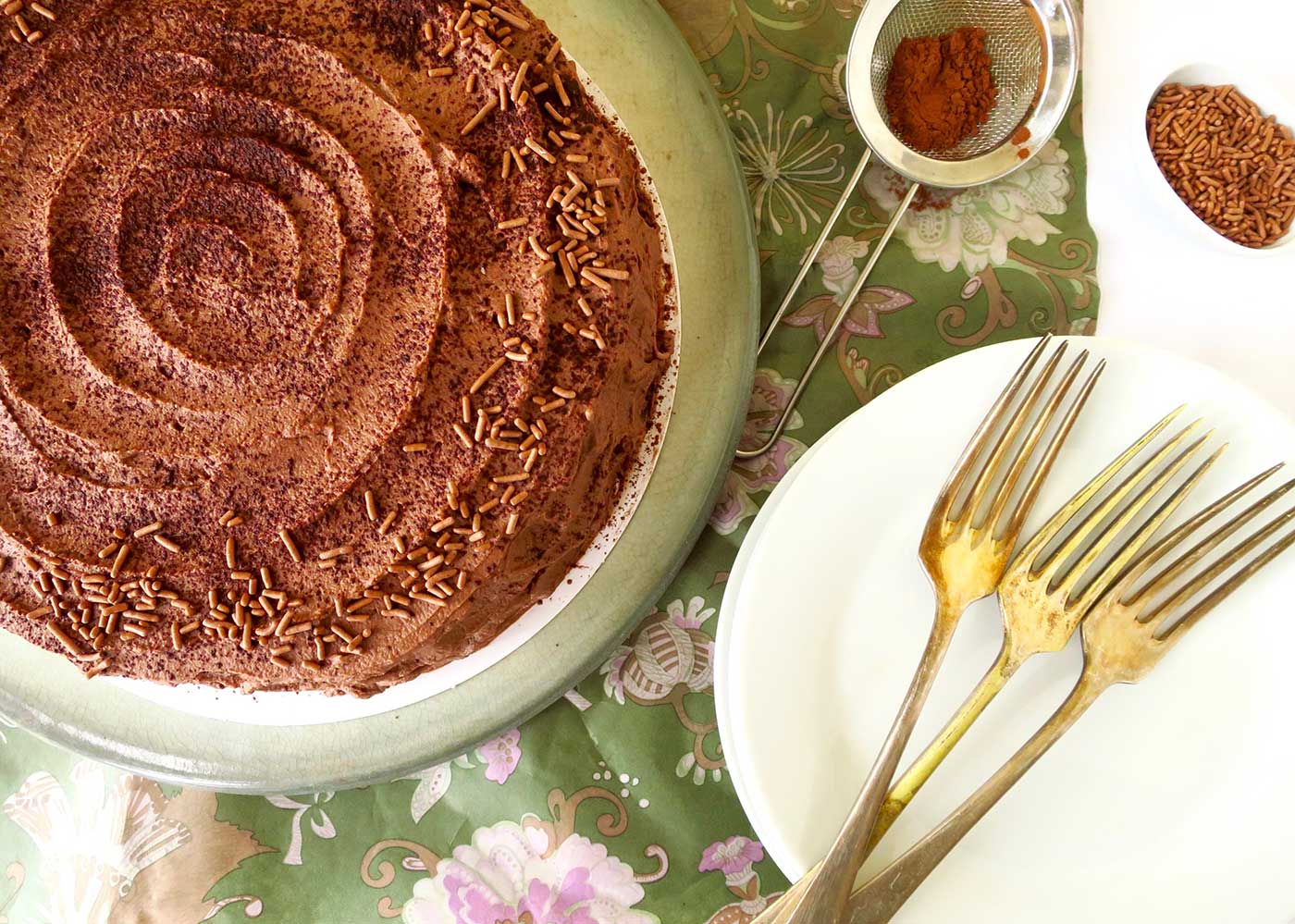 A deliciously light and fluffy banana cake, perfect for any occasion.
Say goodbye to dense and stodgy banana cake and HELLO to this super fluffy and light banana cake (AKA the best banana cake)!
I've made and tasted a lot of banana cakes in my time and too many of them have been either too dense, too gooey inside and/or just not that great.
That's when I decided to get busy and create the best banana cake. One that wasn't dry, stodgy or just 'okay tasting'.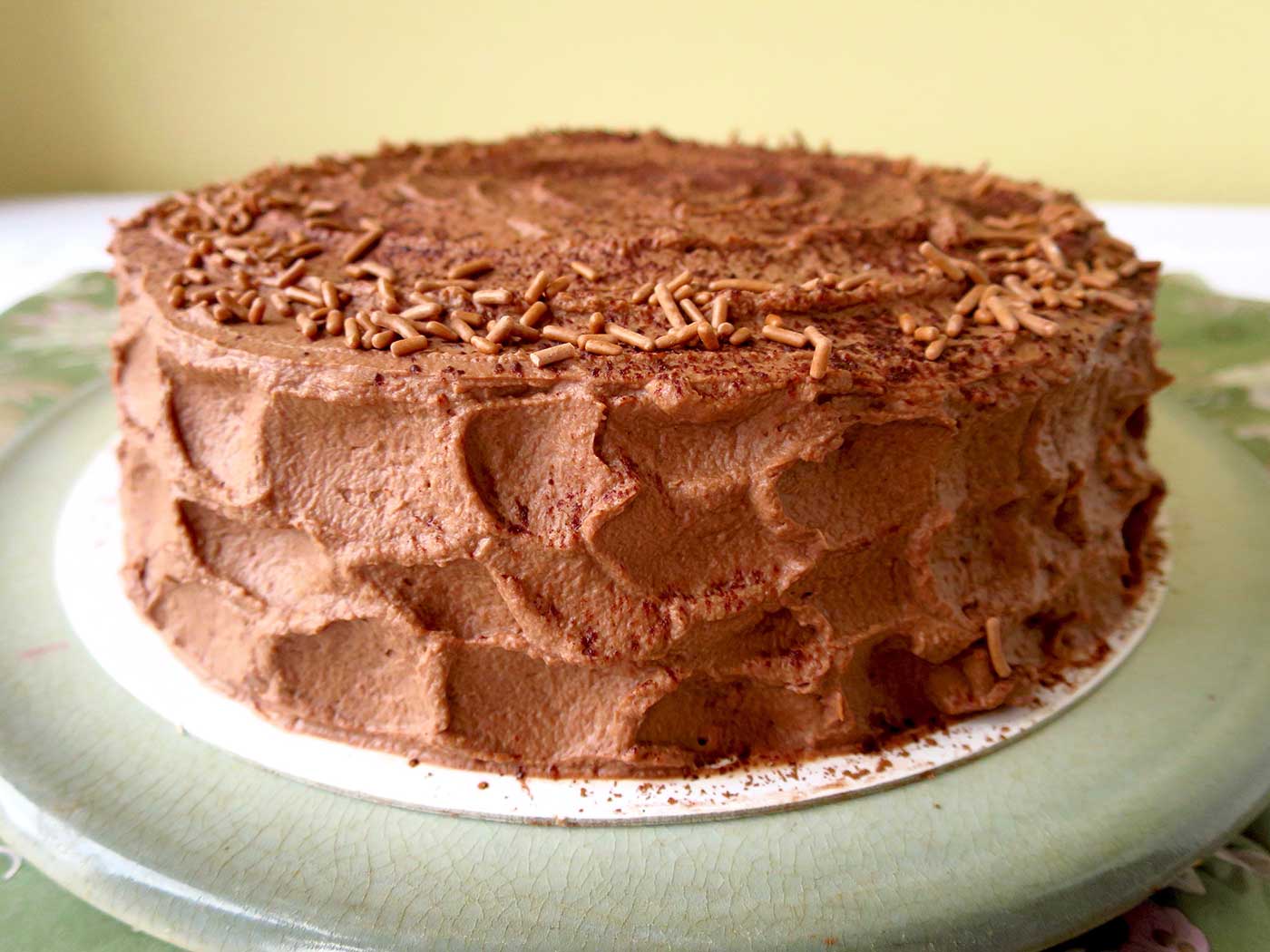 I baked this cake for Kevin to take to work for his birthday last week and many of his colleagues mentioned it was the best banana cake they had tasted also (thank-you FNZer's!). So don't just take my
cocky
word for it – if you're a banana cake lover, then I think you're going to really enjoy this recipe.
This banana cake can be frosted with any of your favourite frostings/buttercreams/icings. I was in the mood for a chocolate mascarpone cream frosting, which is what this little beauty is smothered in and layered with. Also, you don't have to make a two layer cake (if layer cakes scare you), bake it in a 10 inch (25cm) cake tin instead for a one layer cake (you may need to adjust baking time slightly).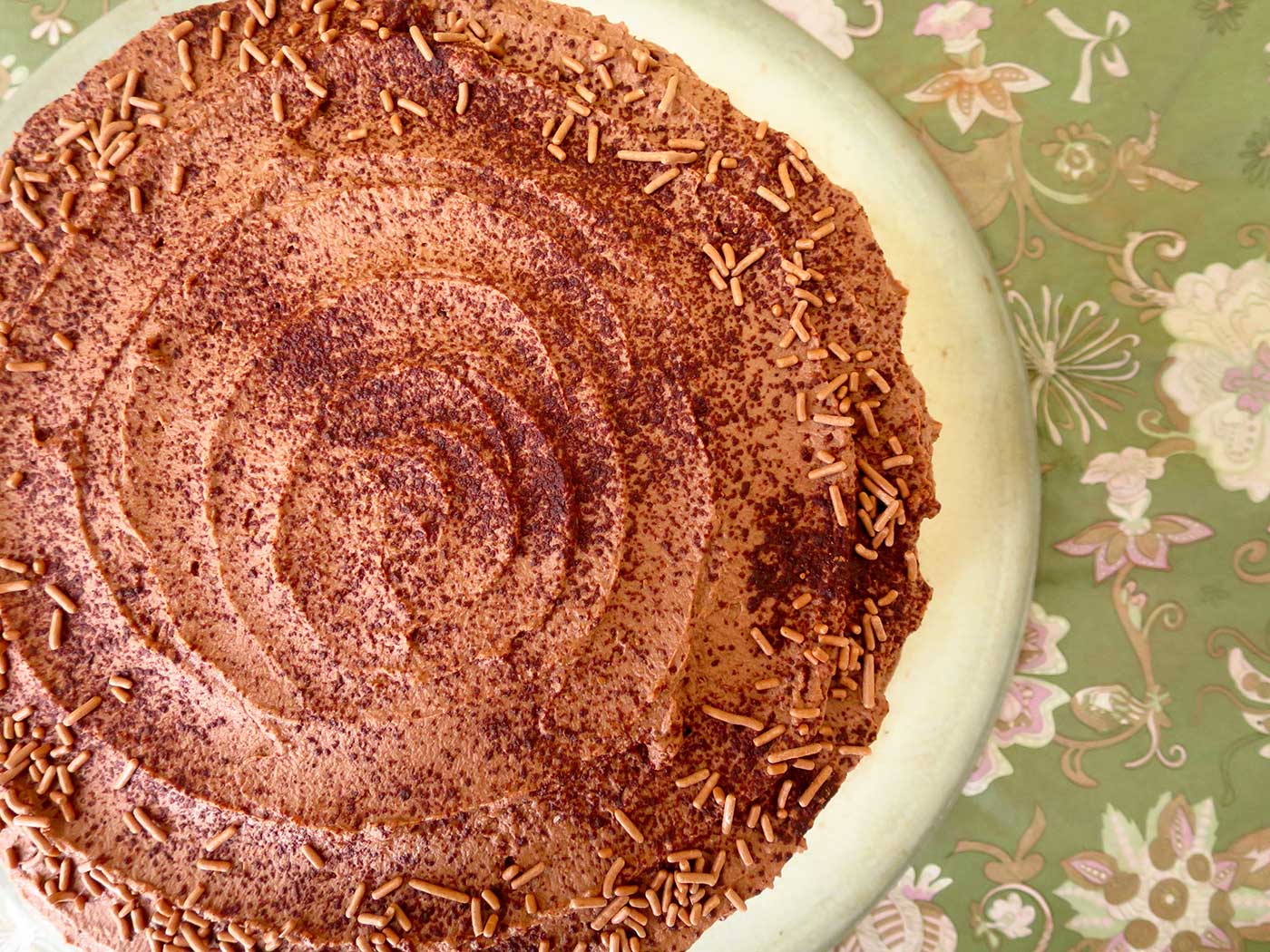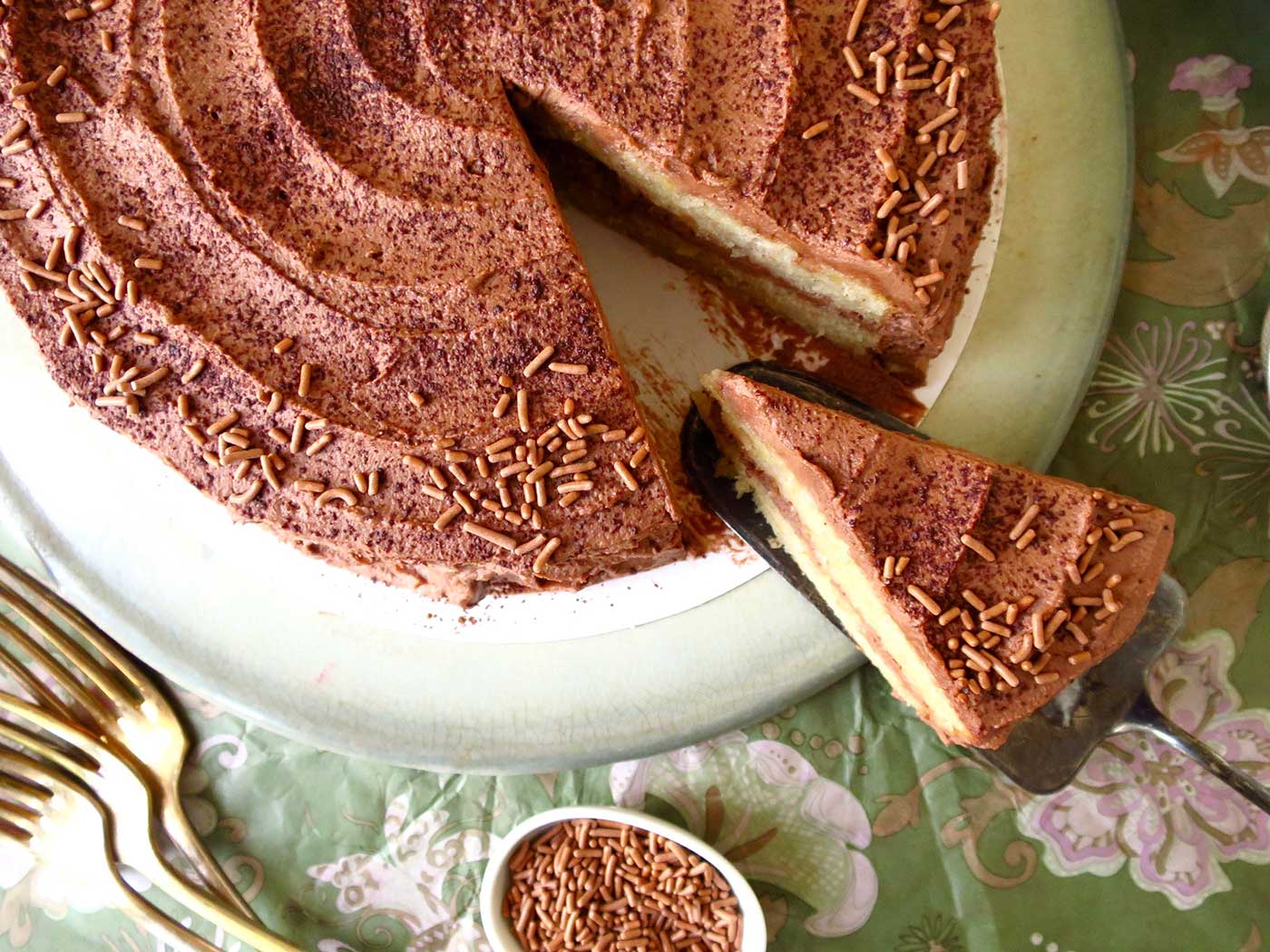 Baking Secrets:
There are just three important secrets in getting this cake light and fluffy.
The creaming method. Don't underestimate the power of this method – ever. It is the key to super light cakes.
Using a combination of oil and butter (just like we did here – see the difference between butter only compared with butter and oil).
Alternating the dry mixture and the buttermilk when adding it to the butter mixture – this helps prevent losing any air created as well as preventing too much gluten from forming.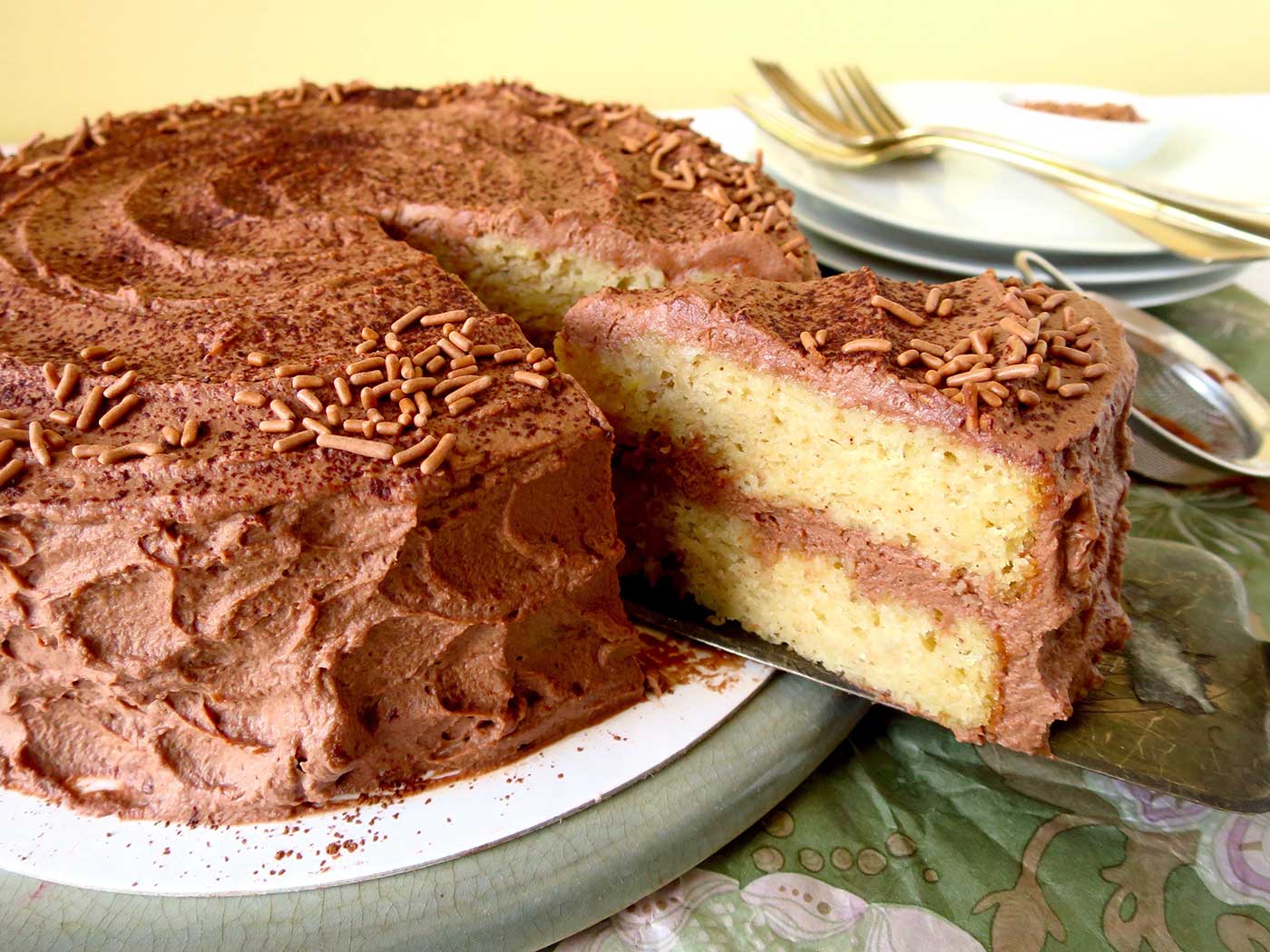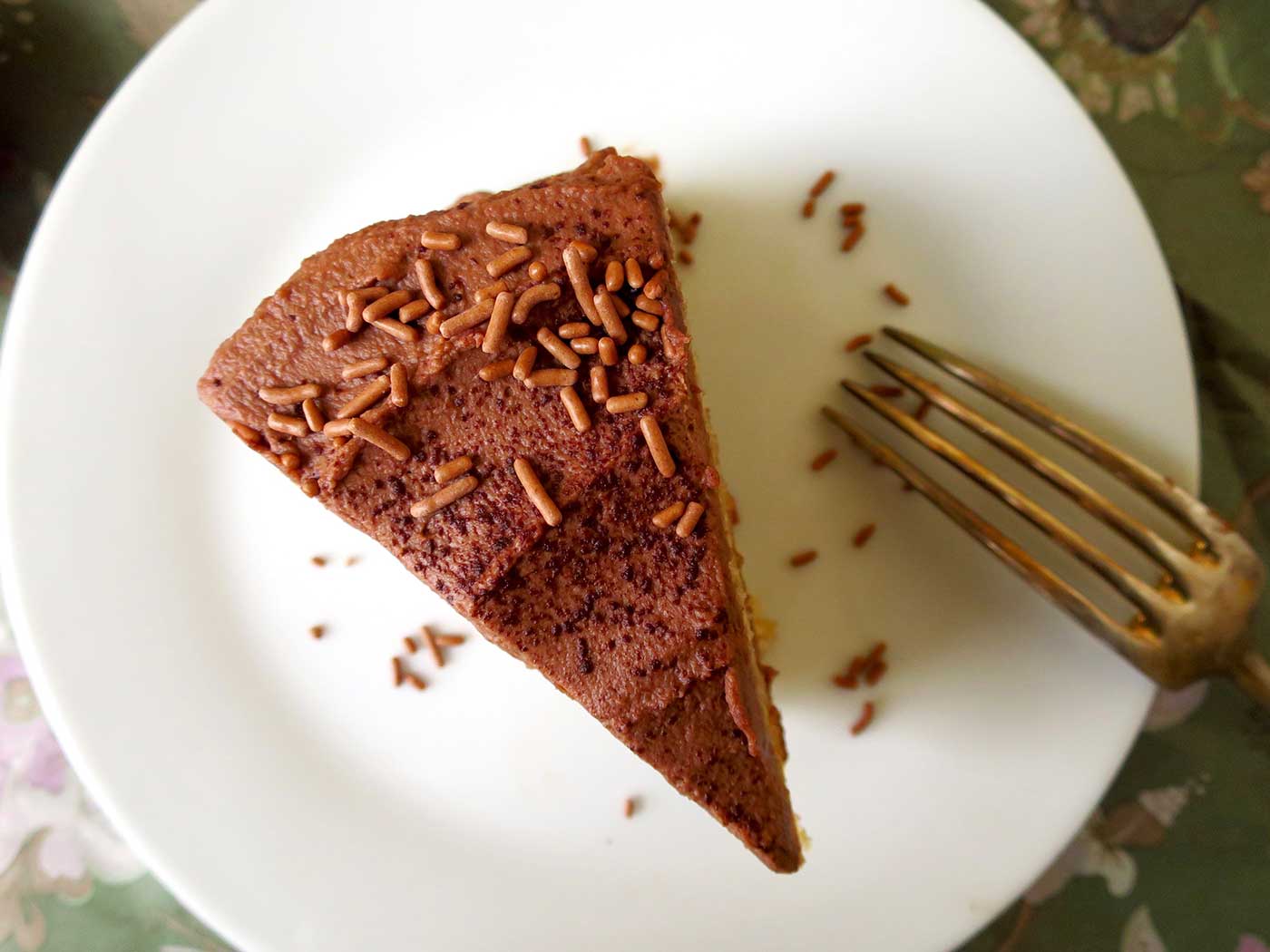 YOU MIGHT BE INTERESTED IN