INGREDIENTS
225g (2 cups) ground almonds, almond flour or almond meal
1 teaspoon baking powder
1/4 teaspoon baking soda
1/2 teaspoon cinnamon
1/2 teaspoon ground ginger
1/4 teaspoon cardamon (optional)
1/2 teaspoon salt
4 eggs, beaten
1/2 cup liquid or melted honey
1/4 cup canola oil
170g (3/4 cup) raspberries (frozen is fine)
Juice from one orange
GARNISH:
1/3 cup sliced almonds, toasted
2 tablespoons freeze dried berries (optional)
Icing sugar, sifted
METHOD
Preheat the oven to 160C (325F). Grease and line an 8 or 9 inch cake tin with baking paper.
In a large mixing bowl, whisk together the ground almonds, baking powder, baking soda, cinnamon, ginger, cardamom, and salt.
In another bowl, whisk together the beaten eggs, honey and oil until combined. Pour the wet ingredients into the dry. Stir just until combined then gently fold in the raspberries. Pour the mixture into the prepared cake tin.
Bake for 40 to 45 minutes or until the cake has come away from the sides of the cake tin. A toothpick inserted in the center should come out clean.
Whilst the cake is still warm, poke holes all over the cake with a toothpick or skewer. Squeeze the juice from the orange all over the cake until the whole surface area is covered. Leave the cake to cool for 10 minutes before inverting onto a cooling rack.
If desired, garnish with toasted sliced almonds over freeze dried berries before finishing off with a dusting of icing sugar. Enjoy!


PRO TIPS, TRICKS & EXTRAS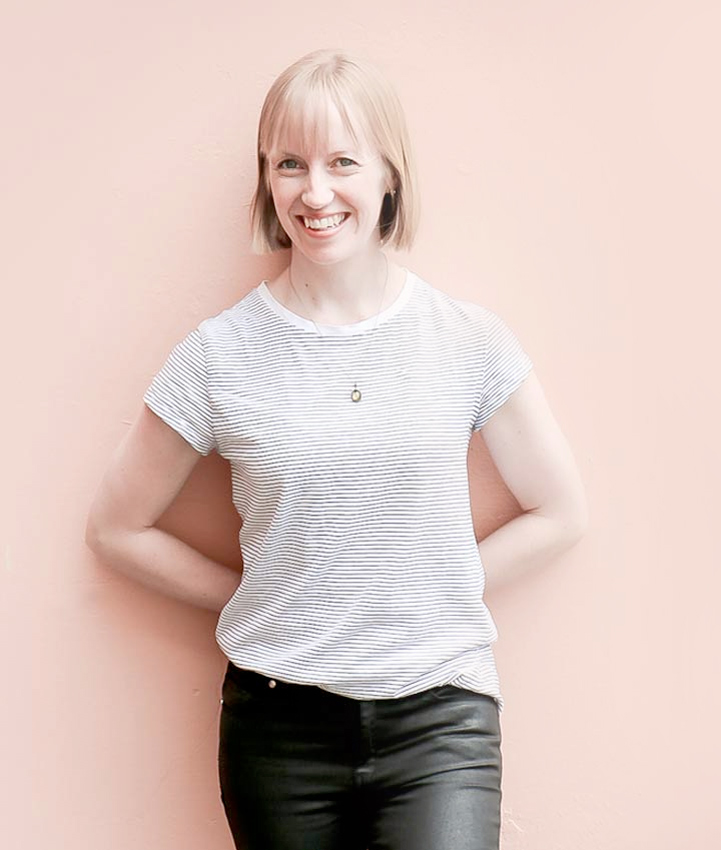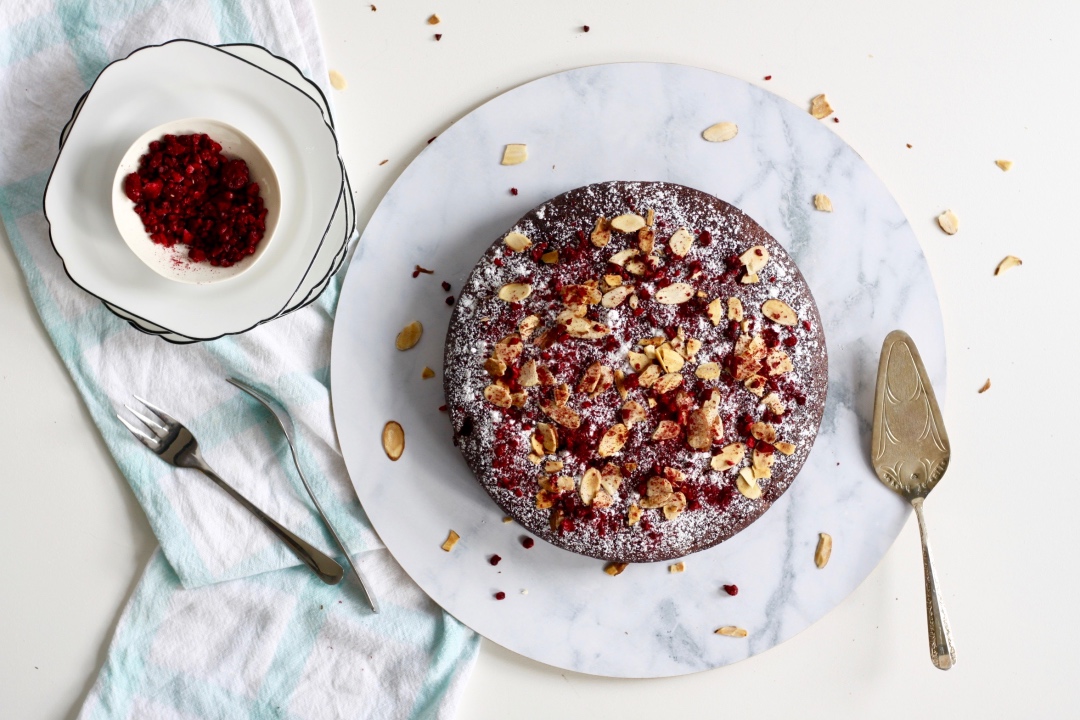 Have your gluten dairy free almond raspberry cake and eat it too!
This is definitely a cake that you can have more than one slice of and not feel guilty about. It's full of only good  ingredients. No refined sugar or unhealthy fats and not a gram of gluten or dairy in sight.
This cake relies on the oils from the ground almonds and canola oil to create moisture and the eggs work with the baking powder and baking soda to create lift – resulting in a wonderfully light yet moist cake that will leave you wanting more.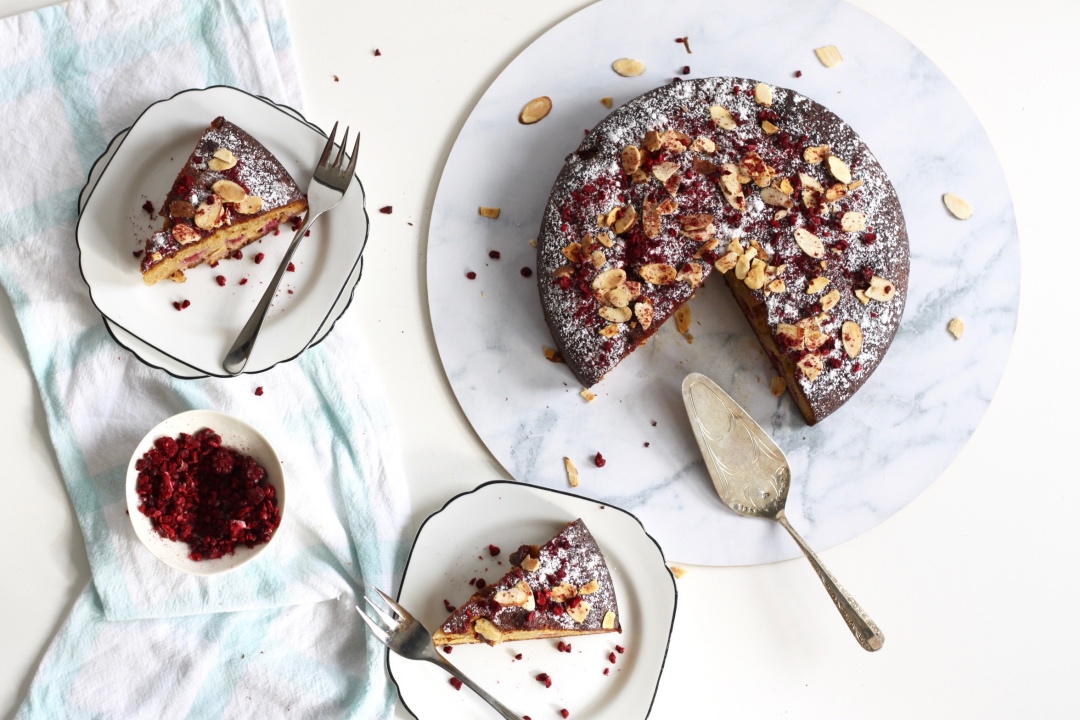 The flavour of this cake is something else. The juice of the orange pairs with the cinnamon, ginger and raspberries only too well, giving a slight hint of a spiced mulled wine. If you don't have frozen or fresh raspberries on hand, you could also use diced apple, pear, apricot or any other fruit you happen to have in your fruit bowl.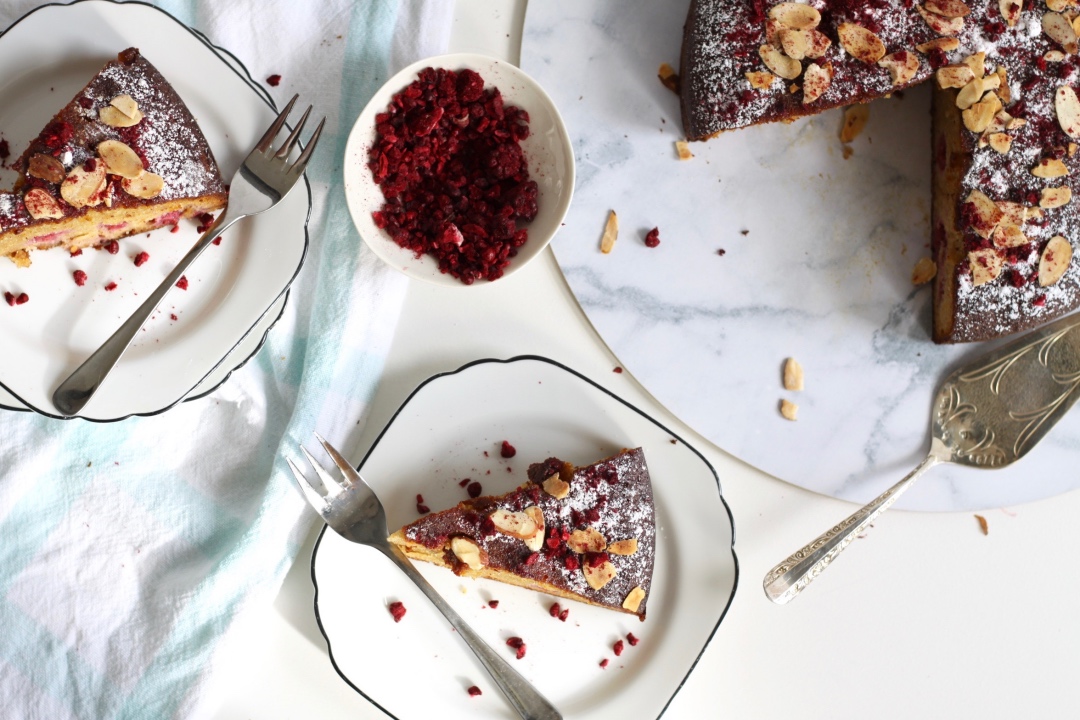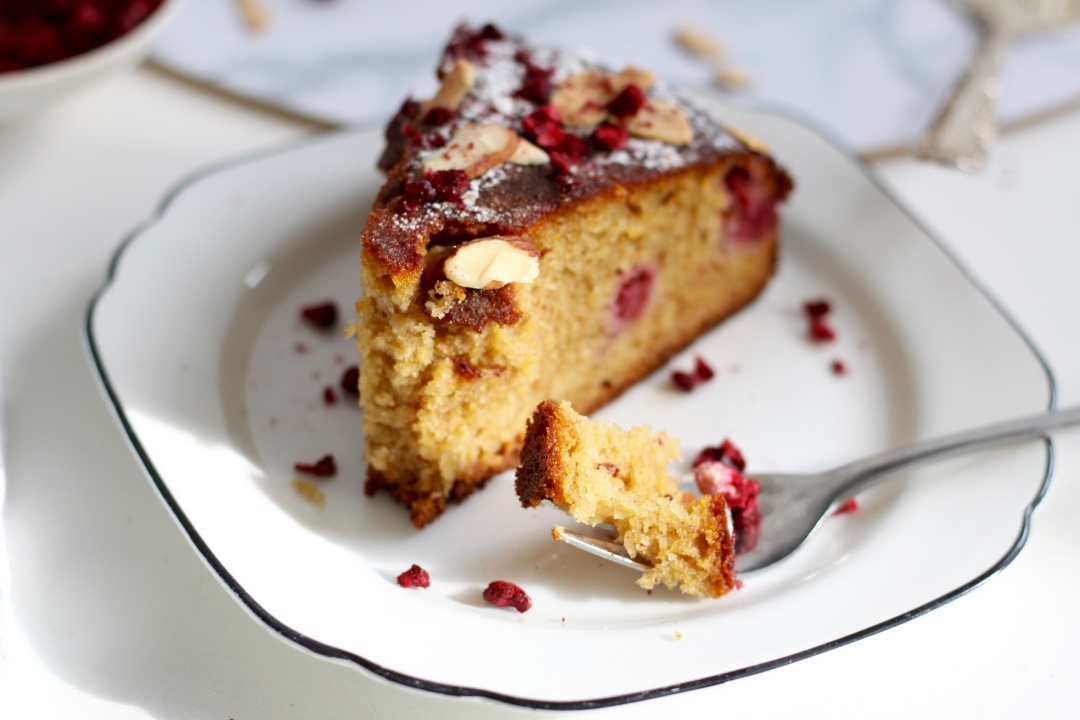 This cake is perfect for all occasions. Whether it's for a fancy brunch with friends, a casual afternoon tea or a sweet treat to finish a meal. You don't have to be gluten or dairy free to enjoy this cake – it suits all!
YOU MIGHT BE INTERESTED IN