INGREDIENTS
125g (1 cup) all-purpose flour
200g (1 cup) sugar
60g (1/2 cup) cocoa powder
1 teaspoon baking powder
1/2 teaspoon baking soda
1/2 teaspoon salt
1/2 teaspoon espresso powder (instant coffee)
1/2 cup milk mixed with 1 tablespoon vinegar (or 1/2 cup buttermilk)
60mls (1/4 cup) vegetable oil
1 egg
1 tsp vanilla extract
1/2 cup boiling water
CHOCOLATE BUTTERCREAM
200g butter, softened
1/4 teaspoon salt
40g (1/3 cup) cocoa powder
350g (2-3 cups) icing sugar
2 teaspoons vanilla extract
METHOD

1. Preheat oven to 160C/325F. Line a muffin tin with 12 cupcake liners. Set aside.
2. Combine flour, sugar, cocoa, baking powder, baking soda, salt and espresso powder in a large bowl and whisk to combine.
3. In a smaller bowl, combine milk with vinegar, vegetable oil, egg and vanilla and mix to combine.
4. Pour the wet ingredients into the dry ingredients and gently mix with a whisk. When nearly all combined, add the hot water and mix until combined (be careful not to over mix). The mixture will be very runny, this is good 🙂 '
5. Pour mixture into a pouring jug and distribute the batter between the cupcake liners (each should be about 3/4 full).
6. Place in the oven and bake 12-15 minutes or until a toothpick inserted in the center comes out clean.
7. Remove from the oven and allow the cupcakes to cool completely before frosting.
8. To make chocolate buttercream: Beat butter and salt together for one minute. Sift in cocoa and continue beating until well combined. Gradually add icing sugar and vanilla and beat until light and fluffy.
NOTES
* These cupcakes freeze really well. Just place them in an airtight bag or container.
** This recipe makes 16 – 18 standard cupcakes. Either make them all standard size, or use extra batter to make mini cupcakes.
By Sarah Sears
Adapted from Robyn Stone


PRO TIPS, TRICKS & EXTRAS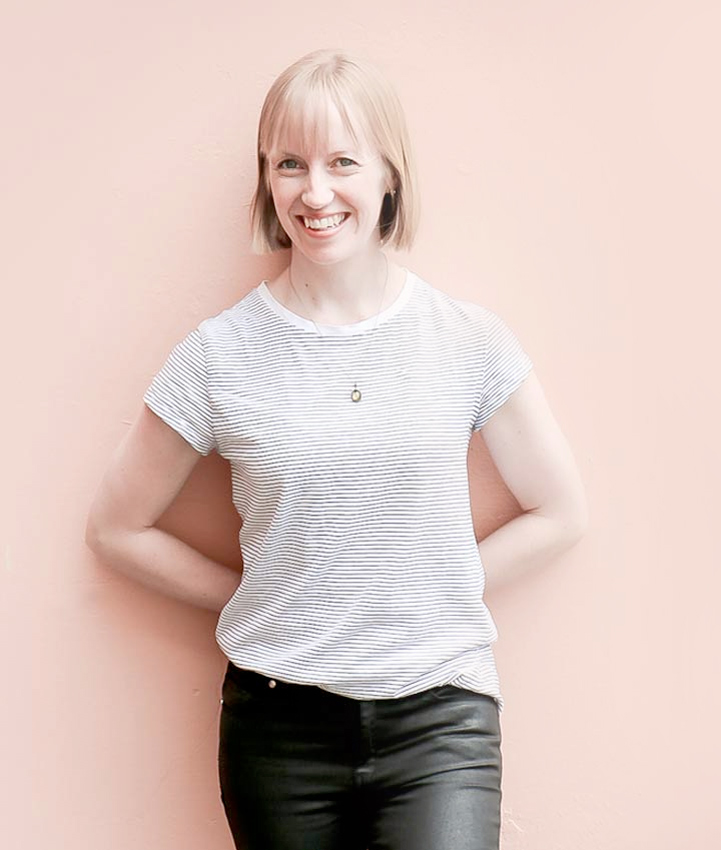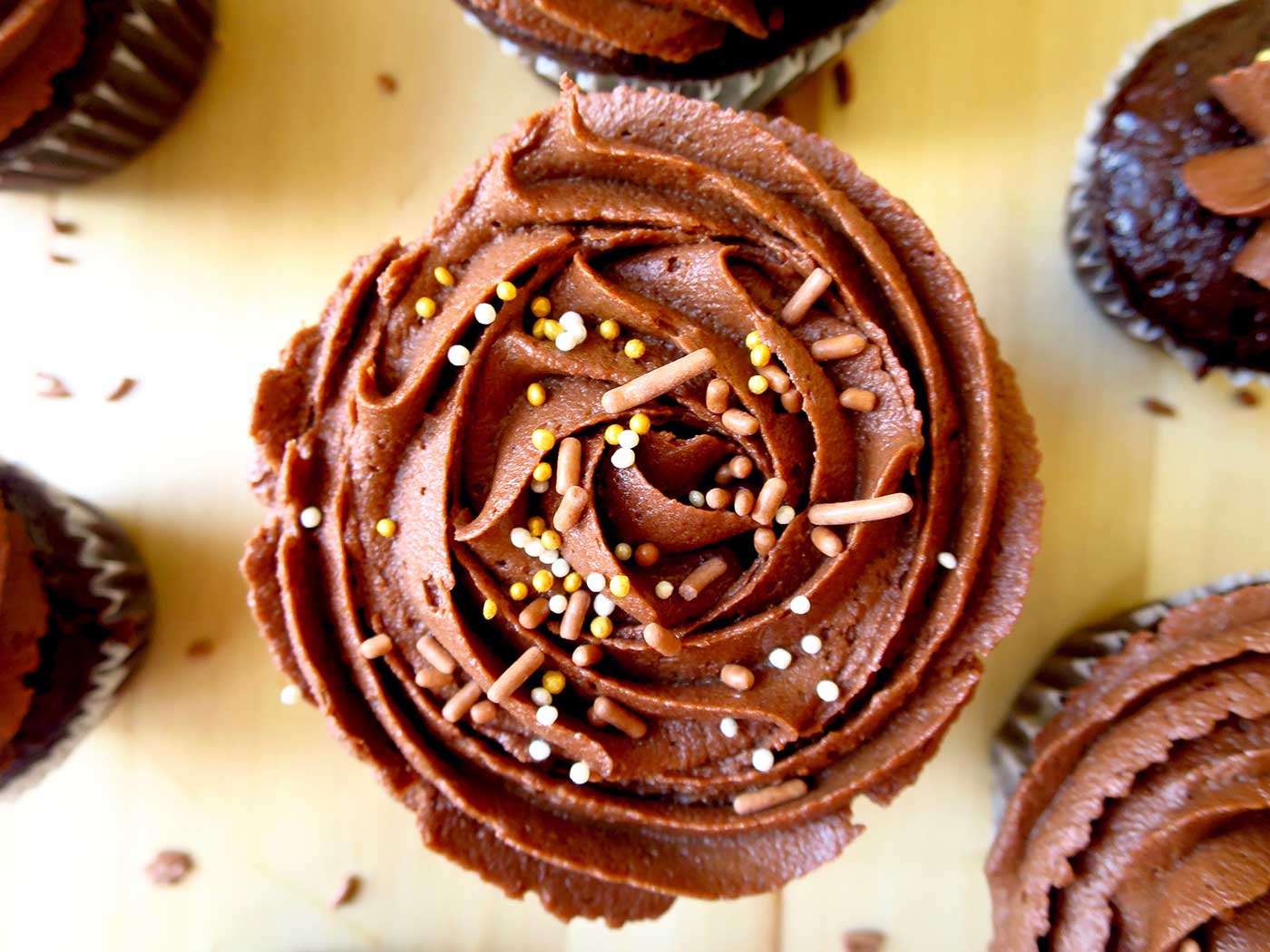 The easiest, quickest and most delicious chocolate cupcake recipe. No cake-mixers, electric beaters or elbow grease needed for these easy decadent chocolate cupcakes!
Be prepared to be amazed with these easy decadent chocolate cupcakes. They are velvety in texture, rich in taste, and by far the easiest cupcakes you'll ever make!
These are my go-to chocolate cupcakes and this batch was made for my friend who had to bring something delicious to share with his colleagues as it was his birthday… these were the perfect treat.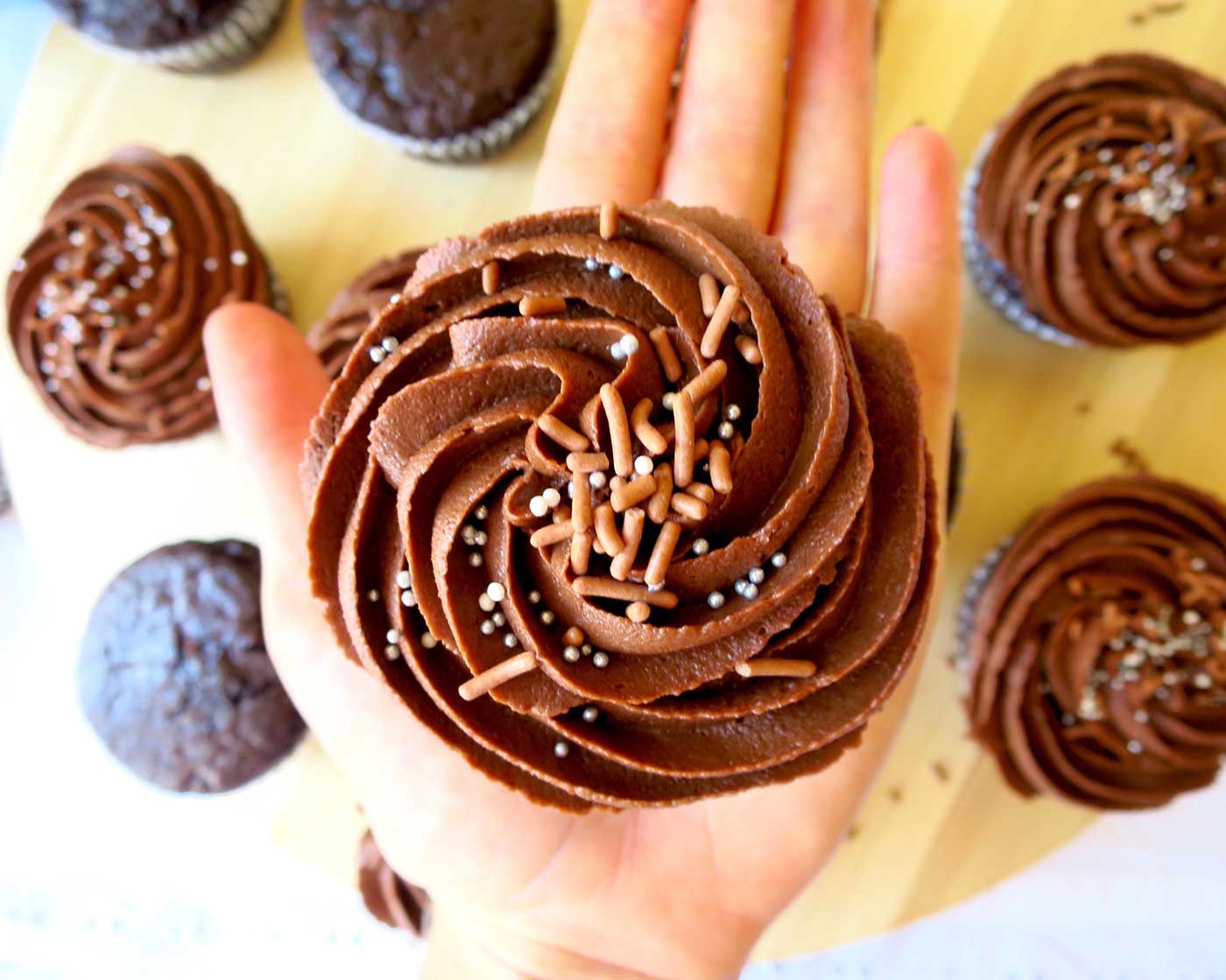 No butter, no creaming, no mixers…
Most cupcake recipes require cake mixers and several bowl, however this recipe doesn't use any butter which means no creaming method needed here. Instead, we're using the muffin method as we're using a liquid fat (oil). Oil is what helps contribute towards a velvet chocolate texture and incredibly moist cupcake (sorry if you don't like that word…).
Decorating these cupcakes…
Top them with any frosting/buttercream you like (I have some ideas for you here). I've used a classic chocolate buttercream (recipe below) which does require a hand mixer, but it's kinda worth it. I think all cupcakes deserve a little "shizz" so feel free to go a little crazy on the sprinkles.
"I don't have a pipping bag…"
No problem! You can spread the frosting on with a knife just as easily to get a Magnolia Cupcake look or you can fill a plastic zip-lock bag with frosting, snip one corner off and pipe away.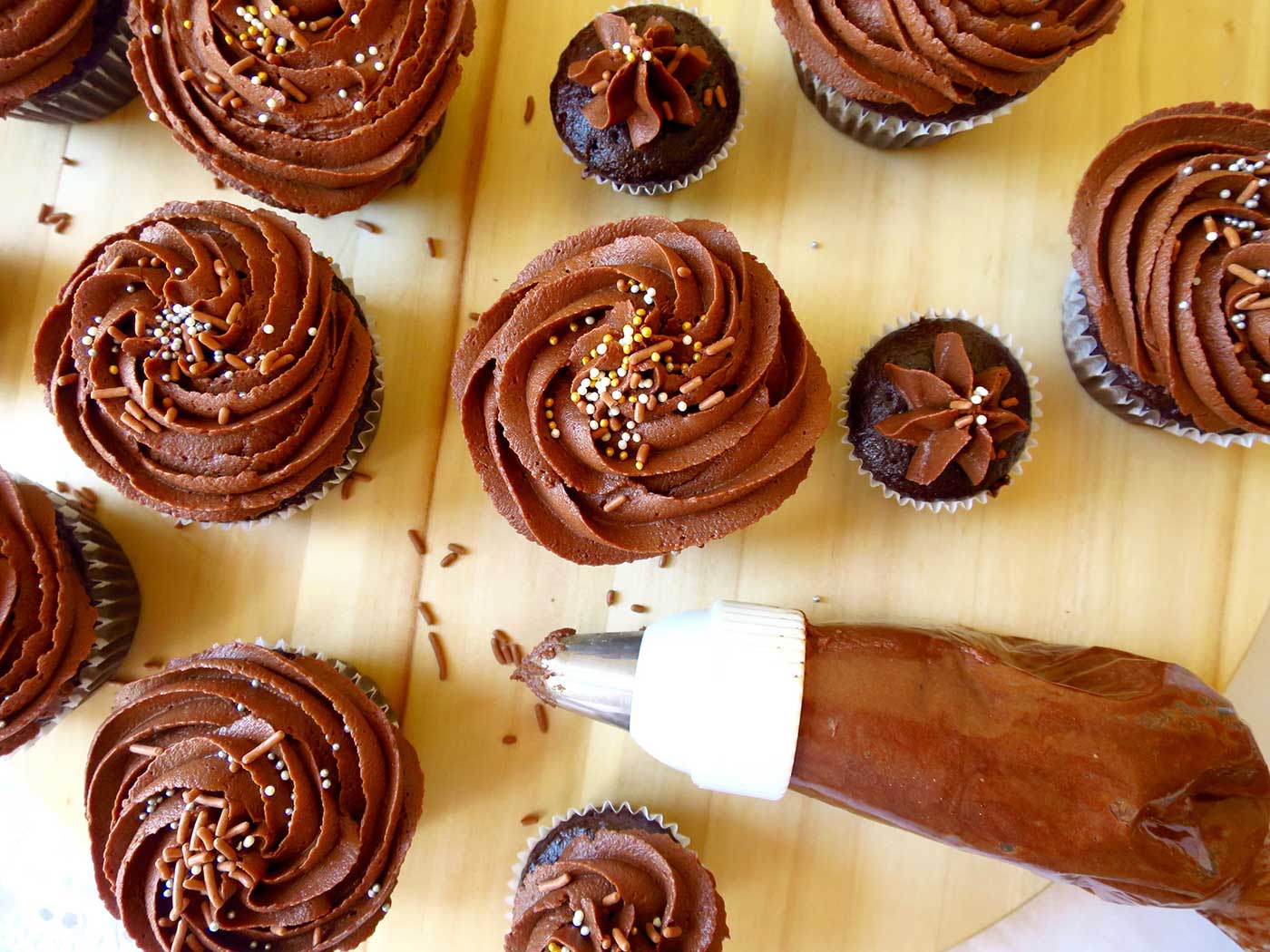 YOU MIGHT BE INTERESTED IN