INGREDIENTS
90g (3/4 cup) wholemeal flour (I like wholemeal spelt flour)
30g (1/4 cup) natural cocoa powder
1 teaspoon ground cinnamon
1 teaspoon baking powder
1/2 teaspoon salt
1 teaspoon vanilla extract
2 eggs
100g (1/2 cup) soft brown sugar
65ml vegetable oil
1 cored, diced apple (I like the skin on for easiness)
CRUMBLE TOPPING
60g (1/2 cup) flour
100g (1/2 cup) brown (or white) sugar
20g (1/4 cup) rolled oats
1/4 cup nuts, chopped (I like walnuts and almonds)
1/2 teaspoon each of mixed spice and cinnamon
110g (1/2 cup) butter, melted
METHOD

1. Preheat oven to 180C (350F) and line a 8 inch spring form baking tin with baking paper.
2. In a medium sized bowl, whisk the flour, cocoa powder, cinnamon, baking powder, and salt until combined. Toss the apple pieces with 1 tablespoon of the flour mixture and set aside.
3. In another bowl, add eggs and sugar. Using a hand mixer, beat until thick and glossy. With the mixer still on, slowly drizzle the oil in.
4. Gently fold the wet mixture into the dry mixture until just combined. Add the apple pieces and continue to fold. Add crumble topping.
5. Pour mixture into prepared cake tin and bake for 20- 25 minutes or until a toothpick inserted comes out clean.
Crumble Topping

Combine all ingredients in a bowl and mix well to combine.
By Sarah Sears


PRO TIPS, TRICKS & EXTRAS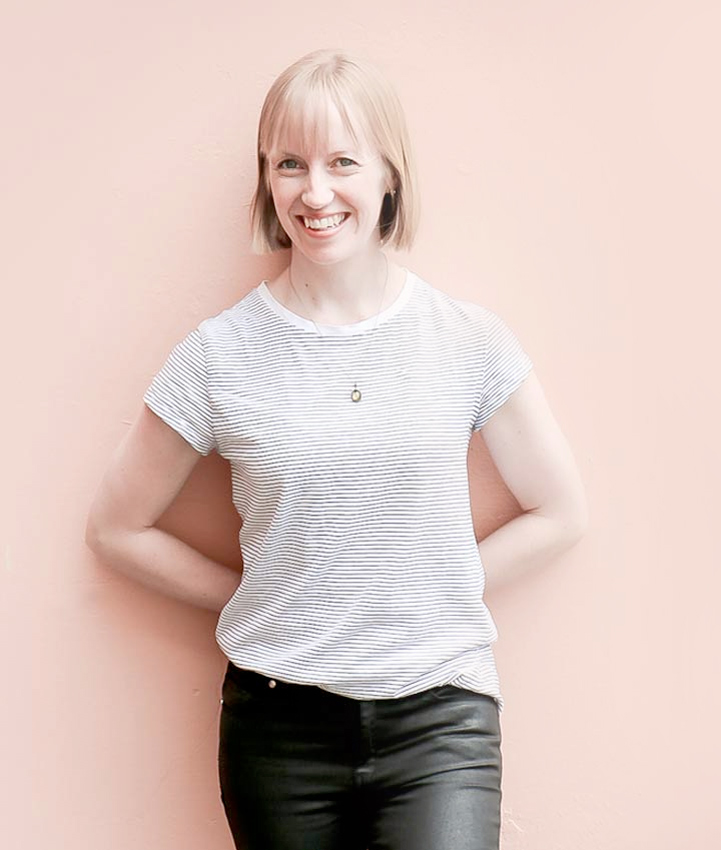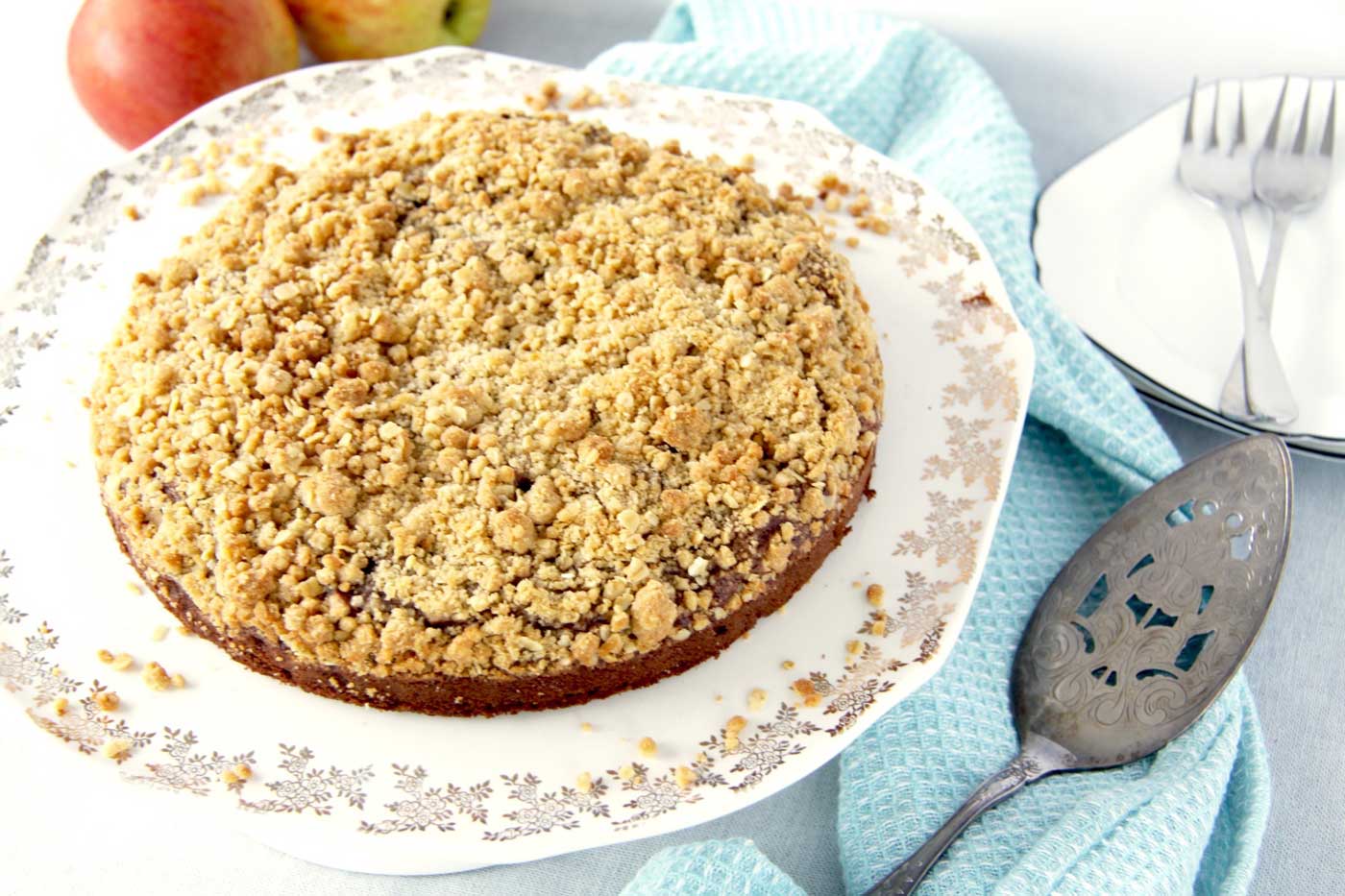 Chocolate cake meets apple crumble. A velvet-textured chocolate cake, studded with apple pieces and topped with a crunchy crumble topping.
Those who have ever done traveling/sight-seeing with me before know that I have to love to stop for cake, at least once a day. As Kevin was my partner in crime during our trip in Germany over Easter, he was summoned to helping me trial several different cakes from German bakeries. From cheesecakes and donuts, to tarts and sponge cakes, we managed to taste our way through a few bakeries. One cake in particular however stuck in my mind, it was a chocolate apple cake and it is what inspired me to make this chocolate apple crumble cake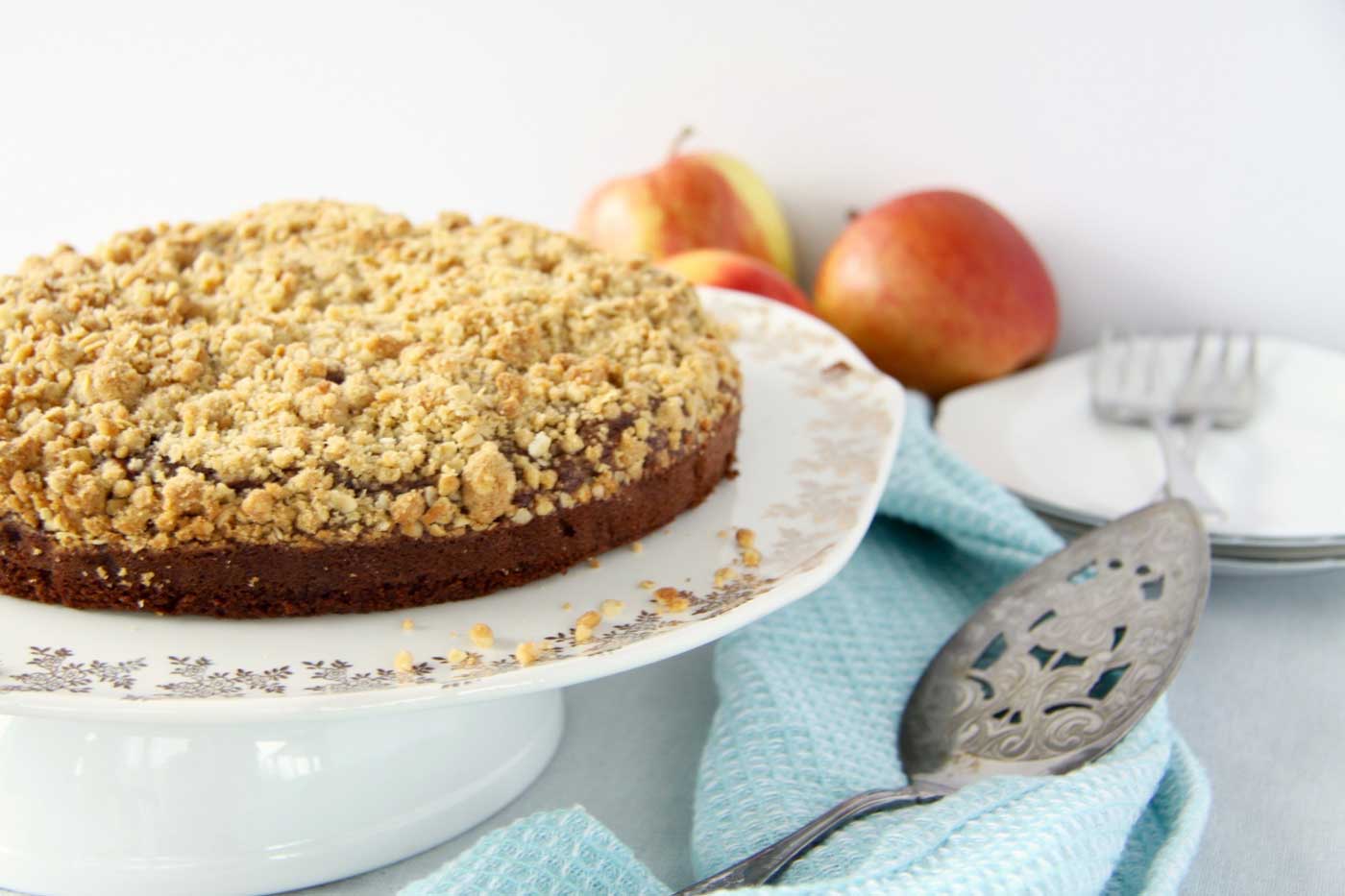 The version I tried in Munich was a little bit dry and didn't have much flavour, but I liked the combination of chocolate and apple. So when I got back to my kitchen at home, I threw some ingredients in a bowl with these flavours in mind and what resulted was an ever so moist, chocolate apple cake with a crunchy crumble topping.
Believe me when I tell you that biting into this cake is a very satisfying sensory experience – in just one mouthful you taste the velvety smooth cake followed by soft cooked apple pieces then a deep crunch from the crumble topping…
(This is what happens when chocolate cake meets apple crumble, why I haven't we married these two together before now?)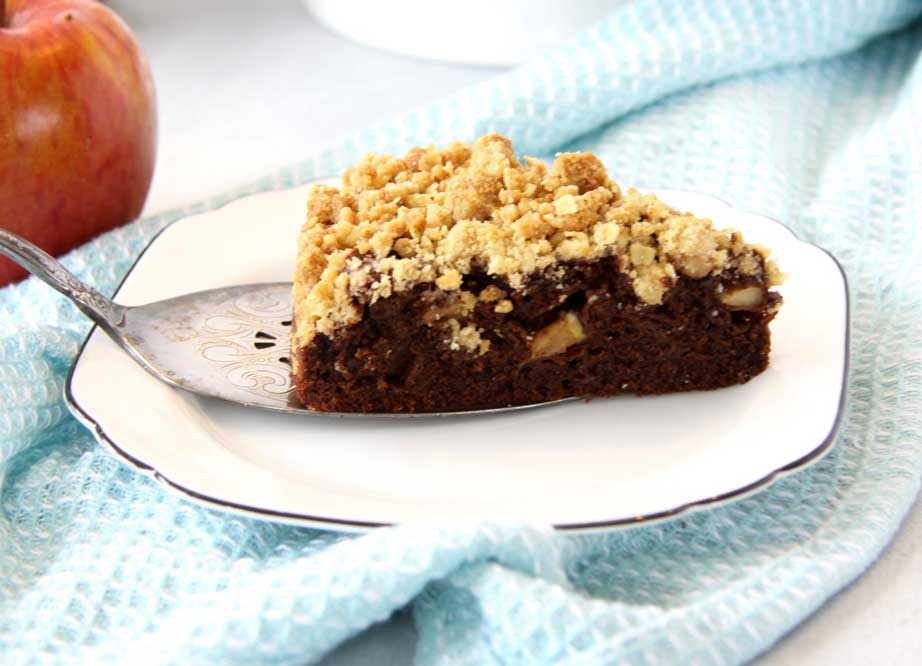 Let's talk about what makes this cake so good…
Baking Secrets:
To achieve the melt-in-your mouth texture I used a couple of ingredients that are essential for adding moisture to cakes:- oil (as we've discussed before, oil coats the flour proteins better than butter, protecting them from forming gluten and locking in lots of moisture).- brown sugar (this delicious stuff contains molasses which helps in adding moisture to baked goods. Even after the cake is baked, brown sugar draws in water from the air, making the cake more moist over time.)- apple (fruit is a great way to add moisture to baked goods due to its water content. In this cake, chopped raw apple is added to the cake batter before baking, that way all the apple juices end up in the cake – more moisture!)
For a nutty, wholesome flavour, I used wholemeal spelt flour (…and if I'm really honest, to help me feel a little better about eating yet more cake). This gives the cake a nutty, wholesome flavour and combined with the cinnamon, adds more depth. If you don't have wholemeal spelt flour, no problem! You can substitute it with any other wholemeal flour.
There is no need to peel your apples before adding them to the cake batter. The skin cooks down and you don't even notice it's there – extra fiber for us, tick! Of course, if you prefer you can peel your apples first.
Tossing the apples in the flour mixture before baking prevents the apples from sinking to the bottom of the cake.
If you need a reminder about a quick and easy way to line your cake tin, click here.
If you like chocolate cake and apple crumble, then this could be your new favourite dessert (you can thank me later ;)).
If you're not a crumble fan then just omit the crumble topping – as much as I love it with the crumble topping it does taste pretty incredible drizzled with a hot chocolate fudge sauce instead. Whoa.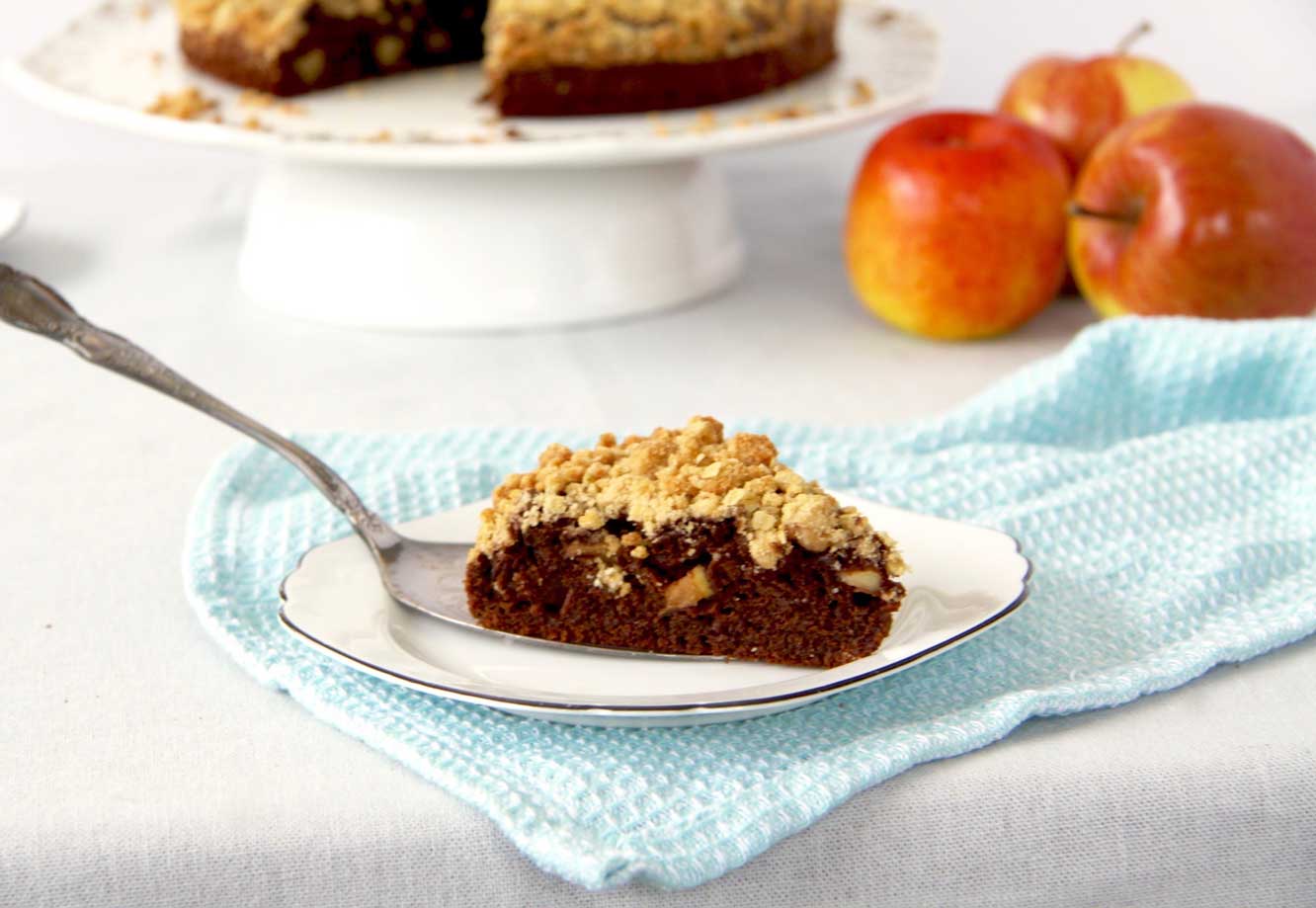 YOU MIGHT BE INTERESTED IN