PRO TIPS, TRICKS & EXTRAS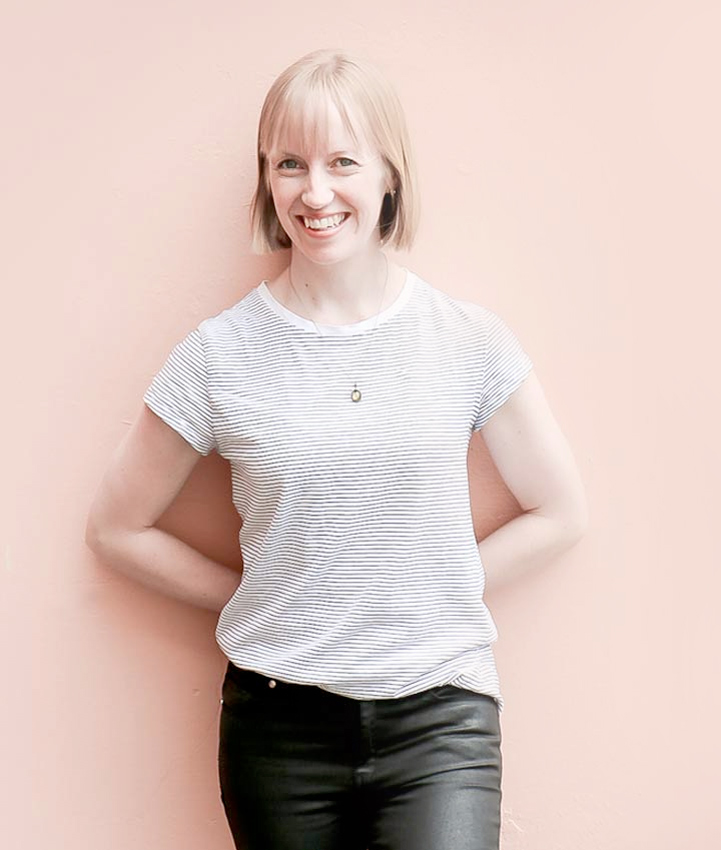 A tender and fluffy vanilla cake, perfect for any occasion.
In my opinion, all home-bakers need a classic vanilla cake recipe in their baking repertoire. They are a great base to get creative with (like using them for a Neapolitan cake, Victoria sponge, tiramisu cake, to name a few) or if it's a really good recipe, eating it just as is with a classic vanilla bean buttercream.
My go-to vanilla cake used to be this one from Bakerella. It was a pretty good cake, but it had the tendency to be dry and slightly crumbly and it didn't quite fit my 'vanilla-cake-OCD-taste-buds'. Other recipes I have found in the past also didn't quite cut the mustard as they seemed to either require too much work (like needing to beat egg whites or extra cream), were similar to the one above or included shortening and/or waaaay too many eggs which made it an expensive cake.
So instead of searching in other books, I got to work in my kitchen and began developing my own vanilla cake recipe. Many cakes were made, tested, thrown out, turned into cake pops and given to Kevin's work colleagues in the process until I finally found the right one. It definitely took several cakes before I got the perfect result, but it was well worth it and I'm so excited to share this recipe with you.
This vanilla cake is everything I think a classic vanilla cake should be:
It's moist
It's sweet, but not too sweet
It takes no time to make
It's delicious and gets top ratings from everyone who has tried it 🙂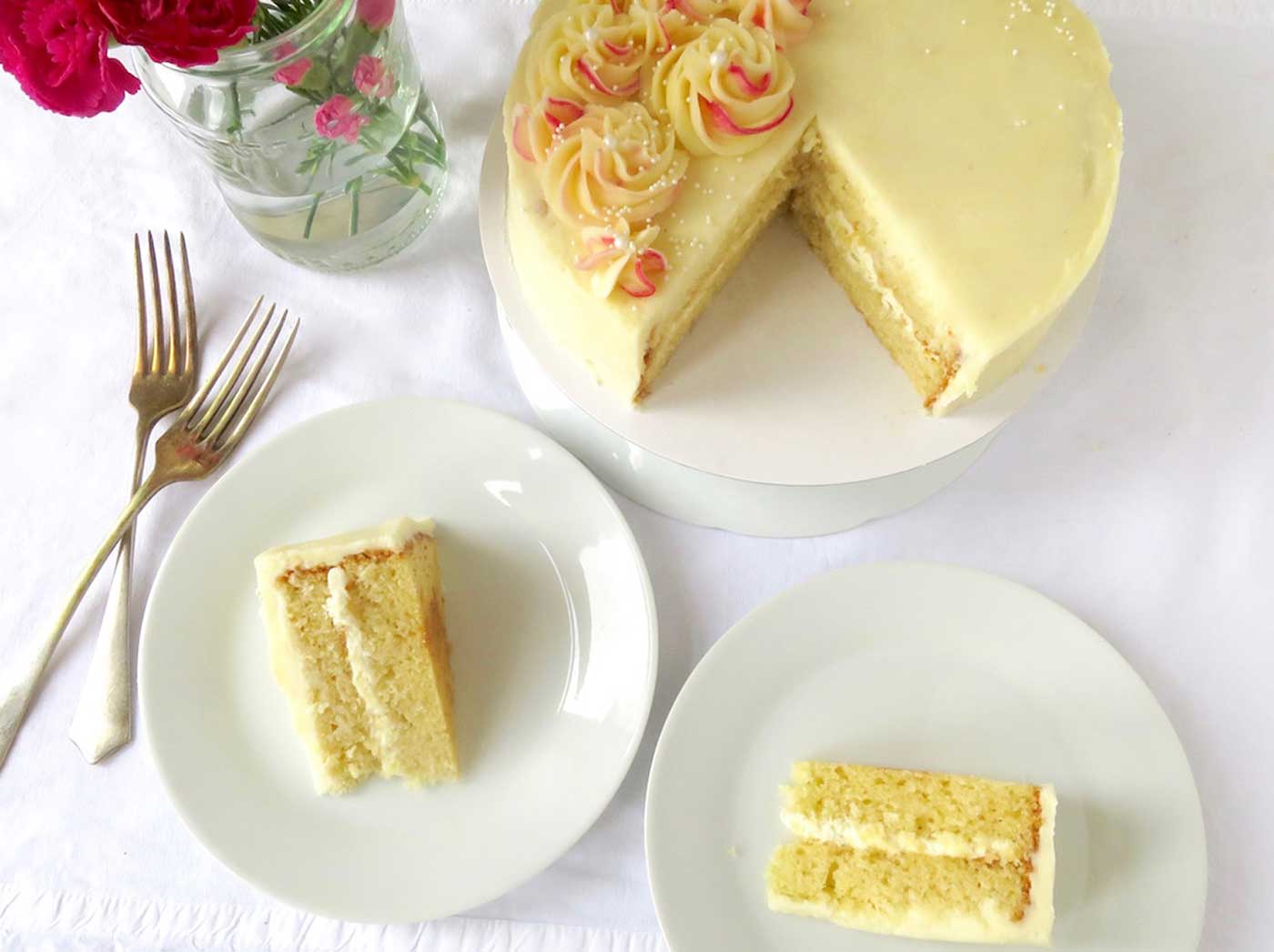 BAKING SECRETS:
The biggest and perhaps most distinctive baking secret in this vanilla cake recipe is similar to the one I discovered when making these almond cupcakes…
Baking Secret #1:
I use both butter and oil as the fat. The butter is used for the flavour and the oil is used to create a super tender and moist texture.
Baking Secret # 2:
I use extra egg yolks to help contribute richness and moisture to the cake.
These two little secrets are what makes this classic vanilla cake stand out from all the rest and in my humble opinion, it's the best vanilla cake I've tried yet.
Hence, this classic vanilla cake is now my go-to vanilla cake for all occasions and who knows, perhaps it will become yours too?
ASSEMBLING THE CAKE
I like to level my cakes when layering them so that they are nice and flat. It also makes it easier to apply the buttercream/fondant/any decorations. I find it easiest to do this with a serrated knife (my bread knife is great for this).
Don't forget – your 'cake scraps' can be turned into cake pops, mini berry trifles, cake crumbs for ice cream etc. (the list could go on and on…).
FILLINGS AND BUTTERCREAM OPTIONS
The vanilla cake featured here is filled with marscapone vanilla cream (marscapone mixed with whipped cream, vanilla and sugar) that I had left over from another cake which was the perfect addition and particularly nice for those who don't like too much buttercream with their cake. The options are limitless really when it comes to filling and frosting flavours for the cake, but here are some ideas:
Fill with berry jam and chocolate ganache, frost with chocolate buttercream
Fill and frost with vanilla buttercream (see recipe below).
Fill with berry jam, whipped cream and sliced strawberries. Repeat fillings on top layer for a Victoria sponge look.
Fill and frost with chocolate or peanut butter buttercream
For a guide on buttercream, check out this post here.
For a smooth, crumb-free finish, it's best to apply a crumb coat on the cake first. This is just a thin layer of buttercream that helps hold in the cake crumbs so that they stay put and don't appear on the finished cake. When the crumb coat is applied, place the cake in the fridge until the crumb coat sets and then apply the rest of the buttercream.




INGREDIENTS
310g (2 +1/2 cups) plain flour
1 teaspoon baking powder
1/2 teaspoon baking soda
1/2 teaspoon salt
1/4 teaspoon scraped vanilla beans
113g butter (1/2 cup), softened
300g (1 + 1/2 cups) castor sugar
60mls (1/4 cup), flavourless vegetable oil
1 teaspoon vanilla extract
3 medium eggs
1 medium egg yolk
250mls (1 cup) buttermilk
VANILLA BUTTERCREAM
400g (1 + 3/4 cup) butter, softened
650-800g (5 – 6 cups) icing sugar, sifted
3/4 teaspoon salt
2 teaspoon vanilla extract
1/2 teaspoon vanilla bean paste (optional)
METHOD

1. Preheat the oven to 175C (345F) and line 2 x 8 inch (20cm) cake tins with baking paper.
2. In a medium sized bowl, sift flour, baking powder, baking soda, salt and vanilla bean paste. Whisk to combine and set aside.
3. In a larger bowl, beat butter (with a hand held mixer or stand mixer with paddle attachment) until creamy. Gradually add sugar and continue beating until it is light in colour and fluffy in texture. With the mixer still on, slowly add the oil and continue beating until combined.
4. Add eggs and vanilla extract to the butter mixture and mix until just combined. Add half the flour mixture and fold about 5 times. Now add 1/2 of the buttermilk and fold again. Add the rest of the flour along with the remaining half of the buttermilk and gently fold until combined.
5. Divide the cake batter among the two cake tins (there should be roughly 630g in each tin) and bake for 30 – 40 minutes or until a skewer comes out clean (or with a few loose crumbs). Leave to cool in cake tins for 5 minutes before inverting on a cooling rack.
6. Once completely cool, level the cakes with a serrated knife. Place one cake on a cake board and using a off-set spatula, spread 1/2 cup buttercream on the cake, making sure the buttercream is flat and even. Place the other cake on top and apply a crumb coat of buttercream. Allow the crumb coat to set in the fridge for 10 minutes before applying the rest of the buttercream.
7. To make buttercream
Place softened butter in a medium sized bowl and beat until fluffy with a stand/hand held mixer. Add salt and continue to beat for 20 seconds or so. Gradually add sifted icing sugar (about 3/4 cup at a time), and beat well after each addition (the mixture will be thick and will thin out with more beating and once you add vanilla). Add vanilla extract and paste and continue beating until you reach desired consistency/taste. If it is too thin, add more icing sugar, if it's too sweet add more salt.
Notes
* If you would like to make this into a three layer cake, simply multiply the recipe by 1 + 1/2.
By Sarah Sears
YOU MIGHT BE INTERESTED IN