INGREDIENTS
312 ml (1 and 1/4 cup) milk
150g (3/4 cup) white sugar
3 teaspoons dried yeast
500g (4 cups) all purpose flour (or 400g Hladka and 100g Polohruba if in Czech Republic)
1/2 tsp salt
Zest from 1 lemon
2 egg yolks
113g (1/2 cup) butter, melted and cooled
1/3 cup raisins, sultanas or dried cranberries (Option: soak your dried fruit in hot water to 'plump' or rum for extra flavour – make sure you drain liquid before adding fruit)
TOPPING
1 egg
1/4 cup slivered or shaved almonds
Icing sugar for dusting
EQUIPMENT
Baking Paper
Tin Foil
Skewers
METHOD

1. Heat the milk so that it is lukewarm (around 43 C/110 F). Measure 1 teaspoon from the 3/4 cup of sugar and stir this into the milk along with the yeast. Leave it to bubble and froth (about 10 minutes).
2. Meanwhile, sift flour, the rest of the sugar and salt into a large bowl and whisk to combine. Add lemon zest, egg yolks and melted butter, mixing well. Once the yeast is ready (it should be bubbly and frothy), add to the bowl along with the dried fruit and mix to combine.
3. Using your hands, 'fold' the dough, so that it is well combined. The dough will be slightly sticky – this is perfect. If it is too sticky to handle, add a little more flour.
4. Take the dough out of the bowl and dust the sides and bottom of the bowl with flour. Place the dough back into the bowl, cover with a tea towel and put it in a warm place for 2 hours to rise.
Let's braid!
5. Once the dough has risen, take the dough out of the bowl and cut into two parts – 1 part 60% the other part 40%. Gently roll each part into a log shape.
6. Cut the big log (60%) into five equal pieces and the smaller log (40%) into 4 pieces so that you have nine pieces in total.
7. Using your hands, roll each piece into a strand, about 1 inch thick.
Group the strands into 3 groups: 2 slightly longer strands, 3 slightly shorter strands, and 4 slightly shorter strands.
(The 4 strands will be braided together to make the bottom braid, the 3 strands will make the middle braid and the 2 longer strands will be twisted together to make the top braid. We want these two to be longer as they will be tucked underneath the overall braid when finished).
8. Following the links in the post as a guide, braid the four shortest strands (all equal length) together using the videos mentioned in the post as a guide. Once braided, make a dent in the middle of the braid with the side of your hand so that it is flattened slightly making it easy for the next braid to sit on.
9. Mix the egg yolks in a small cup and using a pastry brush, brush over a light coating of egg mixture over the braid.
10. Line a tray with baking paper and place the braid on top, set aside.
11. Next, braid the group of three strands together in a plait (use the videos as a guide if needed). Make a dent with the side of your hand like you did with the first braid and brush with the egg wash. Place this braid on top of the previous braid.
12. You're nearly there! Braid the last two strand together by twisting them over each other. Place on top of the other braids, tucking the ends underneath the overall braid to hold it together. You should have a stack of three braids. The braids now need to rest for 1 hour, so cover the braids with a tea towel and put in a warm place.
13. Once the dough has rested, heat the oven to 175C/350F. Brush the entire braid with egg wash and sprinkle the almonds on top. To prevent the bread from toppling over when baking, insert 4 skewers in the creases of the braids. Completely cover the braid with tinfoil and bake for 45 minutes, covered the whole time. After 45 minutes, take the foil off and bake for a further 5 – 10 minutes or until the skewers come out clean.
14. Cool completely before dusting with icing sugar and cutting into slices. This bread is delicious when toasted and also makes the best french toast or bread pudding.
This bread is best eaten the day or day after it is made. If making for Christmas day, prepare it the night before, ready for breakfast in the morning! My preference is to eat it with a generous helping of butter.
NOTES
* This bread freezers beautifully! I like to cut mine in half – I freeze one half and eat the other half over the following couple of days.
** You could make two smaller loaves with this dough if preferred. You will just need to make the strands half the size, or alternatively you could skip the braiding and make two small rounded loaves (adjust baking time accordingly).
By Sarah Sears
Adapted from The Czech Cookbook


PRO TIPS, TRICKS & EXTRAS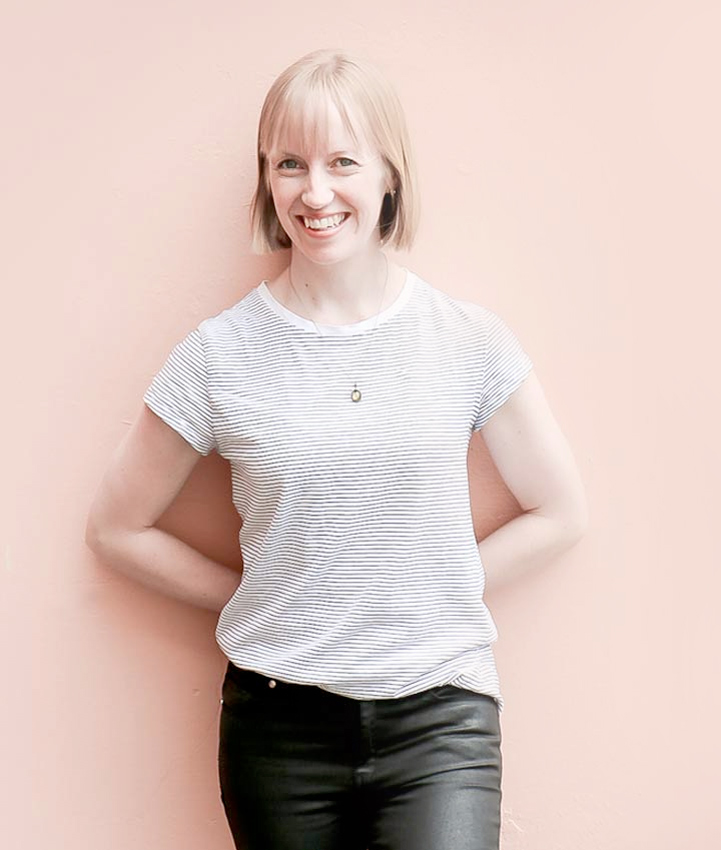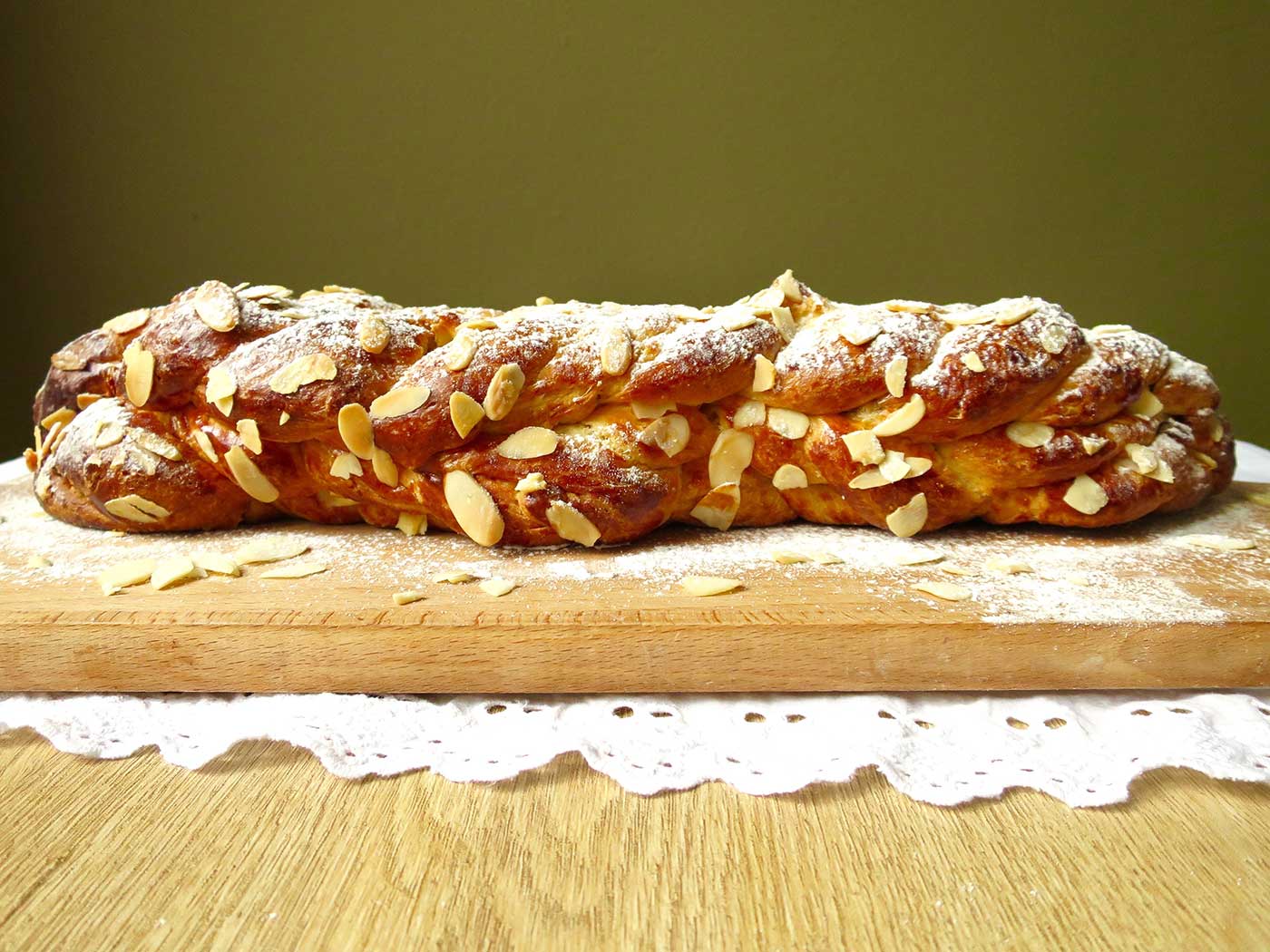 A tender and deliciously rich Christmas bread typically eaten by Czech's and Slovaks during Christmas time.
Many countries have their own version of a traditional Christmas cake or bread. Germany has Stollen, Italy has panettone, England/New Zealand/Australia has a dried fruit Christmas cake, and the Czech Republic? They have vánočka.
What is Vánočka?
Vánočka (vah-NAWTCH-kah) is a sweet, braided bread eaten at Christmas time (vanoce) in Czech Republic and Slovakia and is made from a rich dough of eggs, butter, yeast, sugar and flour. It's not too dissimilar from the Hungarian fonott kalacs, Jewish Challah and the Polish Chalka – I'd hate to sit on the debate about who came up with the idea first. Nevertheless, this bread stands out and is unique and special in it's own right. It has a fluffy yet slightly flakey and buttery texture and it's hard to stop at one piece…
Typical 'flavourings' include lemon zest, raisins and rum but it can be spiced with cinnamon and nutmeg also and sprinkled with a dusting of icing sugar.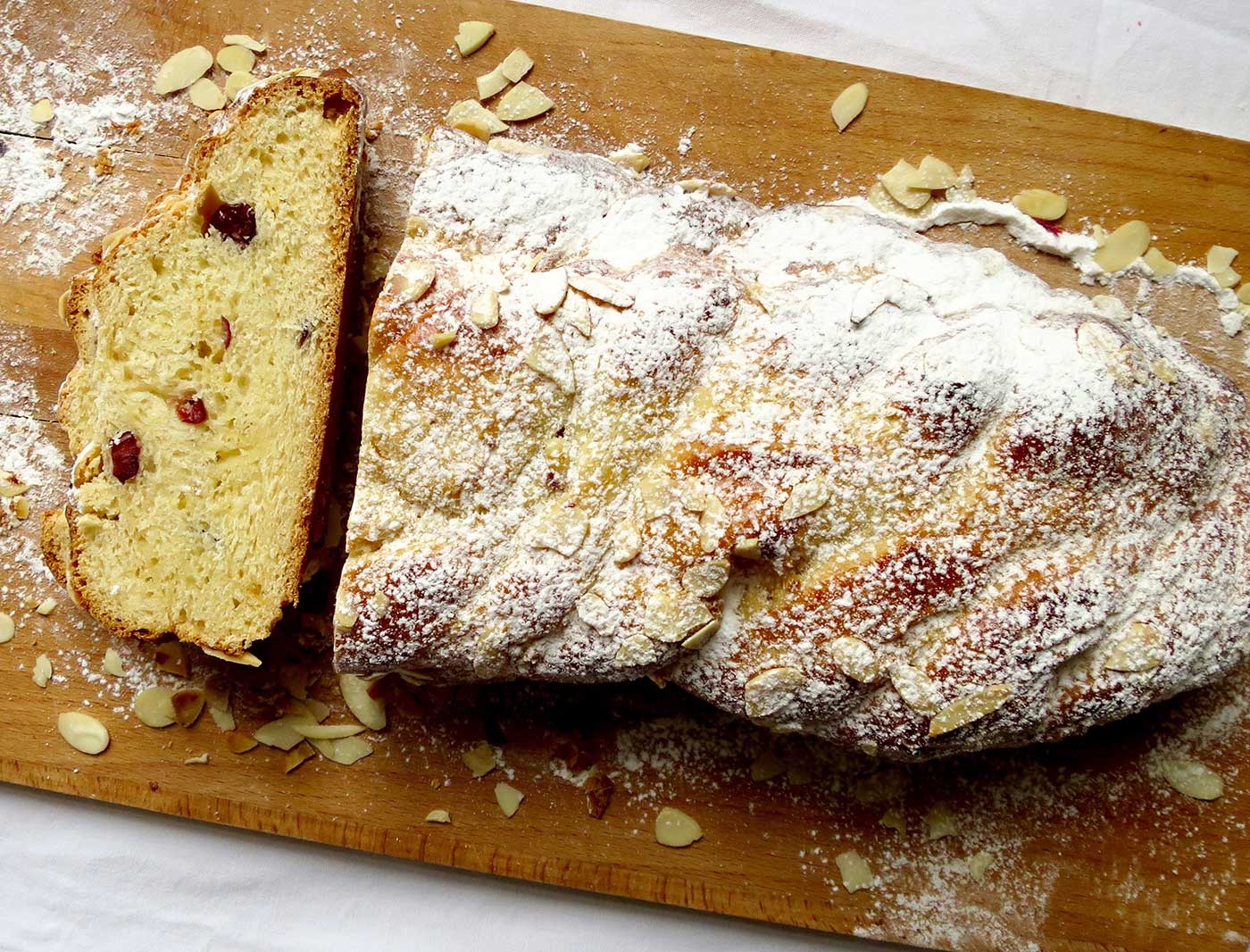 Traditionally the bread is made up of three braids which are stacked upon each other – big to small. These braids are sometimes interpreted to represent baby Jesus wrapped in cloth and lying in a manger. Baby Jesus is very popular among children here in Czech as it is he who brings the children their gifts, not Santa.
The bread has a reputation of being very difficult to make however, I think it is more a matter of time needed than skill – three hours in total is needed to proof the dough (let it rise), which can easily be filled in our busy lifestyles. Although apparently when you are making this bread, you are meant to jump up and down while the dough rises – that's a lot of jumping. You are also meant to think of your dear loved ones whilst making it and keep all metal and silver far away from the bread – I have no idea why this is. Any thoughts?
…and the braiding part? Well technically you don't have to braid it, but it's a lot more fun if you do. Plus, I have found some great tutorials (see below) to help us out and it's not as hard as you might think.
So despite its reputation, making Vánočka is not all that hard to make and you will be greatly rewarded with:
a loaf (or two) to feed a small army
a fluffy, melt-in-your-mouth bread
a major sense of achievement -braided bread is always a winner in my mind.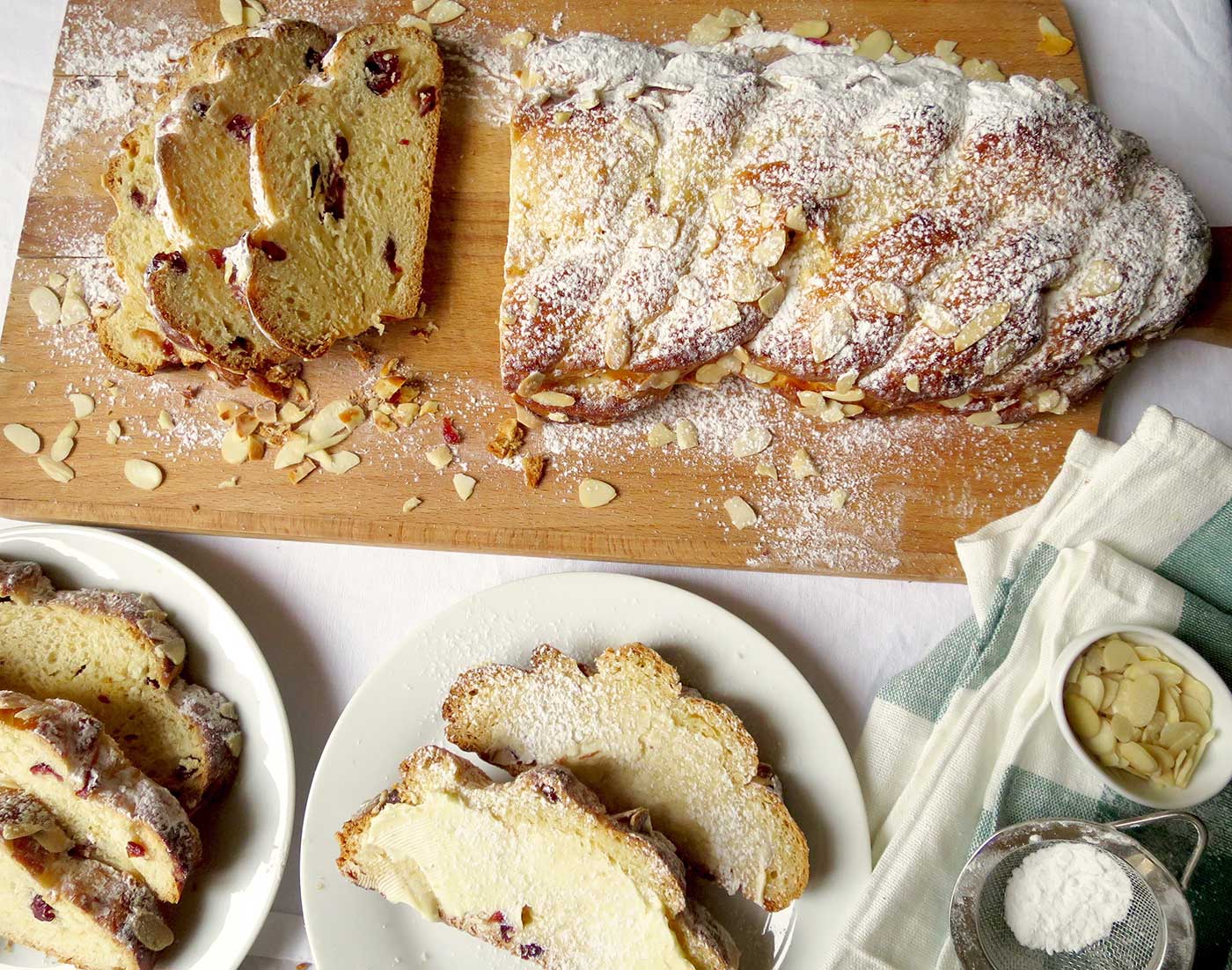 Tips on braiding:
I went searching for a good recipe for this bread and settled on this one from 'Czech Cookbook'. Kristýna (the author of this blog) lives in America with her husband but comes from Brno, so I bonded with her instantly. I made a few alterations to her recipe (see below) but I highly recommend watching her video when it's time to braid the dough. She has very simple and easy to follow instructions. Alternatively, you can also watch this expert on how to braid bread from 3 – 9 strands!
It's really worth making this, I'm telling you.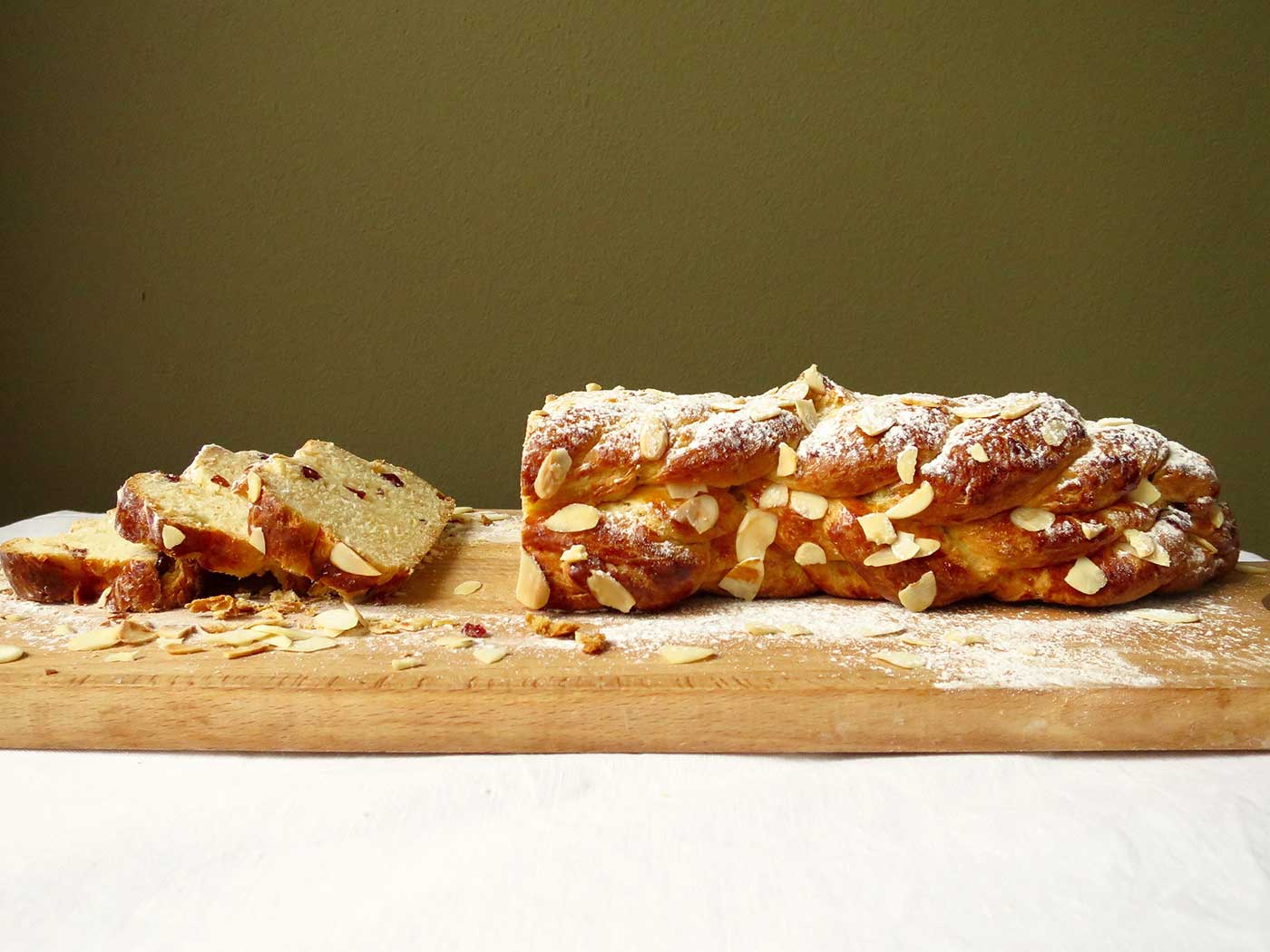 I like to eat mine with a generous helping of butter…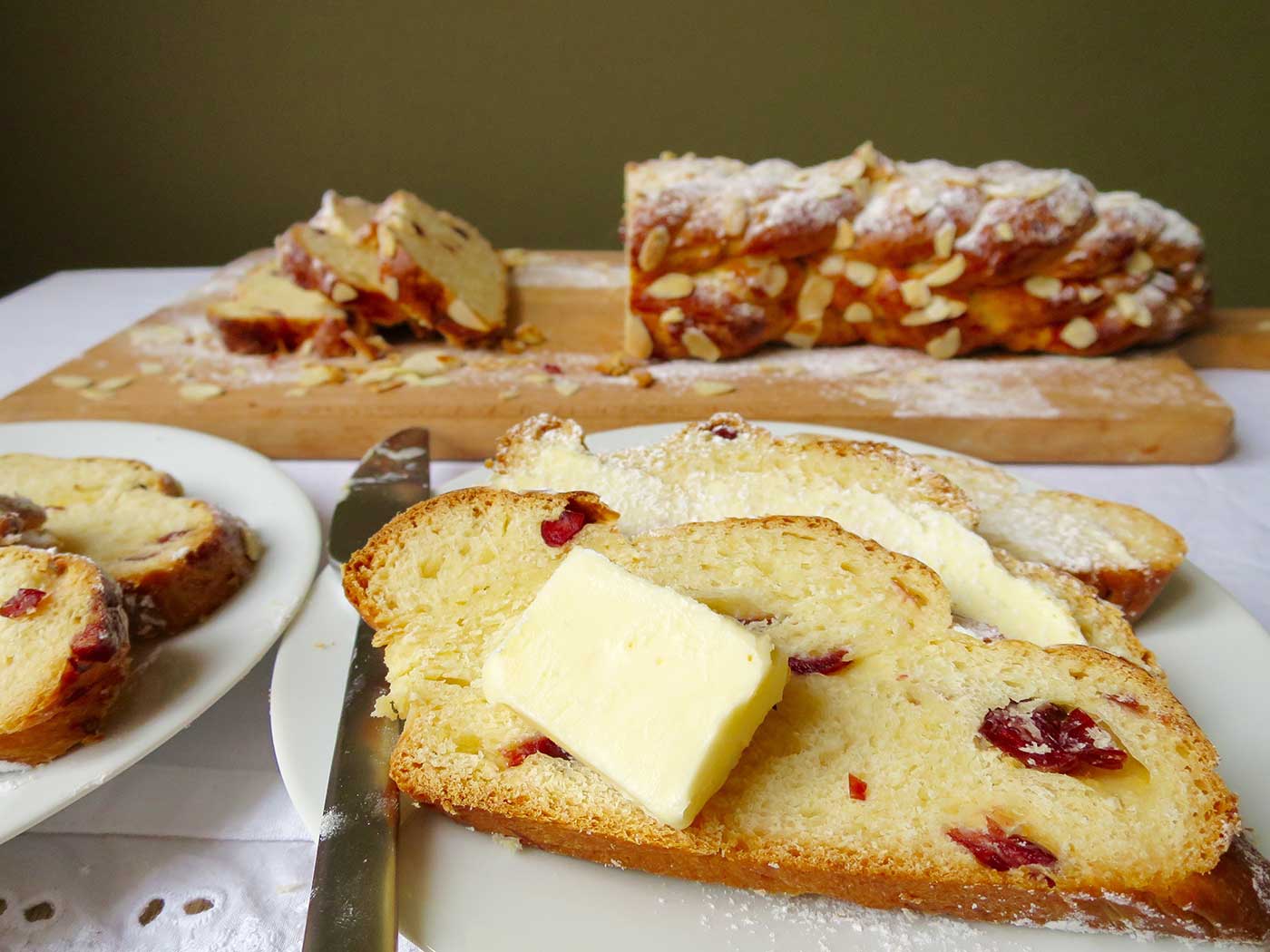 So don't be put off
by the time it takes to proof or your braiding skills and get in on some Czech culture this Christmas!
PLUS: knowing how to make this dough will come in handy at Easter time as it is the same (or very similar) dough used to make the Czech Easter bread, Mazanec.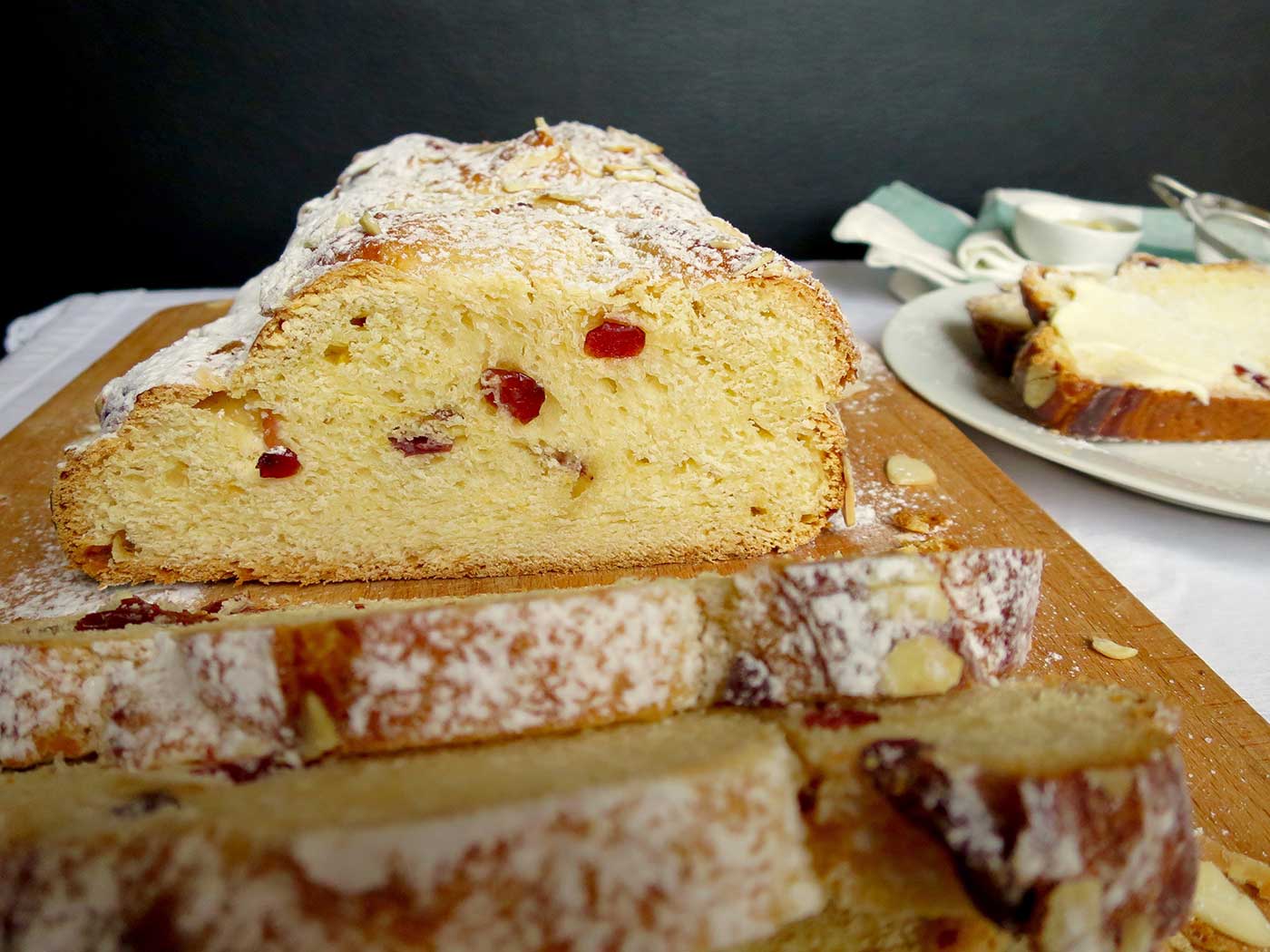 YOU MIGHT BE INTERESTED IN