INGREDIENTS
120g (1/2 cup) peanut butter (I love Pics)
230g (1 cup) apple puree/sauce
1 tablespoon maple syrup
1 teaspoons vanilla extract
50g (1/2 cup) cocoa, sifted
10 freeze dried berries (optional, I like to use Little Beauties)
COCONUT CREAM ICING (optional)
100mls coconut cream
100g milk or dark chocolate, chopped
​
MASCARPONE CREAM ICING (optional)
125g mascarpone, at room temperature
1-2 tablespoons cocoa powder
2 tablespoons maple syrup, or to taste
​
METHOD

1. Preheat oven to 175C  (350F) fan bake and line a 10cmx20cm (or approx.) loaf tin with baking paper. 
2. In a small bowl combine peanut butter (warm in microwave if needed to make smooth and runny), apple puree/sauce, maple syrup and vanilla. Mix well until combined. Add cocoa and mix to completely combine. If using freeze dried boysenberries, place in a small cup and add just enough water to rehydrate them (about 2 tablespoons). Add this to the rest of the mixture, mix and then spoon batter into prepare loaf tin.
3. Bake for 35 minutes or until a skewer comes out clean or with a few 'baked' crumbs.
4. Leave to cool in pan and then chill in the fridge for an hour (or overnight). Remove from pan add icing of choice (coconut cream or mascarpone) and cut into bars. Garnish with crushed freeze dried berries  and or/sifted cocoa.
To make coconut cream icing:
Combine coconut and chocolate in a heat proof bowl and microwave in 20 second increments stirring in between until chocolate has melted (about 2 -3 times). Leave to cool and chill in the fridge for 20 minutes. Once it is a spreadable consistency, ice the brownies.
To make mascarpone cream icing:
In a small bowl, beat the mascarpone, cocoa powder and maple syrup until light and fluffy.
NOTES
Store these brownies in the fridge or freeze them in an air tight container for another day.
***SCROLL DOWN FOR MORE PHOTOS***


PRO TIPS, TRICKS & EXTRAS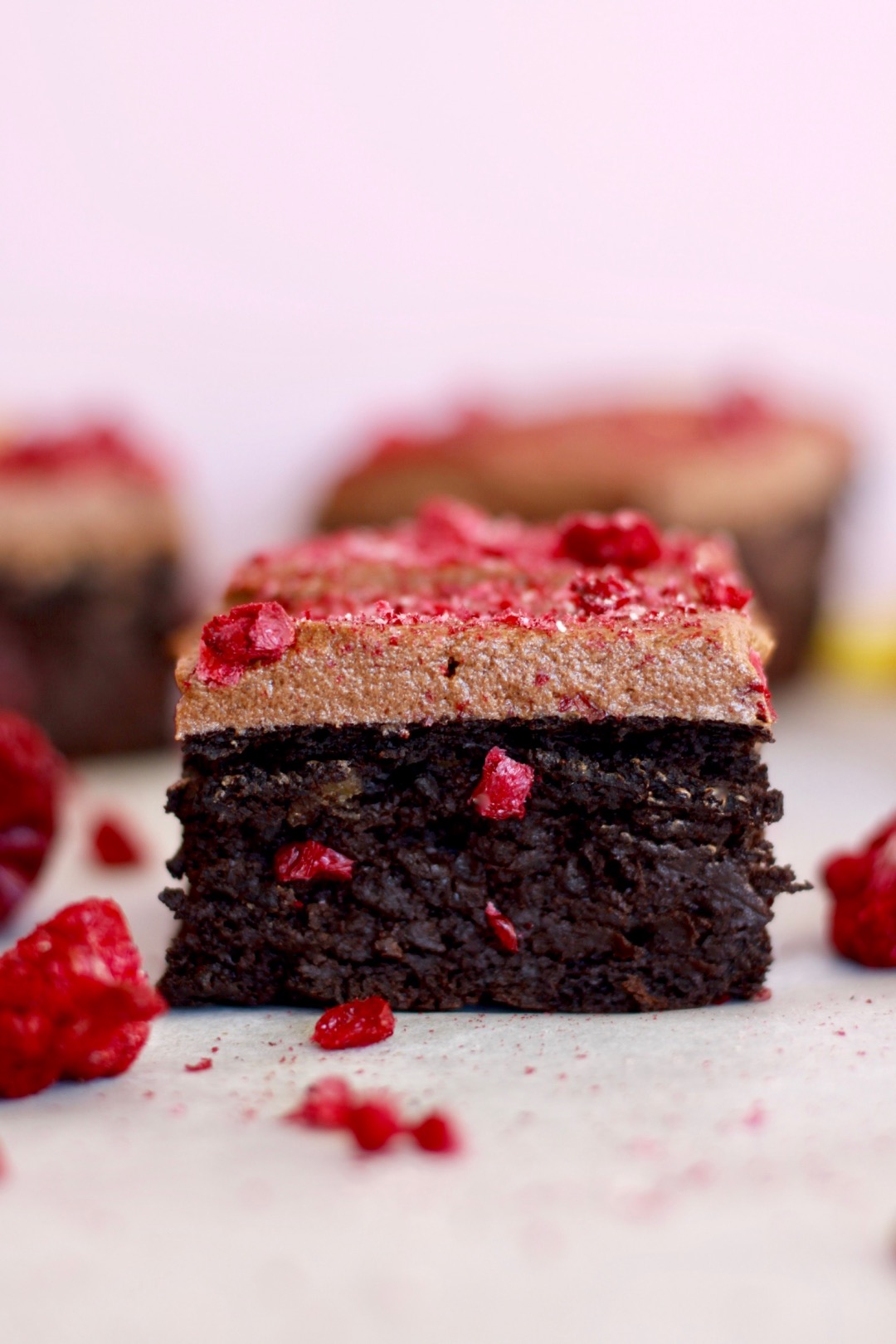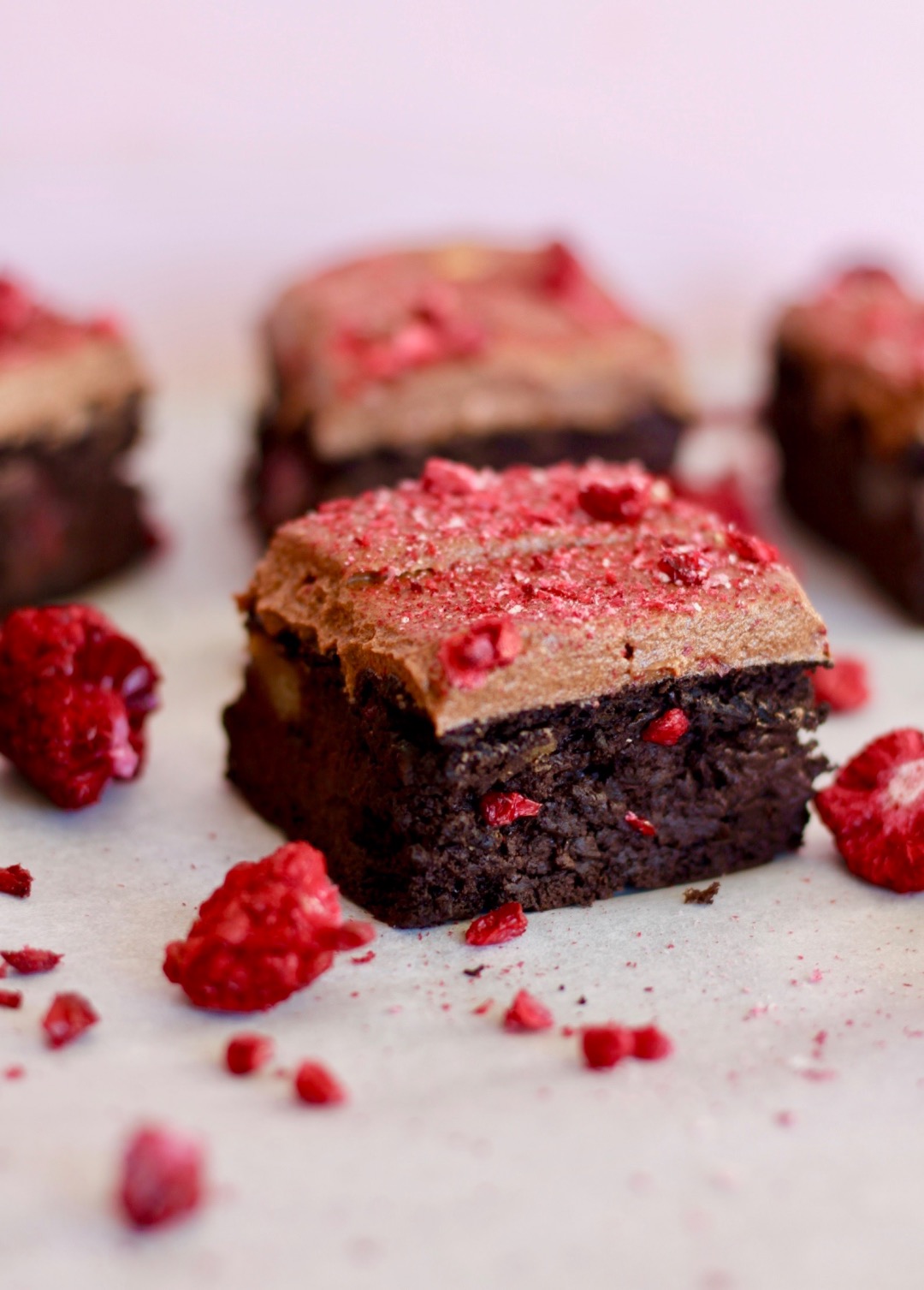 These easy vegan chocolate berry brownies are refined sugar free, egg free, grain free + dairy free. And they taste out of this world.
As a busy mama of two small children I love recipes that are quick and easy whilst also ticking the 'healthy' box so that I can feel guilt free about giving them to my girls.
What I love about these easy vegan chocolate berry brownies don't require many ingredients and the ingredients that are needed are usually already in the cupboard. Annnndd more importantly, everyone, EVERYONE can eat these!!!
Whether you are a diabetic, celiac, lactose intolerant, vegan these healthy flourless brownies are for YOU. You'll be able to eat them feeling like you didn't miss out on the 'actual yummy' dessert/snack, because these are so good you won't believe that they only have a few ingredients in them.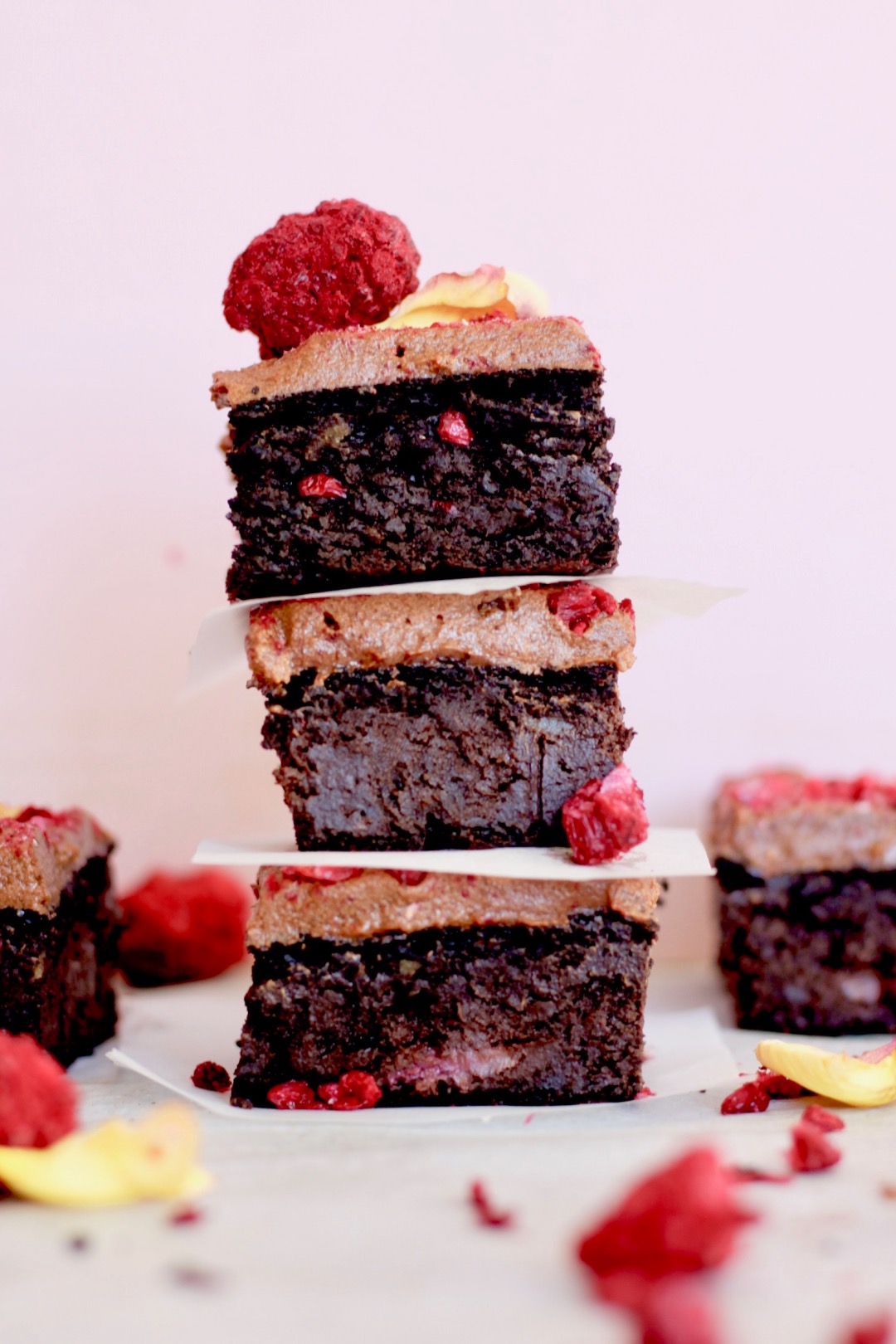 Would you just take a minute to gawk at that texture!!! Wooooweeee. That's my idea of sugar heaven right there.
These little squares of delight could even be called cheesecake chocolate bars as they are so incredibly moist like a cheesecake with all the deliciousness of one too. If you're wondering whether these would be a good thing to serve as a fancy dessert then the answer is definitely YES!
They can also be dressed down and served as a protein rich snack for you or your child.  They are basically the perfect healthy easy vegan chocolate brownie in every way possible. My three year old loves helping me make these as she can do most of it by herself. Parent win!
If you don't have any Little Beauties boysenberries on hand, you can omit them or replace them with any dried fruit e.g. raisins, sultanas, goji berries, cranberries etc.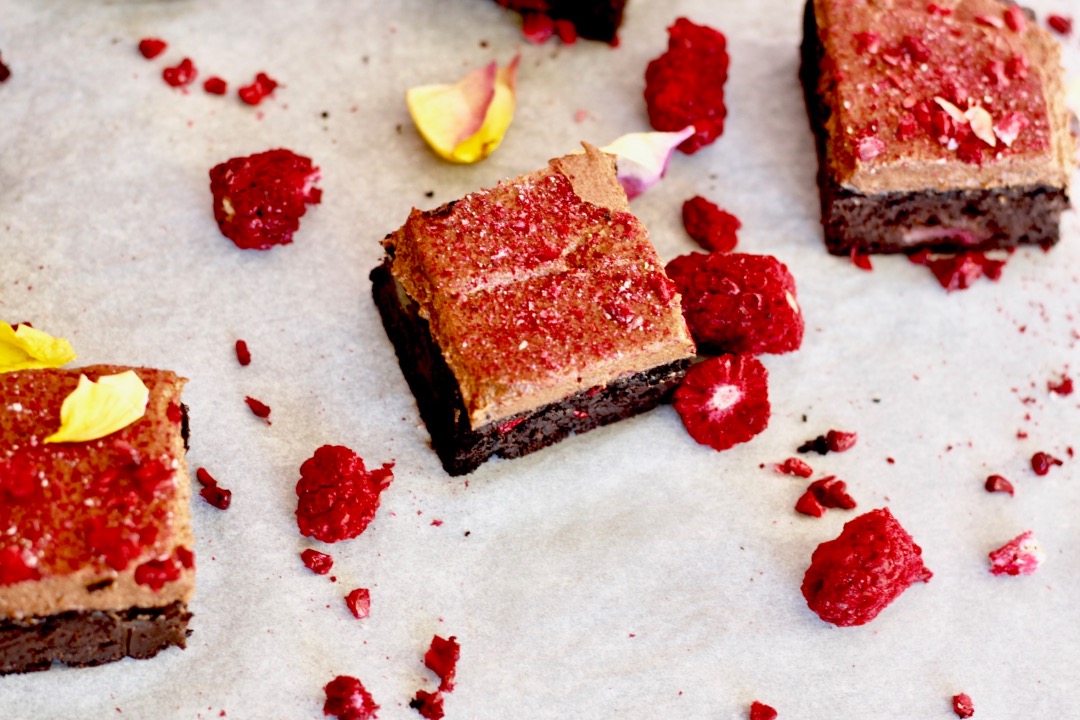 YOU MIGHT BE INTERESTED IN