INGREDIENTS
190g (3/4 cup + 1 tablespoon) butter, softened
220g (1 cup) castor sugar
1 teaspoon vanilla extract
3 egg yolks
275g (2 1/4 cups) Plain flour
1 + 1/2 teaspoons baking powder
1/4 teaspoon salt
1 cup berry jam (I like to use raspberry or strawberry)
1/2 cup fresh raspberries (optional)
TOPPING
3 egg whites
170g (3/4 cup) castor sugar
110g (1 + 1/4 cups) desiccated coconut
1 teaspoon vanilla
METHOD

1. Preheat oven to 160C (320F) and line a 20cm x 30 cm (9 x 13 inch) cake pan with baking paper.
2. In a large bowl, cream butter and sugar together with a hand or stand mixer until light and fluffy. Add vanilla extract and eggs and continue to beat until combined (be careful not to over-mix).
3. In a small bowl sift flour, baking powder and salt together and whisk well to combine. Add this to the butter-sugar mixture and mix until it comes together. Press the mixture into prepared cake pan firmly and bake for 20 minutes or until lightly golden.
4. While the base is cooking, make topping: Place egg whites in a clean bowl and beat with a clean beater until soft peaks form. Beat in sugar until mixture forms a glossy meringue. Fold in coconut and vanilla.
5. Cool cooked base for 10 minutes, then spread with jam and dot berries over top (if using). Top with coconut meringue topping and bake until crisp and lightly golden (about 35 minutes). Cut into squares whilst still warm.
NOTES
* When stored in an airtight container, it will keep for up to two weeks. It also freezes well.
** If you would prefer a round Louise Cake, bake in a 23cm/9inch round cake tin instead (baking times should be the same).
By Sarah Sears


PRO TIPS, TRICKS & EXTRAS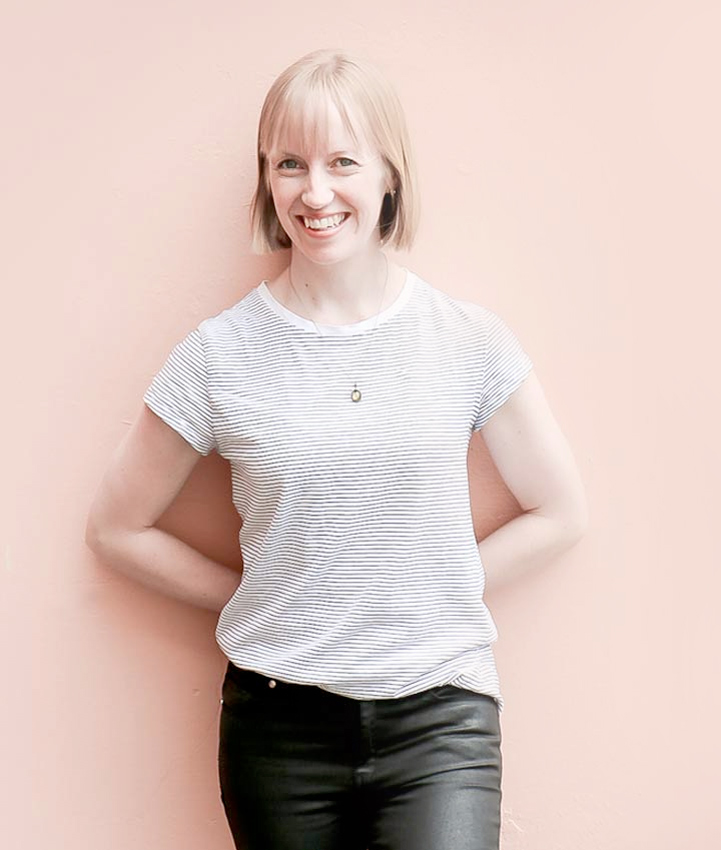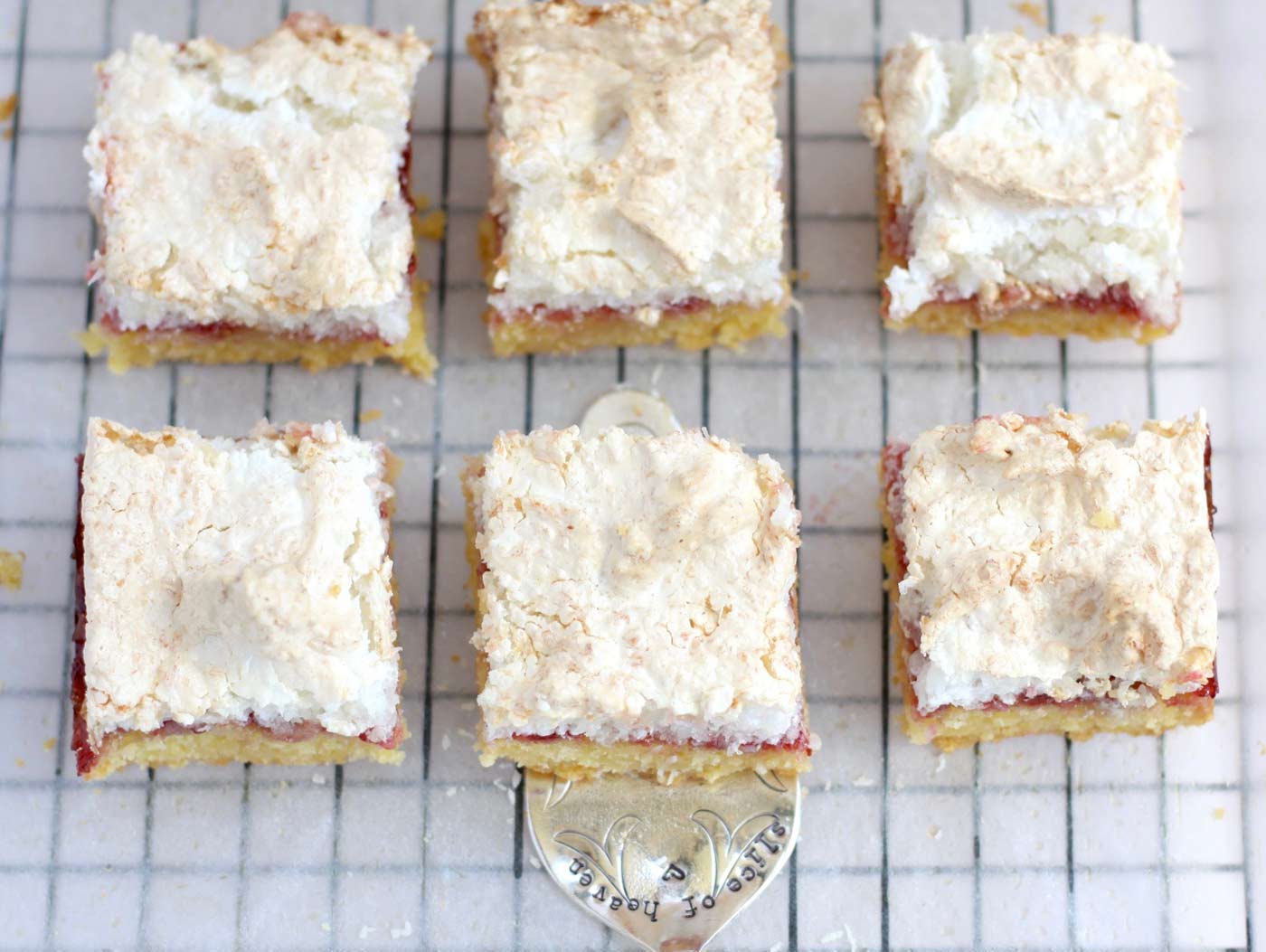 A cake-like shortbread base, smothered in berry jam and fresh berries and crowned with a fluffy coconut meringue topping. A nostalgic New Zealand treat!
Have you tried Louise Cake before? If you're not familiar with it, let me acquaint you. Louise Cake is a very classic New Zealand treat that is made from a shortbread base which is smothered in a berry jam and is then topped with a fluffy coconut meringue. When you bite into a piece of Louise Cake, you immediately feel like you should be at a girly tea-party sipping hot tea from delicate bone china cups. Well at least, that's how I feel.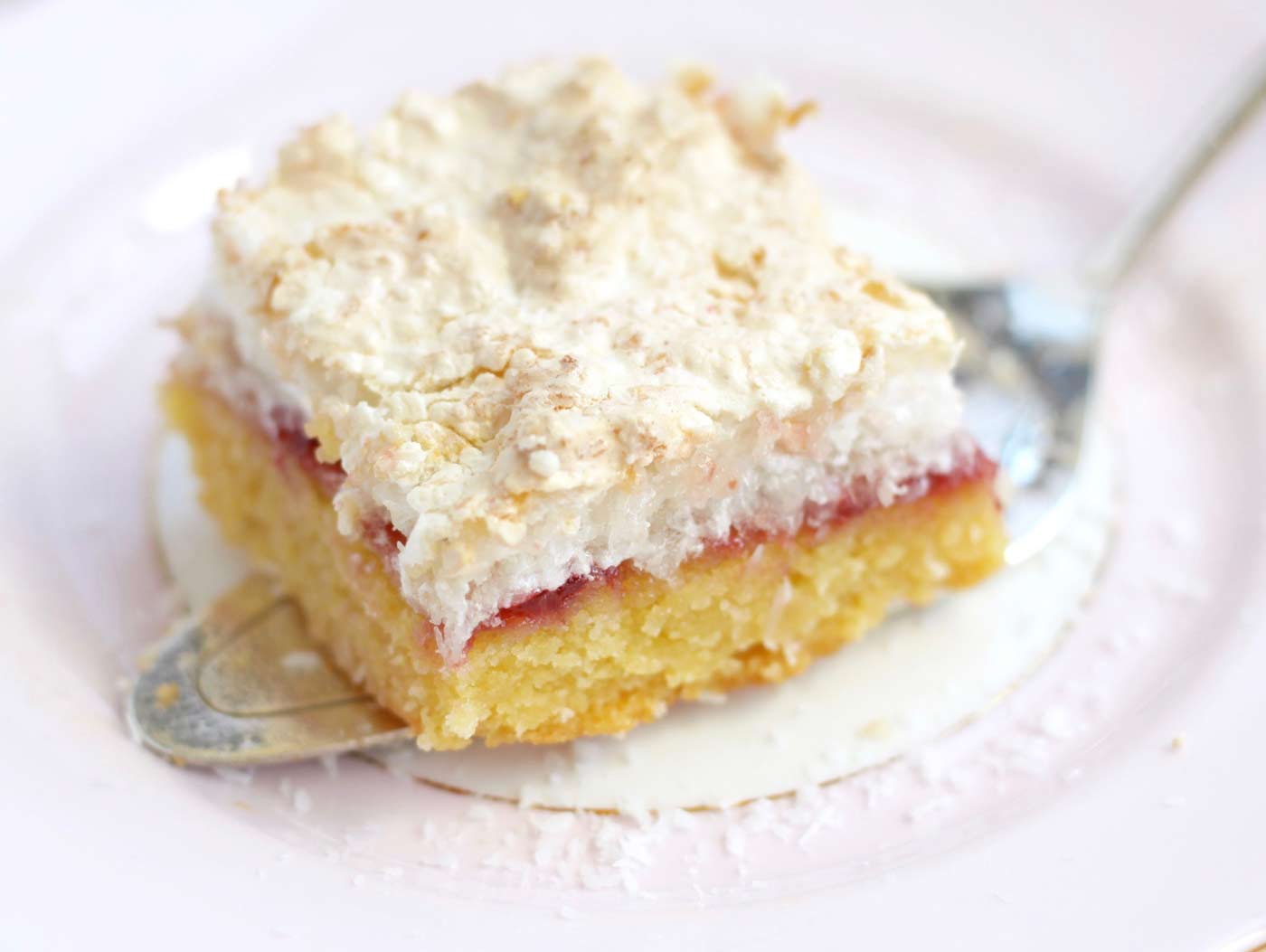 Although this cake has played a strong role in New Zealand's culinary history, it is not known exactly where it came from. Rumour has it that is was made for Queen Victoria's daughter, Princess Louise at her wedding, which fits well with the dainty tea-party feel I get whenever I eat it. Whatever it's origins, know that it is delicious and that it will fly off the counter like hot cakes.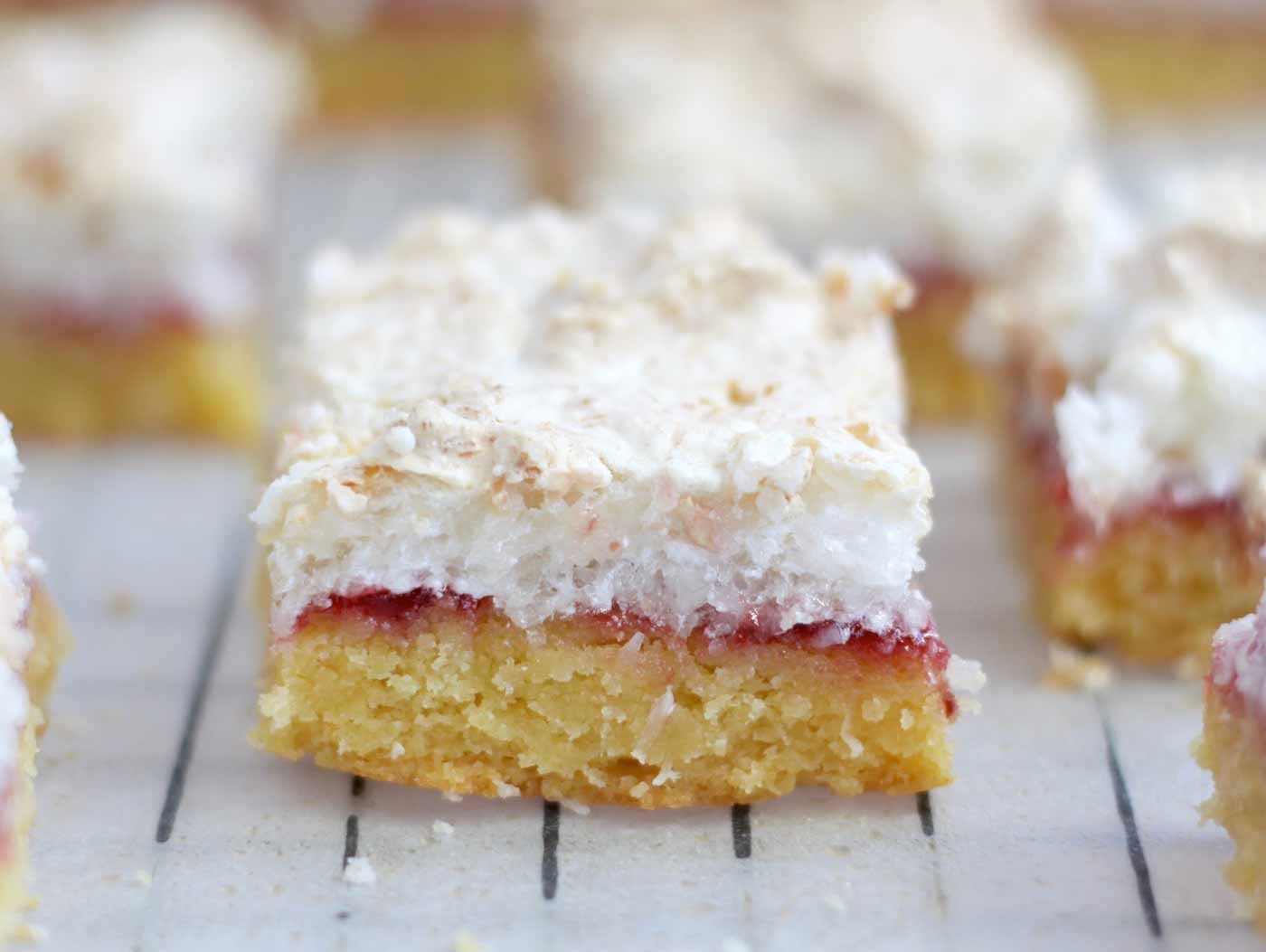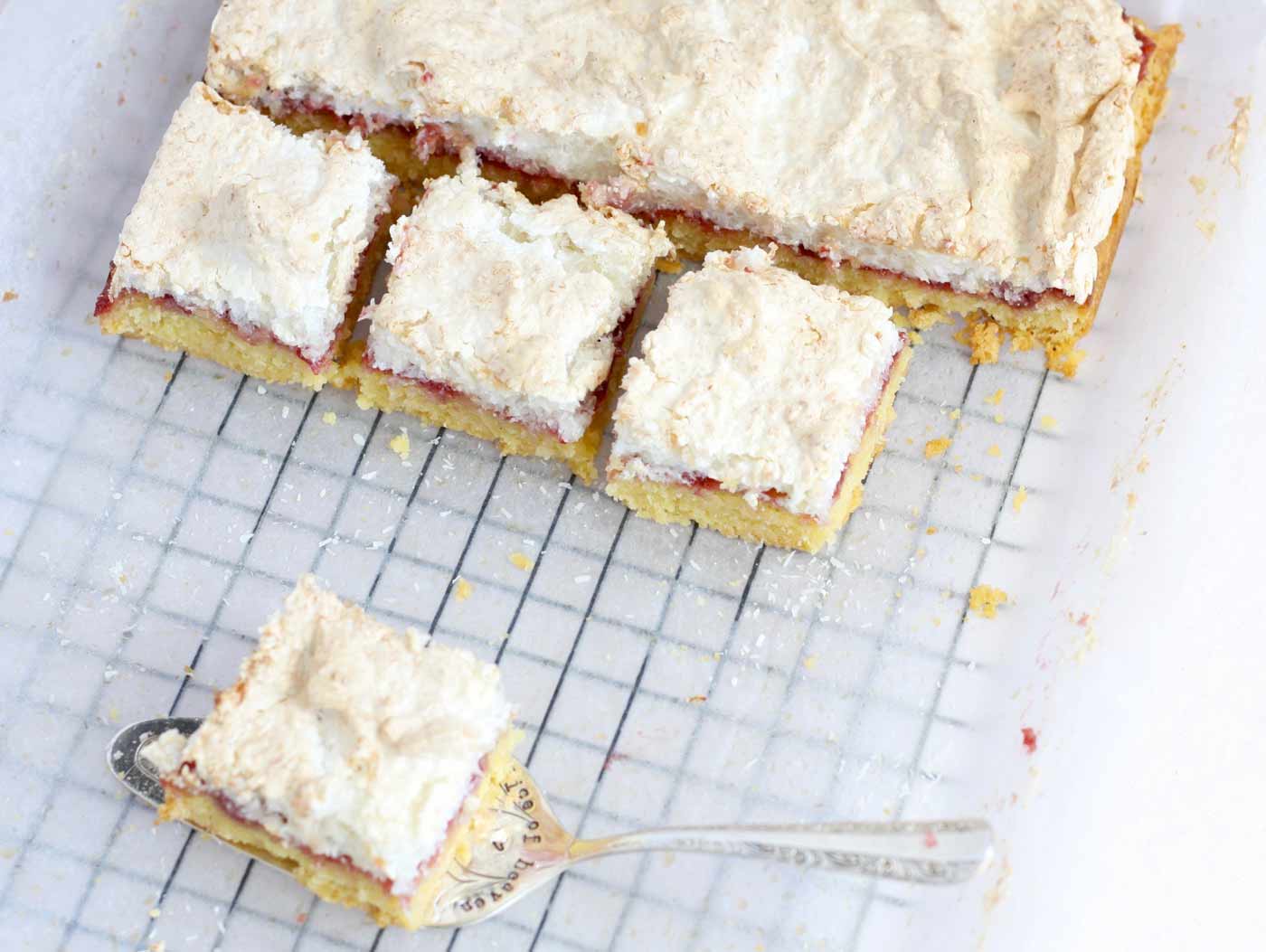 A traditional Louise Cake has a crunchy base and jam filling however the recipe below produces a base that is somewhere in between a cake and a shortbread – perfectly chewy and fudgy. I also like to dot a few fresh raspberries over the base before adding the coconut meringue for an extra berry zing.
YOU MIGHT BE INTERESTED IN