INGREDIENTS
200g (just under 2 sticks) butter
200g (1 cup) white sugar
100g (1/2 cup) soft brown sugar – must be soft not granulated
3 eggs, lightly beaten
1 tsp vanilla extract
120g (1 cup) cocoa powder
62g (1/2 cup) plain flour
1/4 tsp salt
1 tsp instant coffee granules
160g good quality chocolate, chopped (and/or nuts, dried fruit etc.)
METHOD

1. Preheat the oven to 150 Degrees Celsius (300 F) and line a 20cm x 30cm (8 x 12 inch) baking pan * with baking paper, ensuring the baking paper over hangs the edges of the pan – this makes it easier to take it out once it is baked.
2. Chop the butter into large chunks and place in a medium saucepan over low-medium heat.
3. Once the butter has completely melted, mix in white and brown sugar and then add eggs and vanilla extract and whisk until combined.
4. In a small bowl sift cocoa, flour and salt. Add coffee and whisk to combine. Add this mixture to the butter, sugar and egg mixture and gently fold until combined.
5. Stir in the chocolate (or nuts etc.) then spoon the mixture into prepared pan, smoothing it out with a spatula.
6. Bake for 25-30 minutes. The brownie should be set on the top but still slightly gooey on the inside. All ovens vary so be sure to check them after 25 minutes.
7. Let the brownie cool in the pan for at least 15 minutes then lift the edges of the baking paper and transfer the whole brownie to a chopping board and cut into squares.
I like to cut the edges off my brownie before cutting into squares, for a neater finish. If I haven't eaten all the trimmings (which is rare), then I freeze them and use them for cakepops, snacks, or cake crumb decorations.
The brownie can be stored in an airtight container for up to a week and also freezes really well.
NOTES
* You can also bake this in a 20cm x 20cm pan (8×8 inch). Just be sure to increase baking time to 50 – 60 minutes.
By Sarah Sears


PRO TIPS, TRICKS & EXTRAS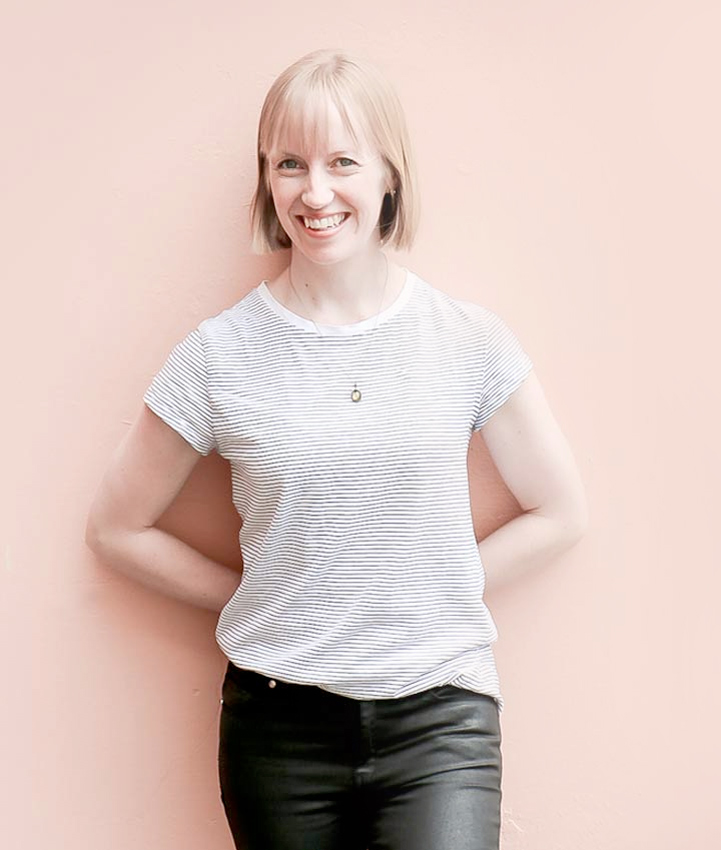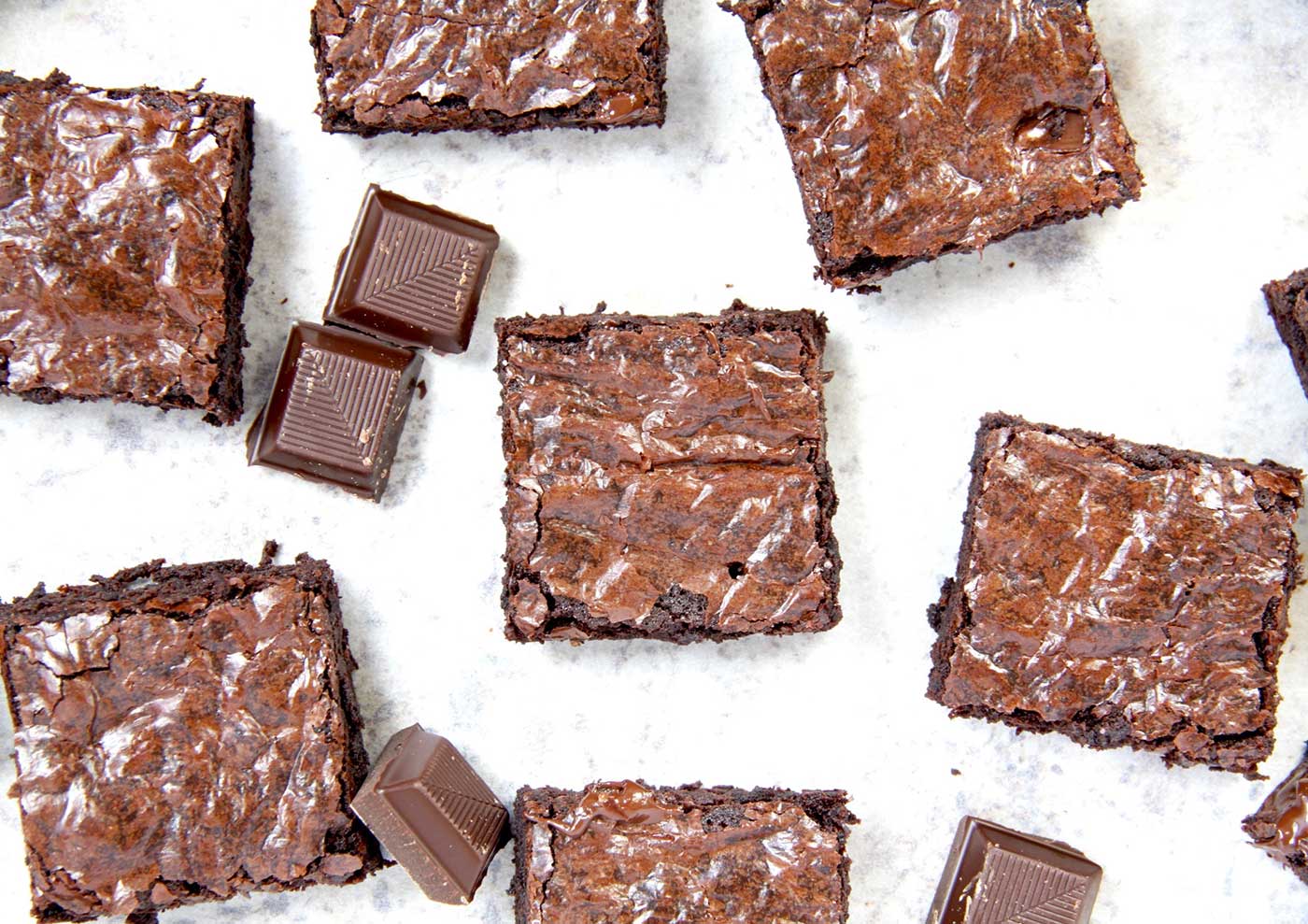 A fail-proof fudgy cocoa brownie that anyone can make – involves no creaming of butter and sugar or melting chocolate over a bain marie. Too easy!
Some like them fudgy, some like them cakey – how do you like your brownie to be?
I prefer a fudgy brownie myself. Chewy, dense and rich in chocolate – and that's exactly what I'm bringing you today, along with some science secrets behind achieving your perfect brownie.
The main ingredients of a brownie typically consists of butter, sugar, chocolate, eggs and flour. Different amounts of these ingredients combined with certain baking methods (e.g. creaming butter and sugar v.s. melting butter), creates different textures and tastes.
There are also two main types of brownies: Chocolate brownies (made with solid chocolate) and cocoa brownies (made with cocoa powder). The latter is what I'm showing you how to make here. The thing I love about this recipe is the fact that it uses simple ingredients and not masses of chocolate which means I usually have all the ingredients in my cupboard. Perfect for when I feel a chocolate craving come on, which is often.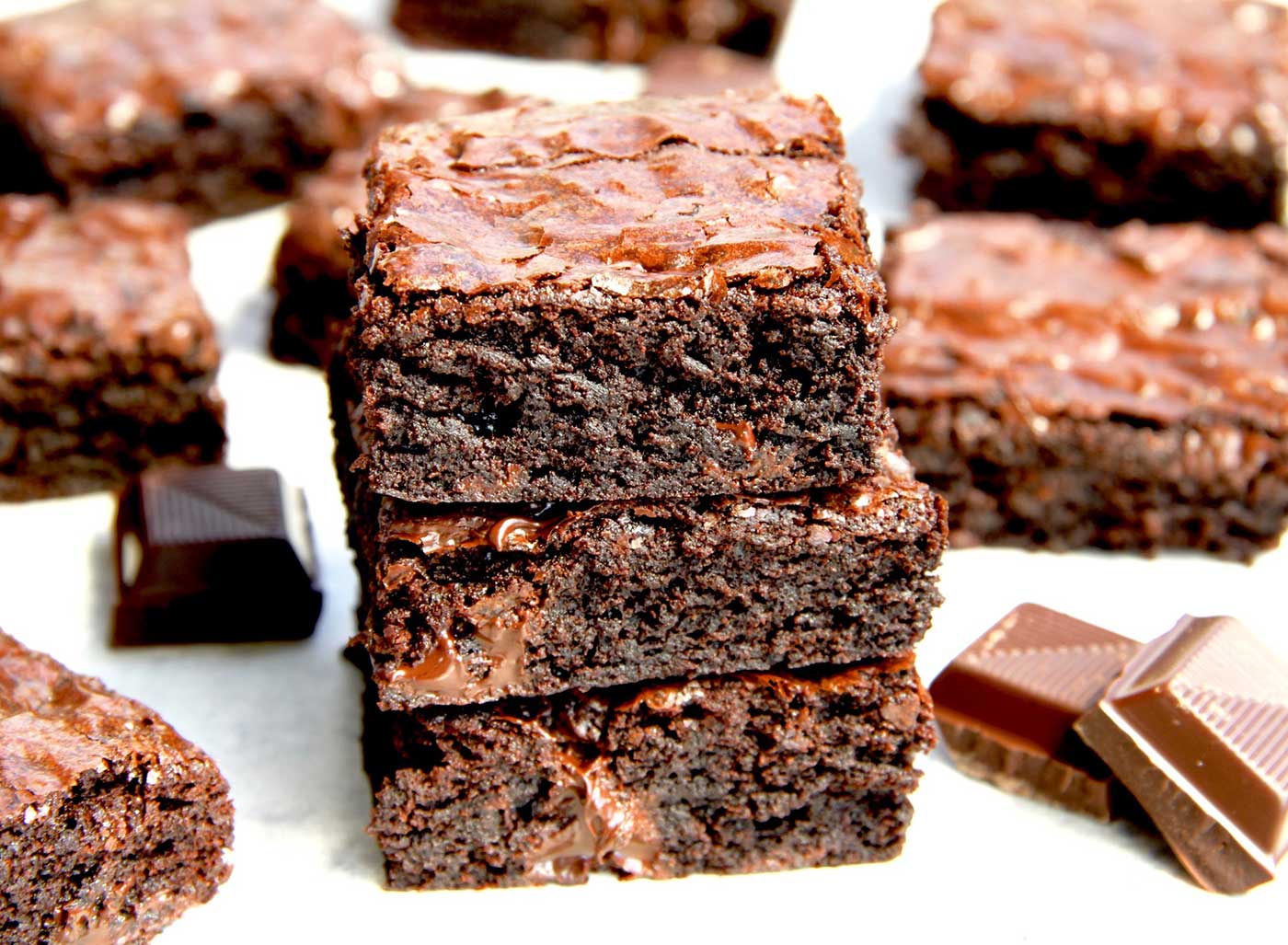 Let me walk you through some baking secrets behind these little chocolate beauties so that you can create your perfect brownie – whether you like them cakey or fudgy.
Melting butter:
Melting butter (instead of creaming butter and sugar) creates a chewy texture in these brownies which to me is heavenly. If you prefer a more cakey brownie, you can cream the butter and sugar instead.
Fat- flour ratio:
In order to achieve a fudgy-textured brownie we need more fat and less flour. Again if you like a more cakey brownie, increase the amount of flour and use less butter.
Sugar:
I use a combination of white and brown sugar in this recipe. The brown sugar adds richness whilst also enhancing the moist, chewy and fudgy texture.
Eggs:
When you add the eggs, you can do one of two things –
1: You can beat the eggs very well after adding
OR
2: You can slightly beat them until combined
Both will produce different results and you can choose which you one you prefer based on desired preference.
The first way will produce a meringue like topping whereas the second way will maintain a smooth, cake-like surface.
Eggs also contribute towards the richness, tender and moist texture.
Coffee:
A touch espresso powder here enhances the flavour of the chocolate – a big plus for us chocolate lovers.
Additions:
This is a versatile recipe so feel free to add anything you like in place of or in addition to the chocolate (e.g. cranberries, dried apricots, nuts, white chocolate, combination etc.)
Pan size/type:
I like my brownie to be on the thick side but unfortunately I don't have a smaller rectangle/square pan. Thus when baked in the 20cm x 30cm (8 x 12 inches) pan that I have, my brownies are slightly thinner than I would like. In order to achieve a thicker, fatter brownie, simply bake in a smaller pan (20 cm x 20 cm/8 x 8 inches), but be sure to bake for a little longer.
Also, metal pans heat faster than glass ones do so you may need a longer cooking time if your are using a glass dish to bake your brownie in – just be sure to keep an eye on it during the last few minutes of suggested baking time.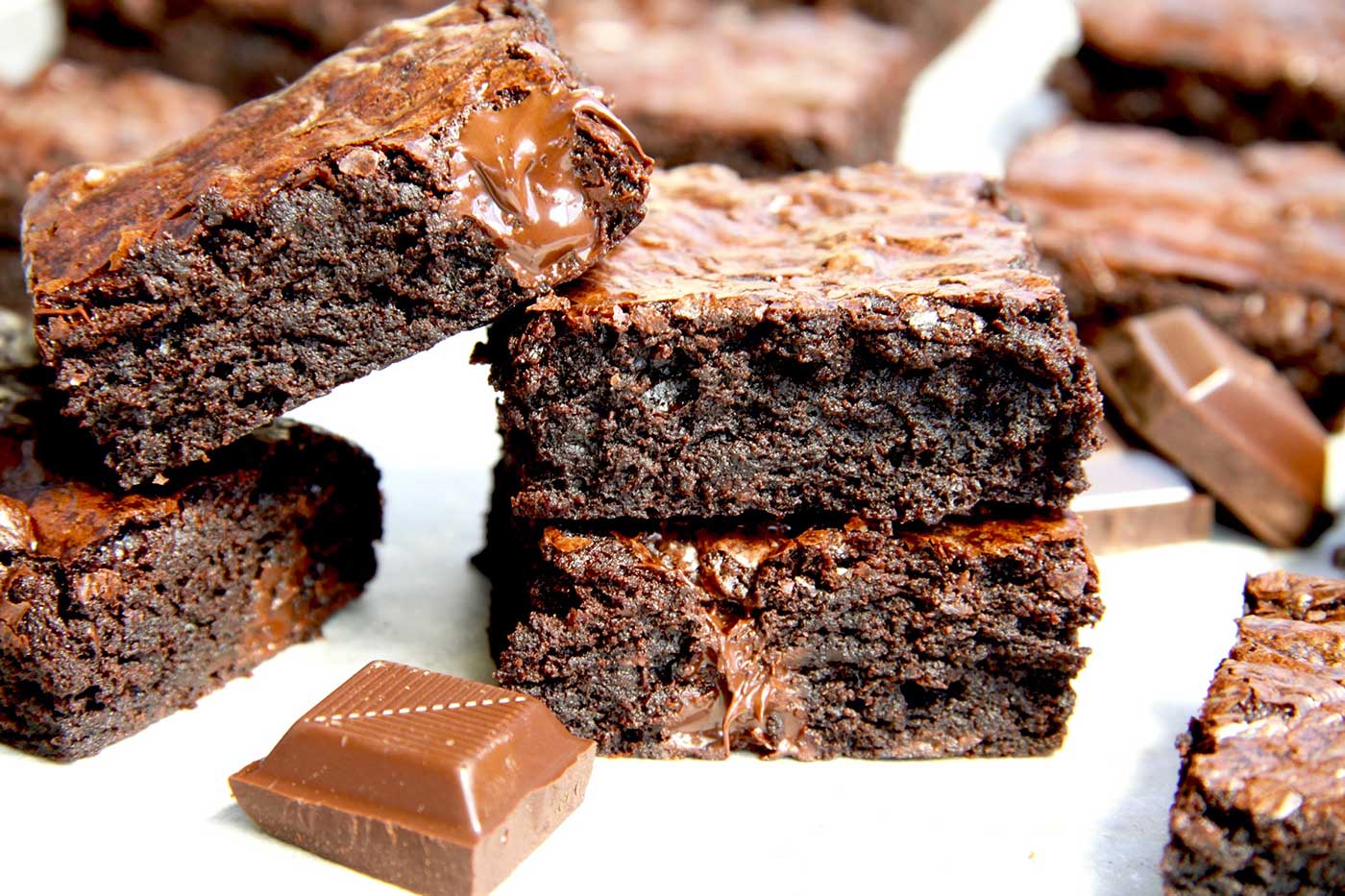 So there you go, a few little secrets to help you bake the most delicious brownies ever.
Enjoy!
YOU MIGHT BE INTERESTED IN