INGREDIENTS
250g (2 cups) plain flour
1 + 1/2 teaspoon baking powder
1/2 teaspoon baking soda
1/4 teaspoon salt
3 tablespoons sugar
1/2 teaspoon cinnamon
500ml (2 cups) buttermilk*
2 teaspoons vanilla
2 large eggs
1 cup strawberries, diced Butter and Oil for frying
METHOD

1. In a medium sized bowl, sift flour, baking powder, baking soda, salt, sugar and cinnamon together and whisk to combine.
2. In a smaller bowl, combine buttermilk, vanilla and eggs, whisk. Add this buttermilk mixture to the flour mixture and fold gently until the mixture comes together (be careful not to over-mix). Fold in strawberries.
3. Preheat oven to 175C (350F). Place a pan or griddle on a medium high heat and add a dollop of butter and a drizzle oil until the butter begins to sizzle (the oil helps prevent the butter from burning). Add 1/4 cup of batter into the pan (you should fit 3 pancakes in the pan at a time). When several bubbles appear, flip pancakes and continue cooking for a minute or so. Once pancakes are cooked through, place in the oven on a tray to remain hot whilst you continue cooking the rest of the pancakes. Coat the pan with more butter for each set of three pancakes.
4. To serve, stack three pancakes on top of each other with a dollop of butter, a few sliced strawberries and a generous helping of maple syrup then dig in!
NOTES * If you don't have any buttermilk, see easy substitute in post above ** These pancakes freeze really well and can also be kept in the fridge in an airtight container. To reheat, pop them in the toaster or reheat them in the pan.


PRO TIPS, TRICKS & EXTRAS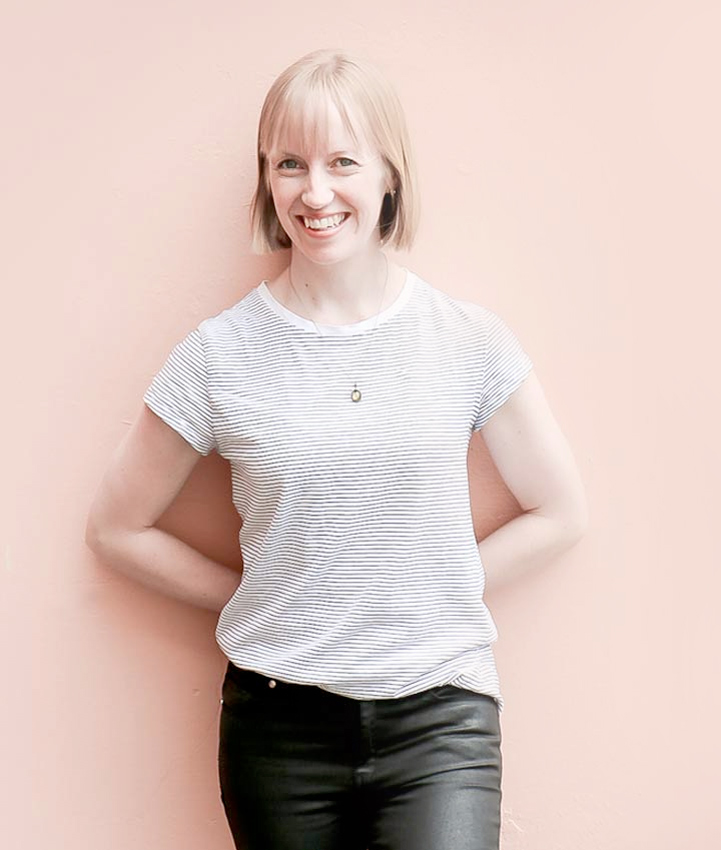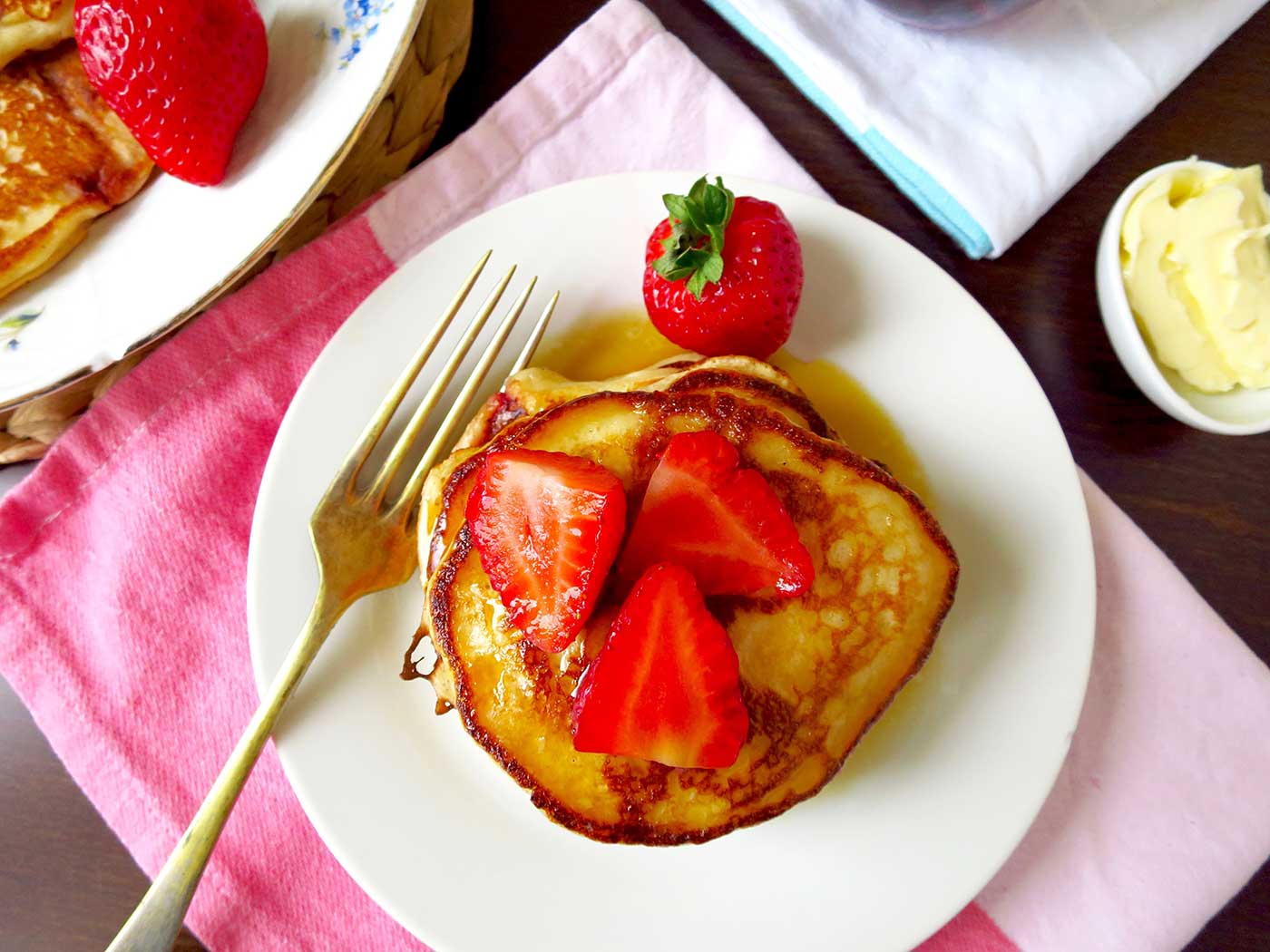 These strawberry buttermilk pancakes make even the worst Monday morning seem glorious.
Stay tuned to learn how to get them on the table within seconds!! Are pancakes something you only indulge in on the weekend because they are a little time consuming to make? Well if this is you, listen up because the recipe for these strawberry buttermilk pancakes I'm sharing with you today can be enjoyed any day of the week. And the best part? You can eat them in the same amount of time it takes you to prepare a piece of toast smothered in butter and peanut butter (another favourite breakfast of mine…). I've experimented with several pancake recipes in my time and my criteria is always the same: I want a quick, easy and no-fuss recipe at no expense of taste and texture. This recipe is it!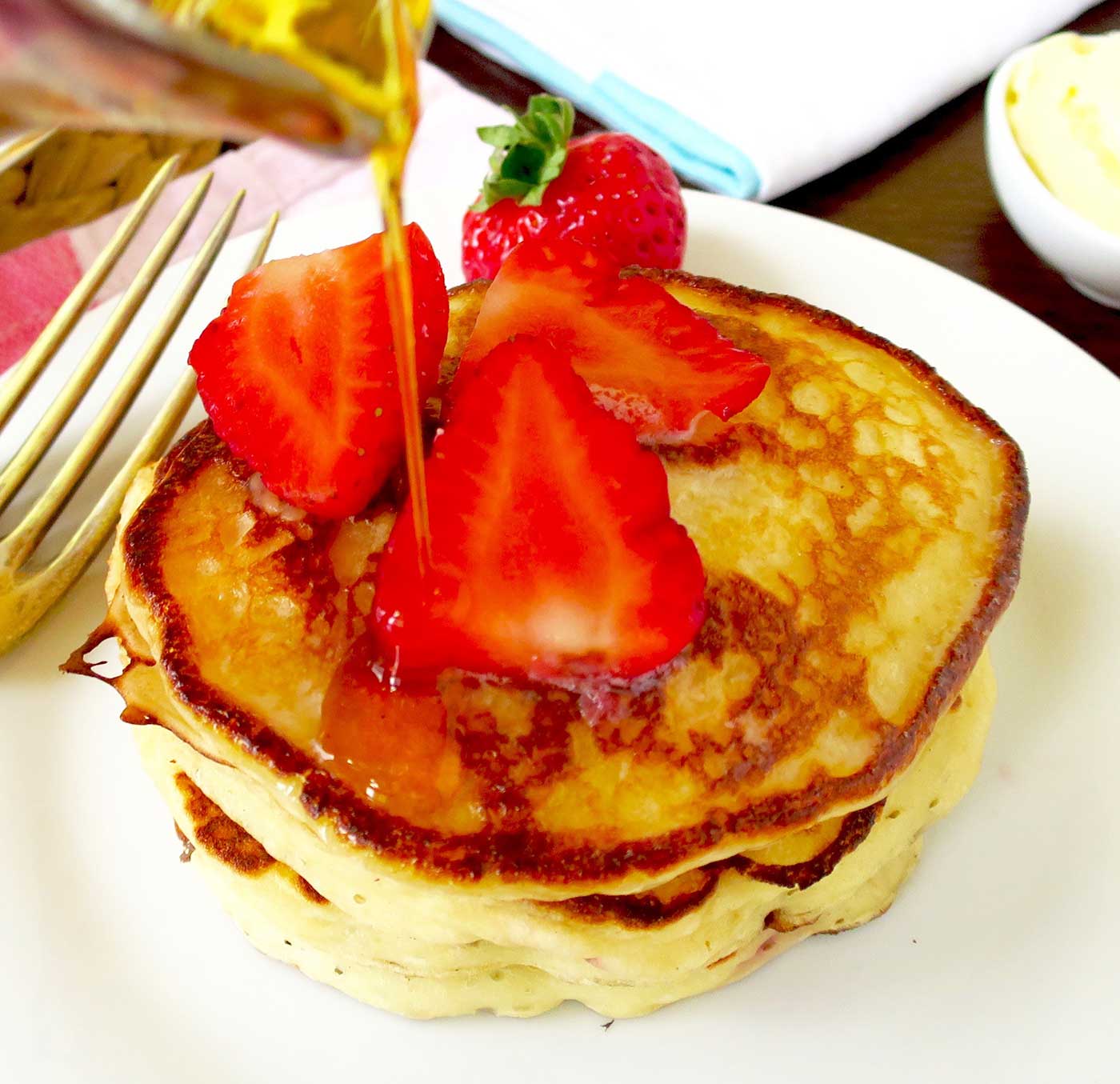 These pancakes are loaded with fresh juicy strawberries (though you could use frozen strawberries or any other fruit of your choice), they're flavoured with vanilla and a dash of cinnamon and they are sure to cure any pancake craving. So what is the trick for being able to make these as quick as toast? Answer: You whip up a batch on the weekend (which will take you about 15 minutes maximum) and then you reheat the pancakes through out the week in a pan or toaster. I promise they taste just as good on the second, third and fourth day when reheated and smothered in butter and maple syrup (though, let's be honest, not much wouldn't!). Or if you don't think you will get through them in a week (which is highly unlikely), you can freeze them and reheat as above. This is actually what I like to do when I'm having people over for brunch, that way I'm not slaving away at the oven when people arrive and the pancakes are all ready to go.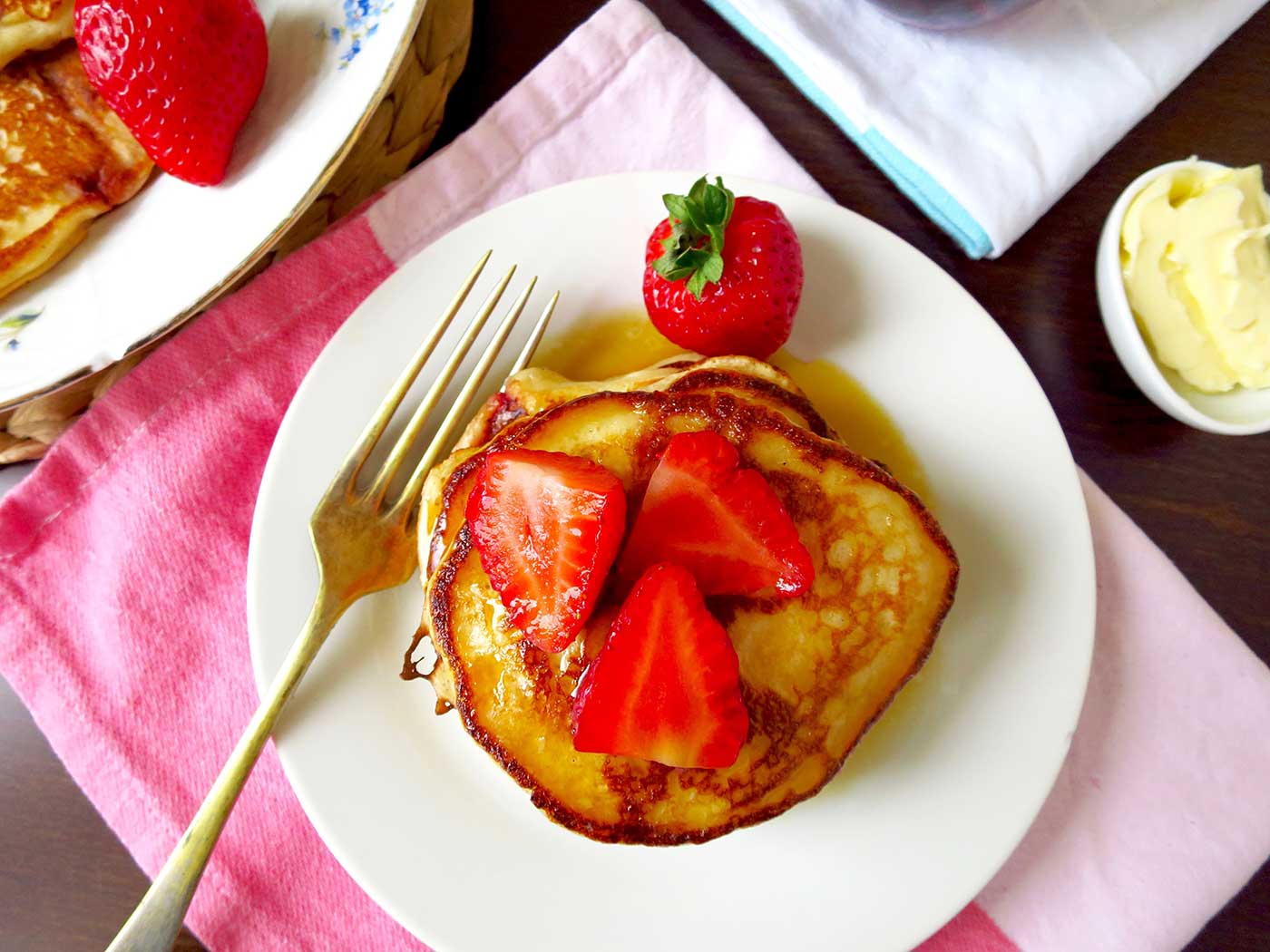 However you prepare them, know that they don't take long to prepare.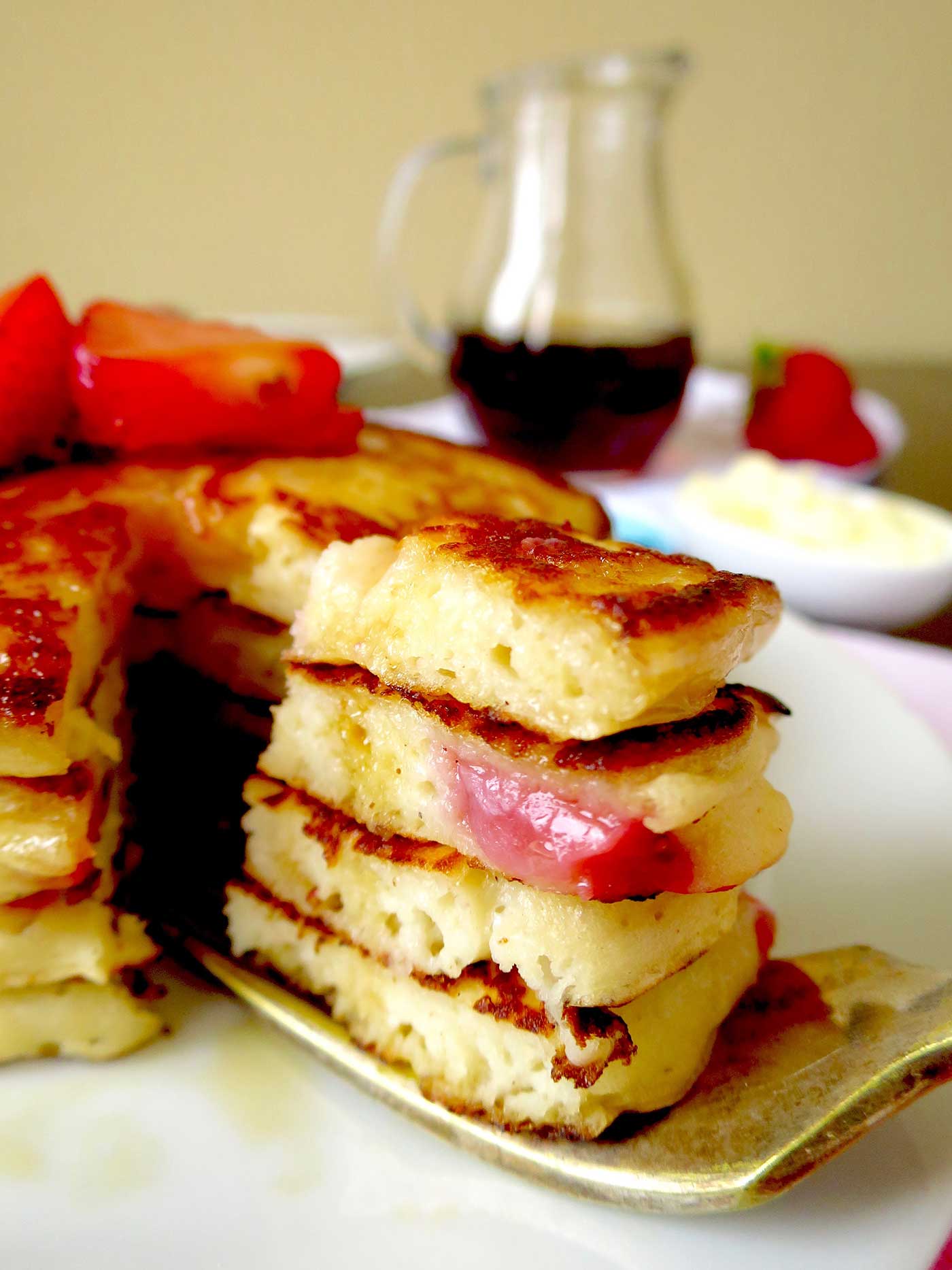 No Buttermilk?
If you don't have buttermilk in the fridge, no problem! Substitute with this. And make sure you use the muffin method to avoid chewy and tough pancakes (under-mixing is the key).
Enjoy!
x
YOU MIGHT BE INTERESTED IN