MAPLE ROASTED PEARS
2 soft pears, quartered
30g butter, diced
2 tablespoons maple syrup
1 teaspoon cinnamon
Juice from 1/2 lemon
1 teaspoon vanilla extract
PORRIDGE
180g (2 cups) rolled oats
600ml (2 and 1/2 cups) milk, water or combination of both
1/4 teaspoon salt
1/4 teaspoon vanilla bean paste
1/2 teaspoon ground cinnamon
1/4 cup walnuts, chopped and toasted (optional)
METHOD

1. Preheat oven to 190C and place pears, butter, maple syrup, cinnamon and lemon juice in a roasting pan. Roast the pears until soft and cooked through (about 25 – 30 minutes).
2. To make the porridge, place the oats and the milk or water in a large pan over a medium heat. Add salt, vanilla bean paste and cinnamon and stir with a wooden spoon.
3. Bring to a steady simmer for 5 to 6 minutes, stirring as often as you can to give you a smooth creamy porridge – if you like your porridge runnier, add more milk or water until you've got the consistency you like.
4. Pour the porridge into 4 bowls and top each with a pear quarter and drizzle the cooking liquid from the pears over the porridge. Sprinkle toasted walnuts on top and drizzle on extra maple syrup if desired and serve.
By Sarah Sears
Adapted from Domestic Gothess


PRO TIPS, TRICKS & EXTRAS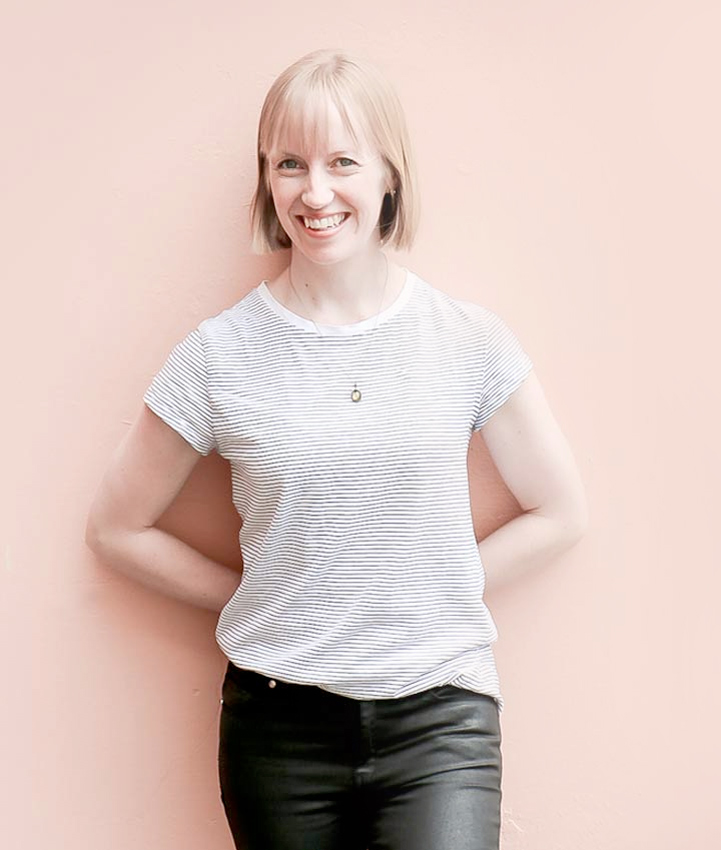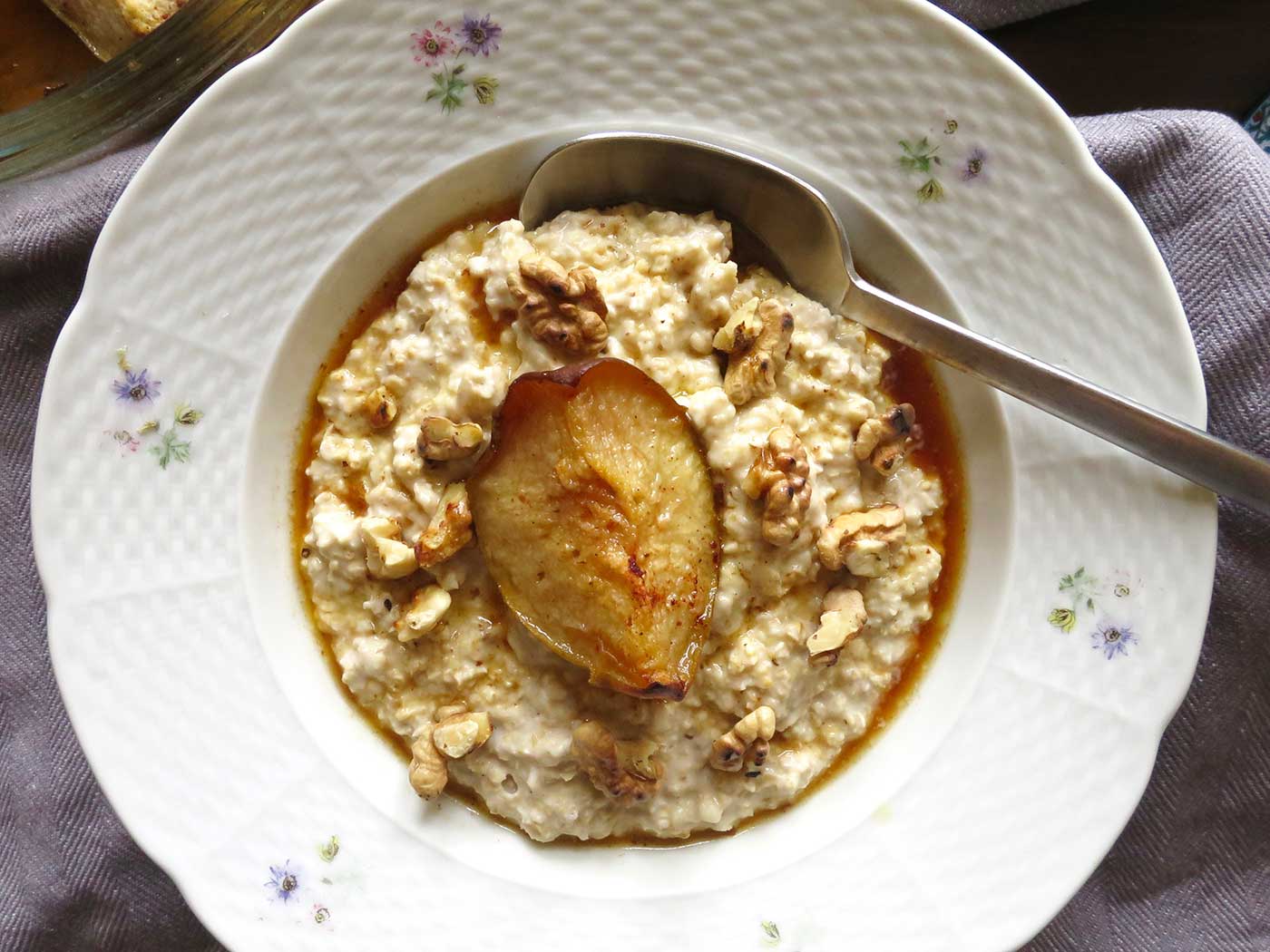 A creamy-dreamy vanilla porridge topped with sweet maple roasted pears.
Oh hi Monday, fancy seeing you again so soon. I'm going to greet you with this creamy vanilla porridge drenched in a buttery and spiced maple syrup and topped with roasted pears and walnuts. Yes please.
How was your weekend? Too short? Me too. I did happen however to do some baking for you which I'm excited about sharing with you later on the week. Can you wait? I hope so. In the meantime you need to get this porridge into your breakfast repertoire pronto. It's creamy, it's decadent and it's what I've been eating every morning for the last week or so. It's that good.
Growing up porridge was only something we ate during winter. It was usually my dad's job to get the porridge on the table for us five kids and to me, no one could make it better than him. We used to lap it up smothered in way too much brown sugar and fresh cream straight from the cowshed (did I mention I grew up on a farm?). Not that we churned our own cream mind you, it was delivered to the cowshed by the milk truck 🙂
Now I eat porridge all year round and I like to revamp it up now and then for a bit of 'variety'. Don't get me wrong, eating porridge with soft brown sugar and cream is one of my favourite ways to eat it, but sometimes change is good. Thus today I am bringing you a revamped version of the standard porridge recipe.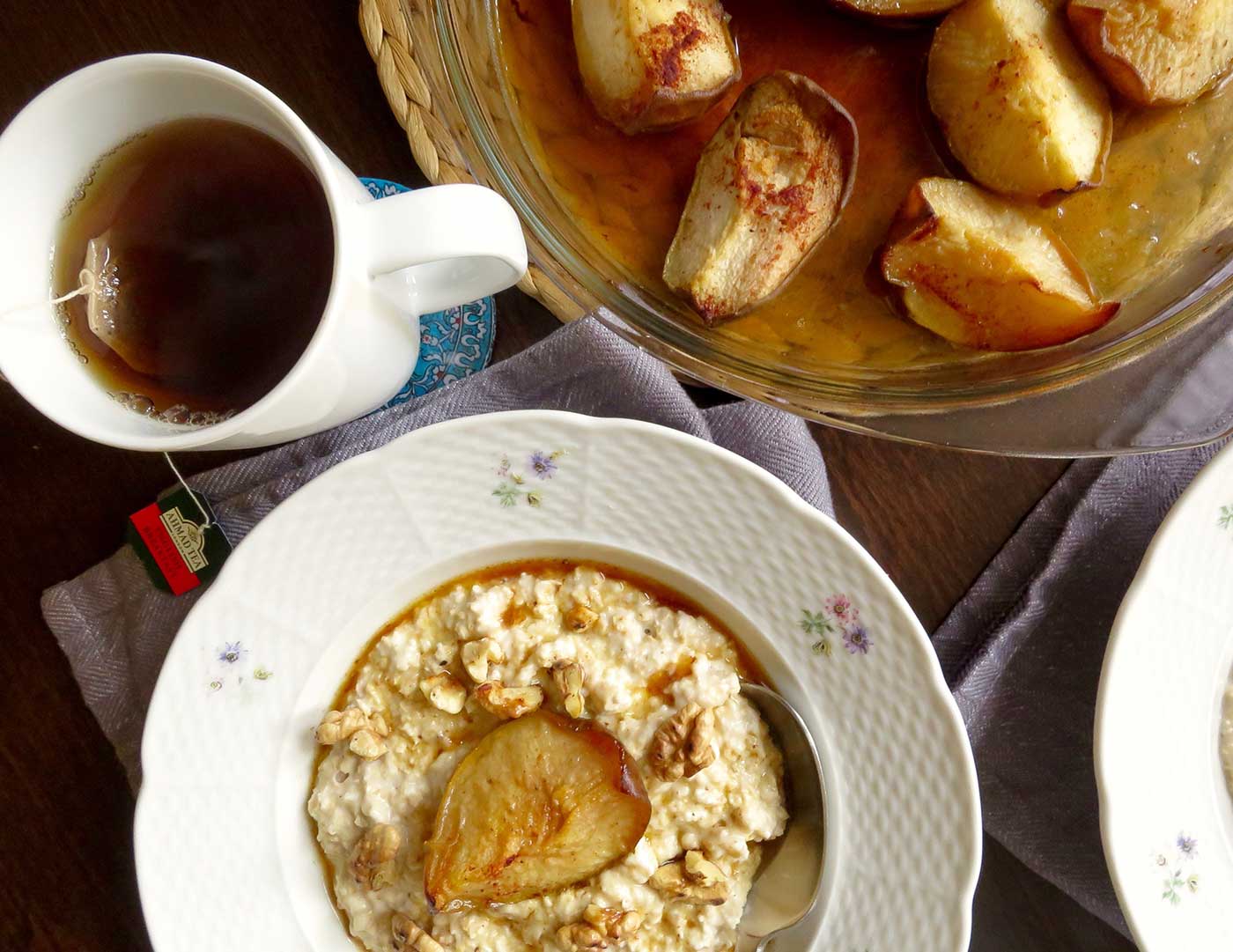 I must warn you however that there is a little prep work involved in this porridge but it's worth every second and very little effort is required:
First you need soft(ish) and ripened pears (the harder they are the longer it takes for them to roast and the less sweet they are). With the skin on or off (up to you), cut the pears lengthwise into quarters or halves (depending on the size of the pears). Place them in a roasting dish along with a squeeze of lemon juice, maple syrup, cinnamon and butter. Place into a preheated oven and let the oven do the work.
I usually prepare the pears the night before whilst I'm doing something productive watching T.V. and then reheat the pears for a minute or two whilst I make the porridge in the morning – I'm all about efficiency.
Porridge has a magic ingredient:
I'm not sure if I need to tell you how to make porridge as I'm sure most of you already know, so I'll leave the details for the recipe below. I would like to mention however, that there is one ingredient in porridge that cannot be left out, no matter how you like your porridge. That ingredient is salt. Salt brings so much more flavour to porridge and without it it tastes entirely different – do not leave it out!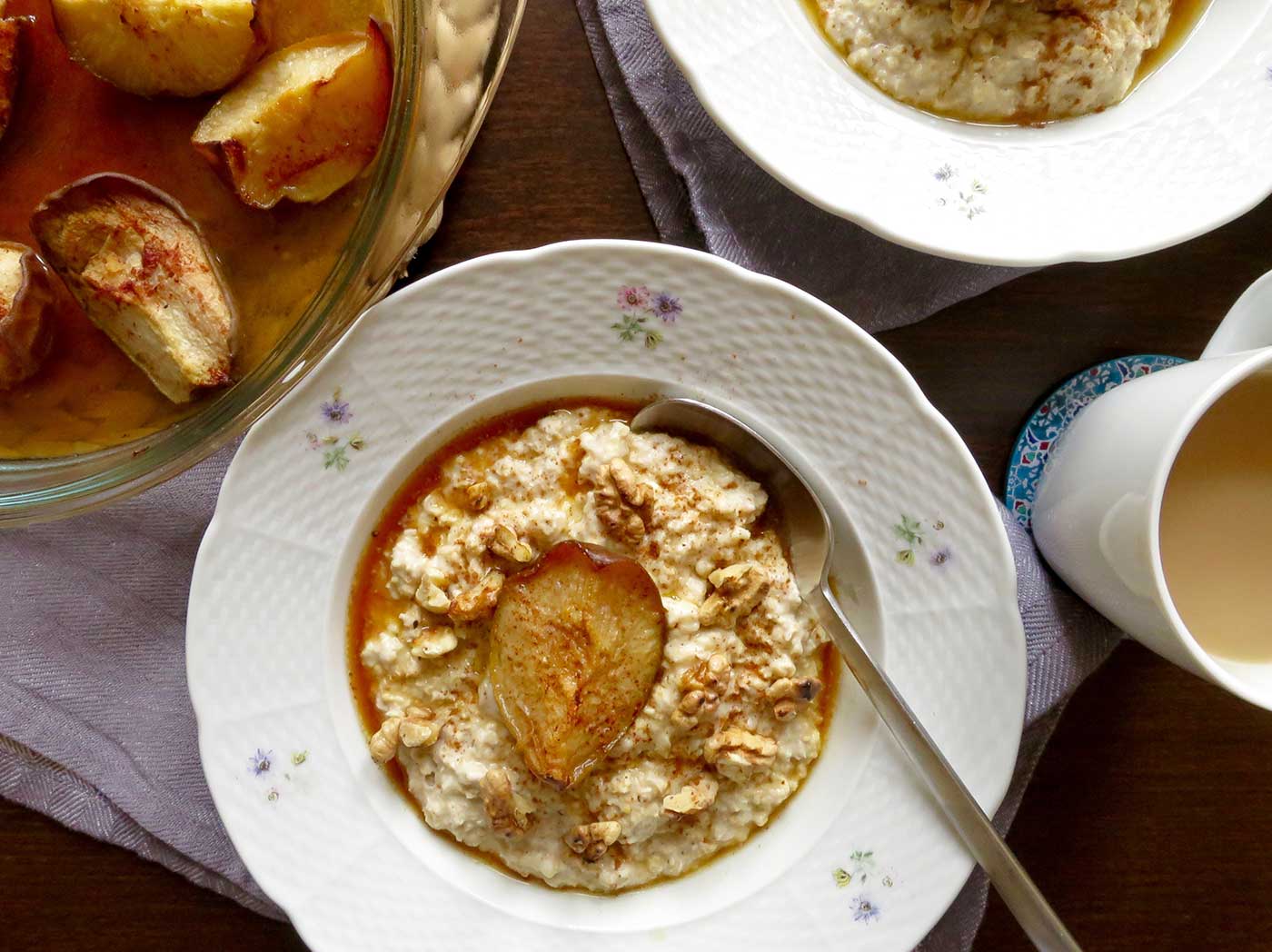 Happy Monday and happy porridge eating!
x
YOU MIGHT BE INTERESTED IN