COOKING TIME:
Leave 2hrs / overnight


DRY INGREDIENTS
2 cups rolled oats
Pinch of salt
1 tsp cinnamon
1/2 tsp ground ginger
2 tbsp cocoa
2 tbsp desiccated coconut
WET INGREDIENTS
*2 cups milk (I particularly like coconut or almond but you can use cow, soy or any other milk of your choice).
1 grated apple (or pear)
Honey to taste (optional)
METHOD

1. Mix together the dry ingredients until well combined in a large bowl.
2. Add the wet ingredients and mix well.
3. Spoon mixture into mason jars or any container with a lid and place in the fridge for a minimum of 2 hours or best it to leave it overnight.
4. Top with flaked coconut, yoghurt and a drizzle of honey (or any other desired topping).
NOTES
* Add more milk to get desired consistency.
* If you are need of something hot, this bircher muesli is also delicious when heated in a pan/microwave.


PRO TIPS, TRICKS & EXTRAS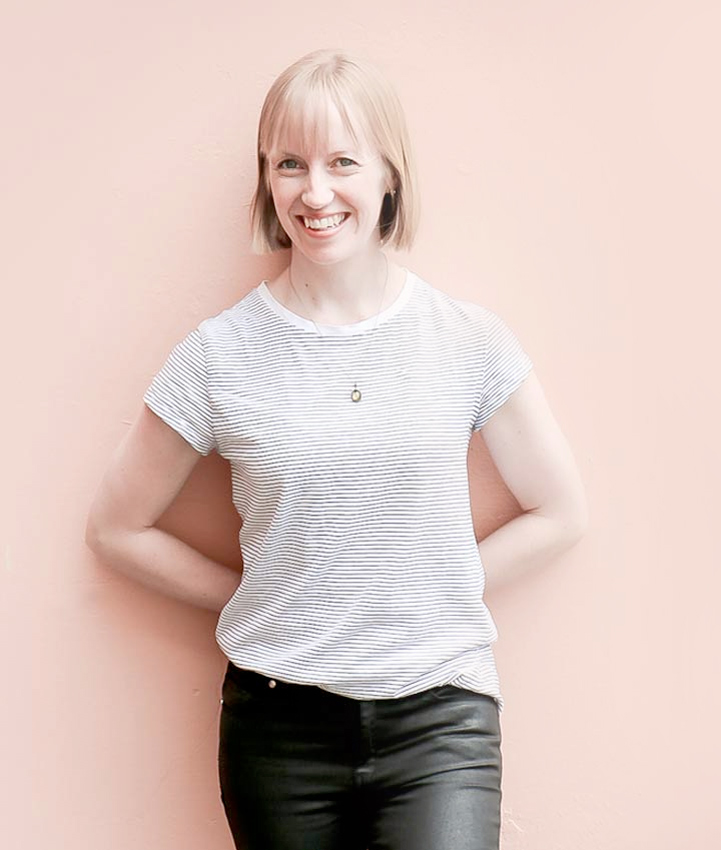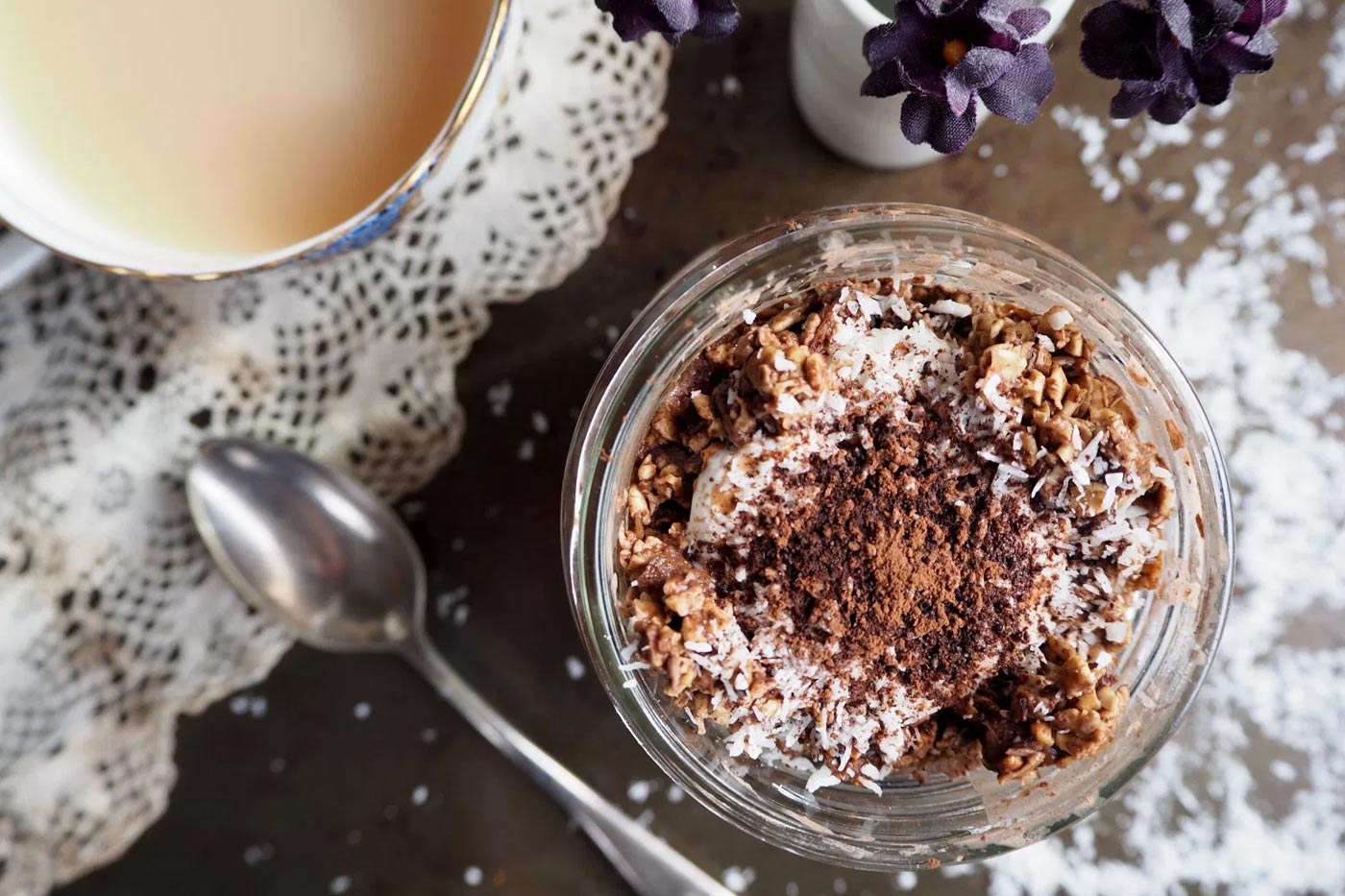 Earthy, chocolatey and heavenly.
This easy to prepare chocolate coconut bircher muesli is best made the night before so it's perfect for those who never have time to make breakfast in the mornings.
I love bircher muesli. I like walking into the kitchen in the morning knowing that breakfast has been working it's magic all night long and I didn't have to lift a finger. This is particularly handy for me seeing as making breakfast is usually my job in the mornings. To me it's the summer version of porridge (which I love also) but it doesn't stop me from eating it all year round.
Since summer has clearly left us and we're now approaching winter, I've given this bircher muesli a slight winter touch with the addition of earthy flavours (cocoa, ginger and cinnamon). Grated apple and honey are added for sweetness and a hint of coconut combines with these flavours perfectly.
I can assure you that your taste buds will thank you for making this – it has chocolate in it after all. And because the oats are soaked overnight, they are a lot easier to digest and all the flavours are greatly enhanced.
If you've never tried bircher muesli before, this would be a great recipe to start with. I often make a big batch which lasts several days. That way I save time and Kevin thinks I'm so good to him for 'making breakfast every morning'. Don't tell him that I'm cheating.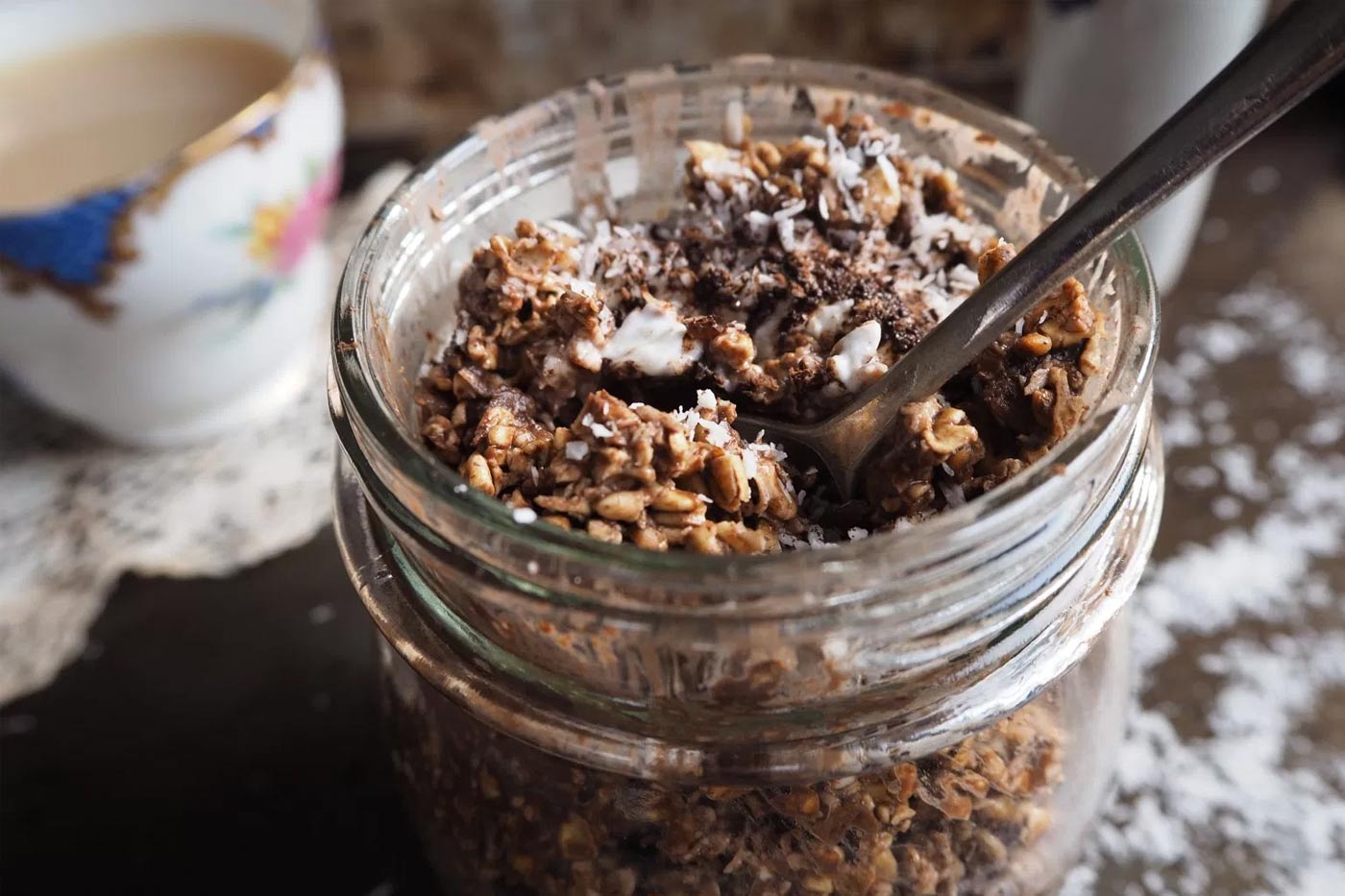 A great perk about this recipe is that if mornings are too busy to eat breakfast, you can simply spoon a desired portion of the mixture into a mason jar/container ready for you to take on the run.
Did I mention that kids will love this also? They'll think they're getting an uber treat because it's something chocolatey for breakfast, and as a parent, you can rest assured knowing that they getting a lot of nutrients and fiber – it's a win-win.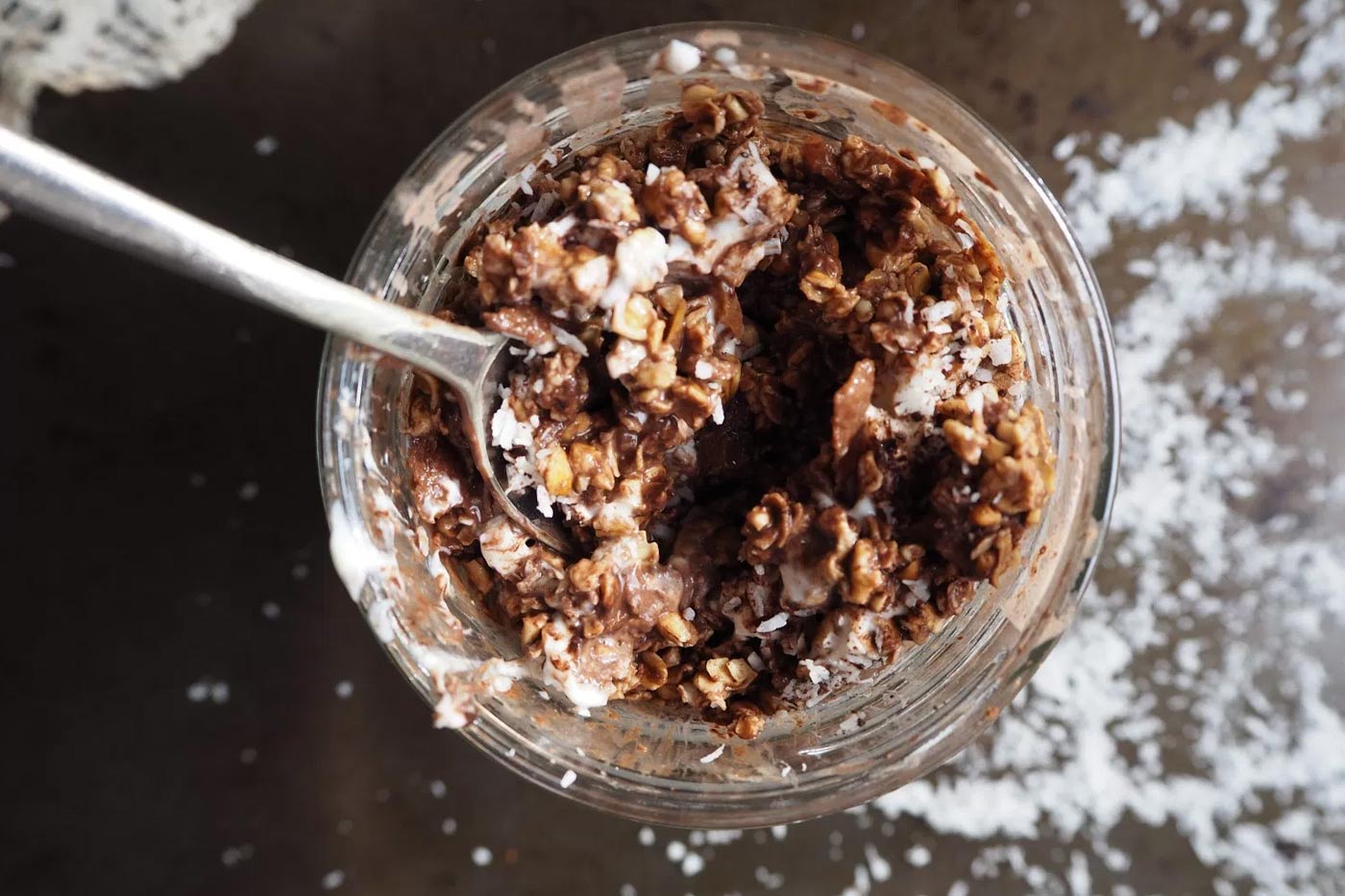 YOU MIGHT BE INTERESTED IN