METHOD

1. Preheat oven to 190C (375F). In a medium sized bowl sift flour, baking powder, dry mustard powder, cayenne pepper (or chilli).
2.Using your finger tips or a pastry cutter, rub in butter until mixture resembles fine breadcrumbs. Stir in cheese then lightly beat egg and add to mixture also. Using a fork, stir the mixture until it forms a stiff, pliable dough (you may need to get your hands in the mixture to help bring it together.
3. Transfer the dough onto a large piece of baking paper and roll dough to 5mm thickness. From here you can either use a knife to cut 'straws' (about 1 x 5 cm) or cut shapes using cookie cutters to make biscuits. Spread the straws/biscuits a few cm's apart from each other and slide the baking paper onto a baking tray.
4. Bake for 10 minutes or until pale golden. Transfer to a cooling rack.
These are delicious eaten plain, straight from the oven or even served with dips.
NOTES

* These delicious cheese straws are best eaten on the day they are made but can keep for 1-2 days in an airtight container.
By Sarah Sears


PRO TIPS, TRICKS & EXTRAS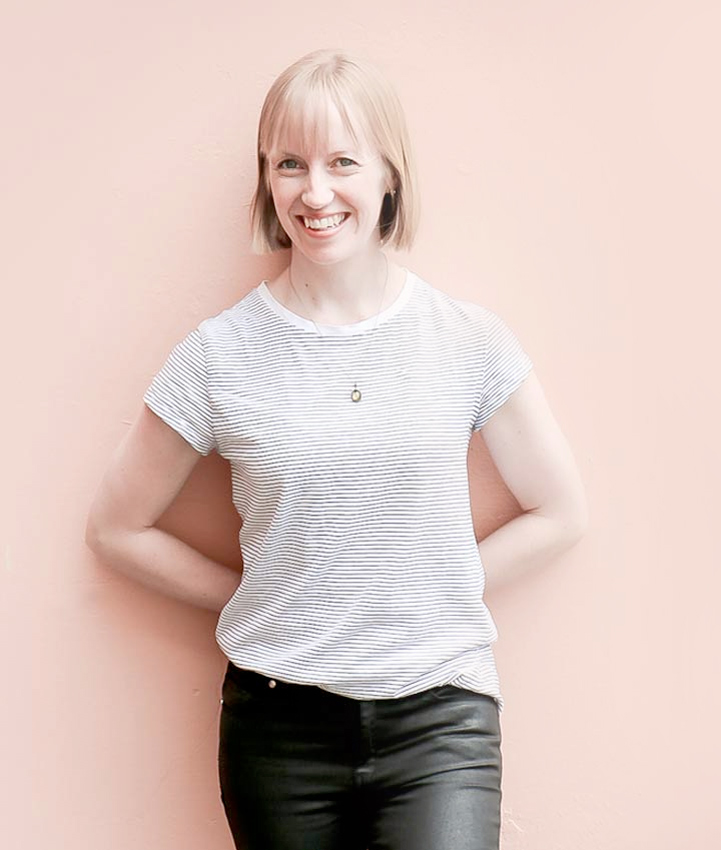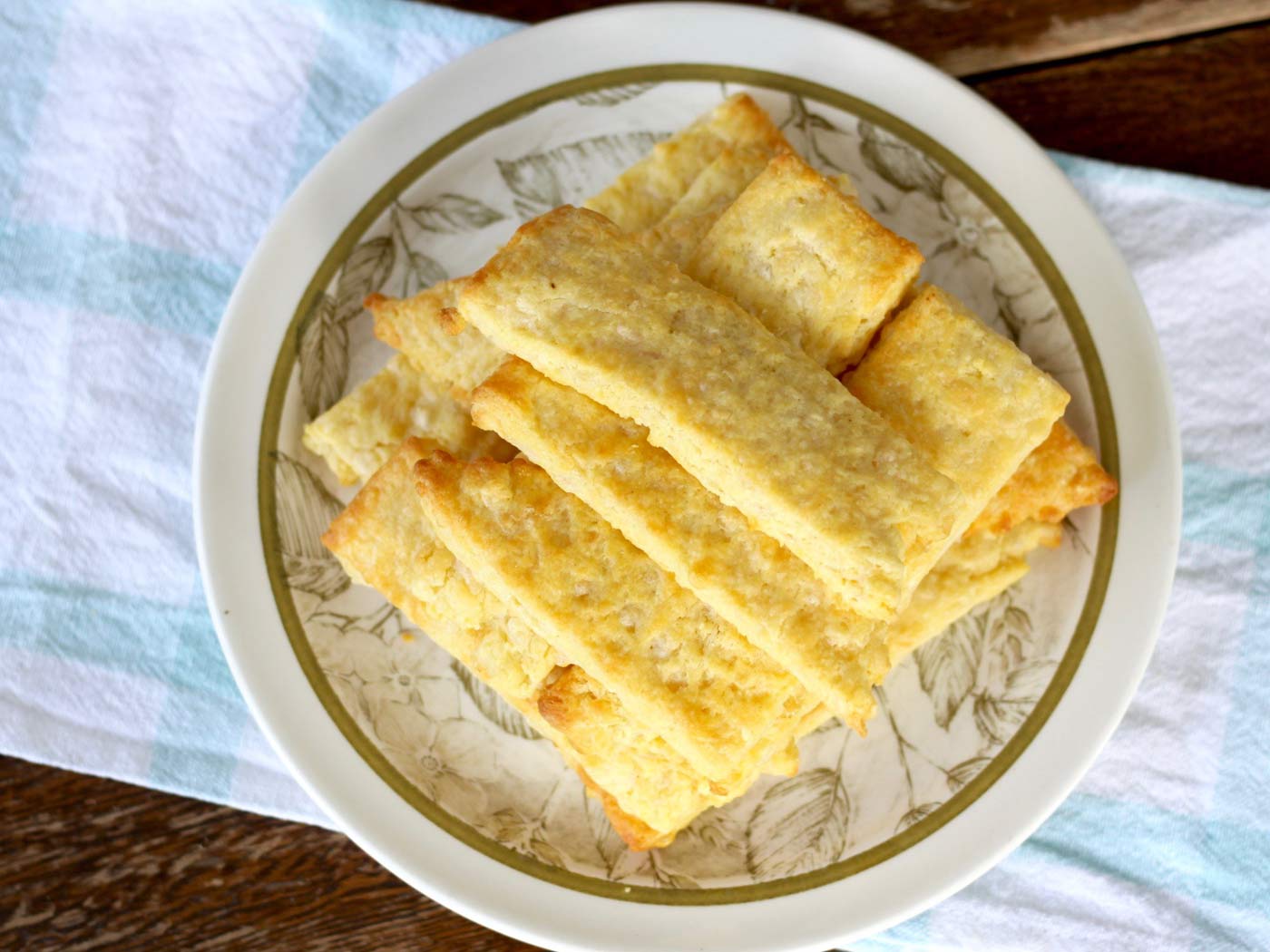 Every New Zealander (and non-New Zealander!) needs to have these classic Kiwi cheese straws in their baking repertoire!
For all you fellow Kiwi's out there, I expect you've tried classic Kiwi cheese straws before, right? If not, then I'd like to have a word to the baker in your household.😉
For you non-Kiwi's out there (in case you're not familiar with them), cheese straws are flaky, cheesy, mouthwatering bites of short pastry heaven. They are jazzed up with a hint of mustard powder and cayenne pepper for a bit of kick and they're one of my favourite classic Kiwi snacks.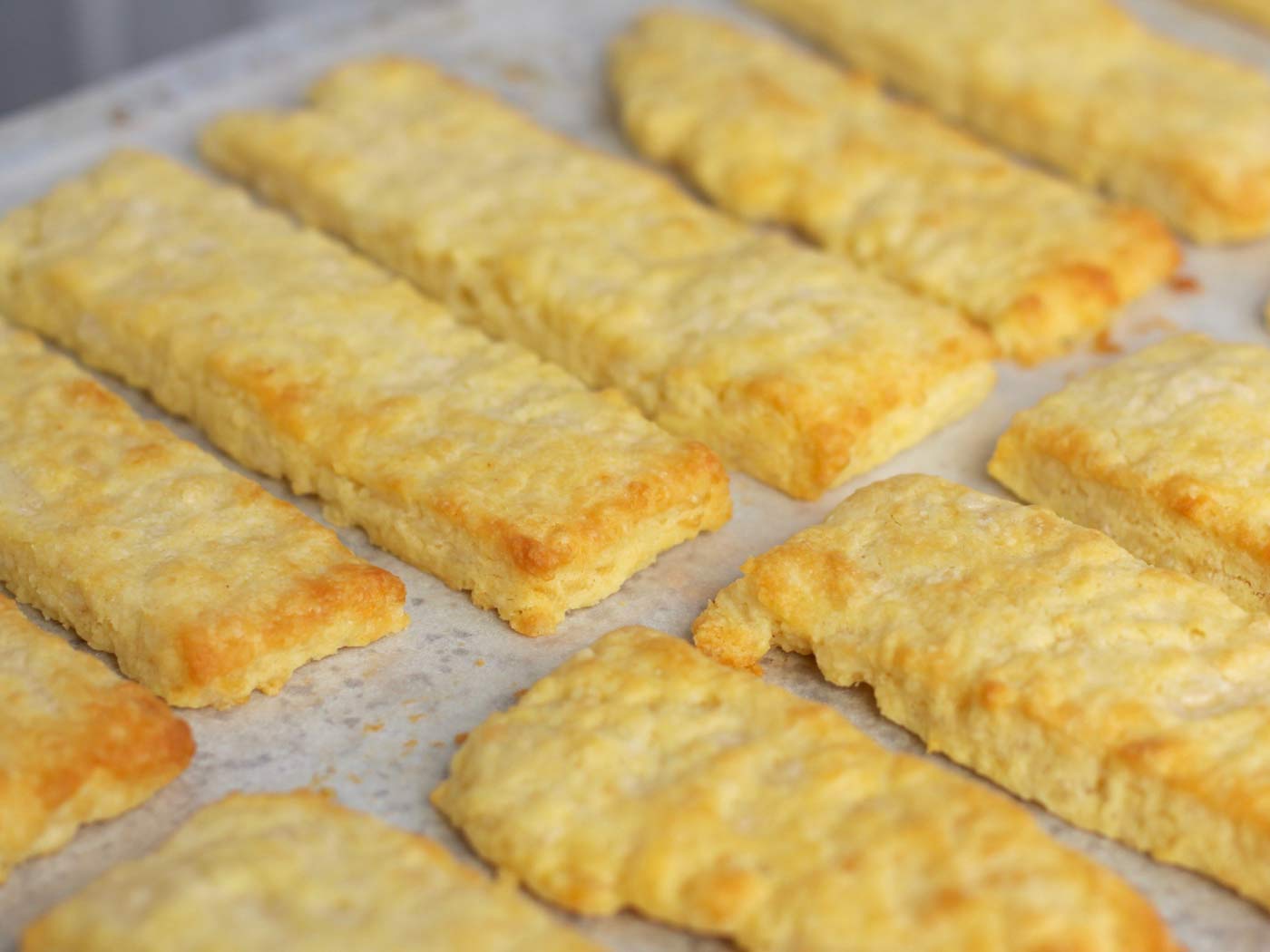 Cheese straws feature in other countries as well, like the ones in Italy which are called salatini al formaggio and are made with twists of puff pastry, lightly sprinkled with cheese (they're equally delicious). Classic Kiwi Cheese Straws however are made from a shorter pastry and are somehow more homely. They featured a lot in my childhood and were usually made by my Nana and when she passed away, my sister took over the role and they were always a hit.
I made a batch for my other Nana recently who is also a big fan of cheese straws and used the hard-to-beat Edmond's recipe. They make a great snack for afternoon tea.
Classic Kiwi Cheese Straws Baking Secrets:
There are three baking secrets that come in handy when making classic kiwi cheese straws as tender, flaky and as flavoursome as they can be:
The rubbing-in method: By rubbing the fat (butter) into the flour, the flour proteins are protected by a layer of fat, preventing too much gluten from forming, resulting in a much lighter dough
Cold butter: As with most recipes that require the rubbing-in method, cold butter is paramount to producing a flakey, mouthwatering texture. Why? Because cold butter enables flakes of butter to exist throughout the dough. These flakes create layers throughout the dough and the water within them evaporates when baked and enhances lift, creating a light, flaky texture.
Strong tasting cheese: These classic kiwi cheese straws really do benefit from having a strong tasting cheese in them (I like using Tasty, Vintage or Cheddar). In my opinion, the stronger the better! You could also mix it up and add chopped feta, blue cheese or brie for a slightly different flavour.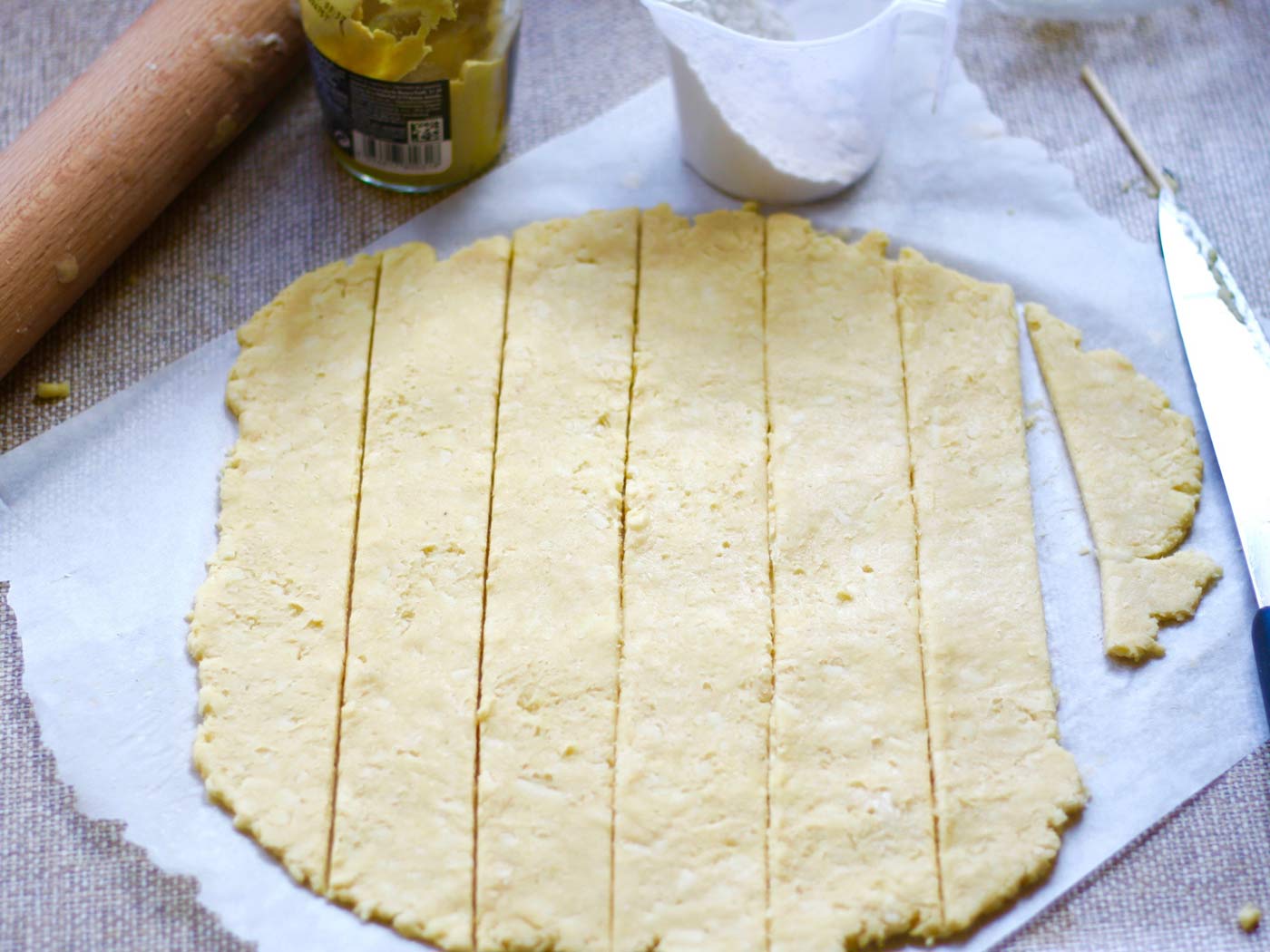 Once the dough is mixed together, it is rolled out on to a piece of baking paper and cut into shapes before baking. I like to cut mine into 'straws' but you can also cut shapes using a cookie cutter.
Cheese straws are a moreish snack, so watch out – you may be making a second batch sooner than you expect.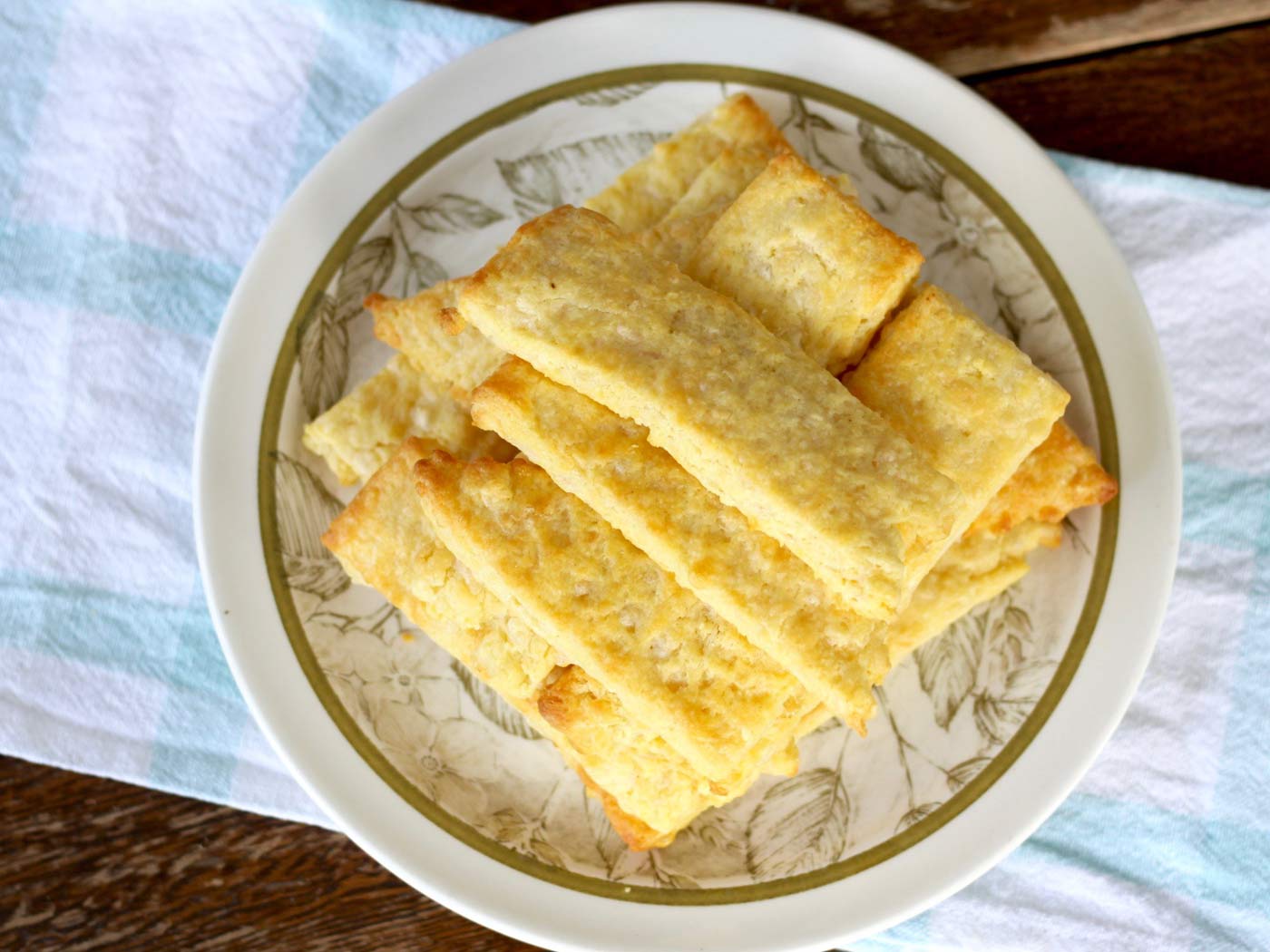 YOU MIGHT BE INTERESTED IN