SPICE PUMPKIN BREAD INGREDIENTS
100g plain all purpose flour
100g wholemeal flour
1 tsp baking powder
1/4 tsp baking soda
1 tsp ground cinnamon
1/2 tsp mixed spice
1/4 tsp salt
200g (1 cup) granulated sugar
90g (1/2 cup) oil
70g (1/3 cup) yoghurt (or buttermilk)
2 large eggs
1 tsp vanilla extract
1 cup pumpkin puree *
CRUMBLE TOPPING INGREDIENTS
60g (1/2 cup) flour
100g (1/2 cup) brown (or white) sugar
20g (1/4 cup) rolled oats
1/2 tsp each of mixed spice and cinnamon
110g (1/2 cup) butter, melted
METHOD

1.Preheat oven to 175C (350F) and line a 21.5cm x 8cm (8.5 inch x 3.5 inch) inch loaf tin with baking paper.
2. In a large bowl, sift together the plain and wholemeal flour, baking powder, baking soda, cinnamon, mixed spice and salt. Whisk to combine and set aside.
3. In a medium sized bowl, whisk together the sugar, oil, youghurt, eggs, extract and pumpkin puree until well combined.
4. Make a well in the center of the dry mixture and add the wet mixture, folding gently to just combine. Be careful not to over-mix.
5. Pour the mixture into the prepared loaf tin and sprinkle the crumble topping over the batter.
6. Bake in the preheated oven for 50-60 minutes or until a skewer comes out clean.
7. Let the bread sit in the tin for 15 minutes before inverting the bread onto a wire rack. Once completely cool, cut into slices.
To make crumble topping
Combine all ingredients in a bowl and mix well to combine.
* This bread keeps for 3-4 days in an airtight container – but it's unlikely it will not last that long 😉
NOTES
* You can buy pumpkin puree from the supermarket, or if you're like me, you can make your own: Place 300g peeled pumpkin with 1/4 cup water in a small pan. Bring to the boil then simmer for 5-10 minutes or until cooked. Drain the water, and mash the pumpkin with a fork whilst warm or blitz with a whizz until smooth. Cool before using.
By Sarah Sears


PRO TIPS, TRICKS & EXTRAS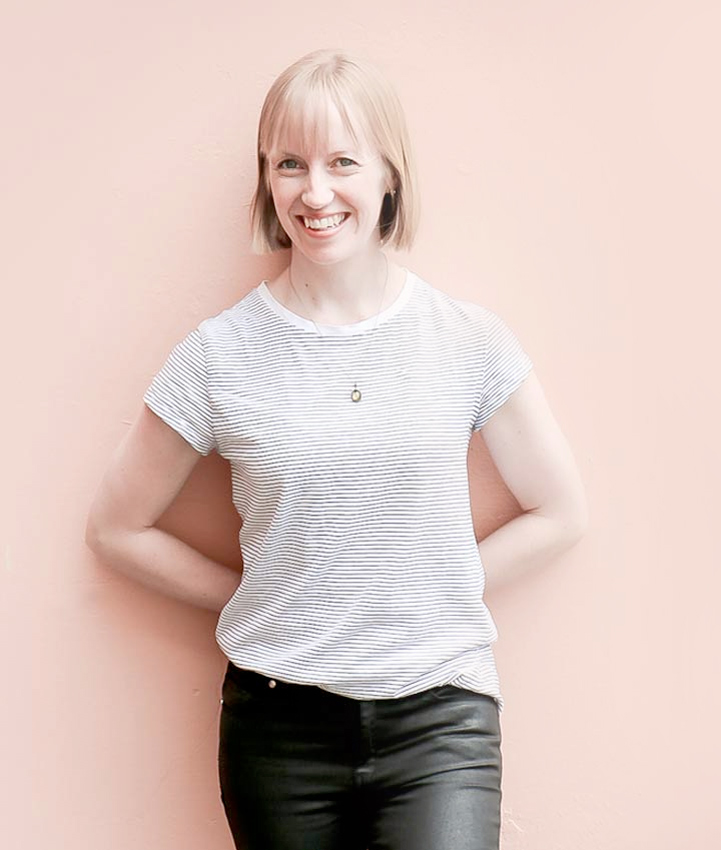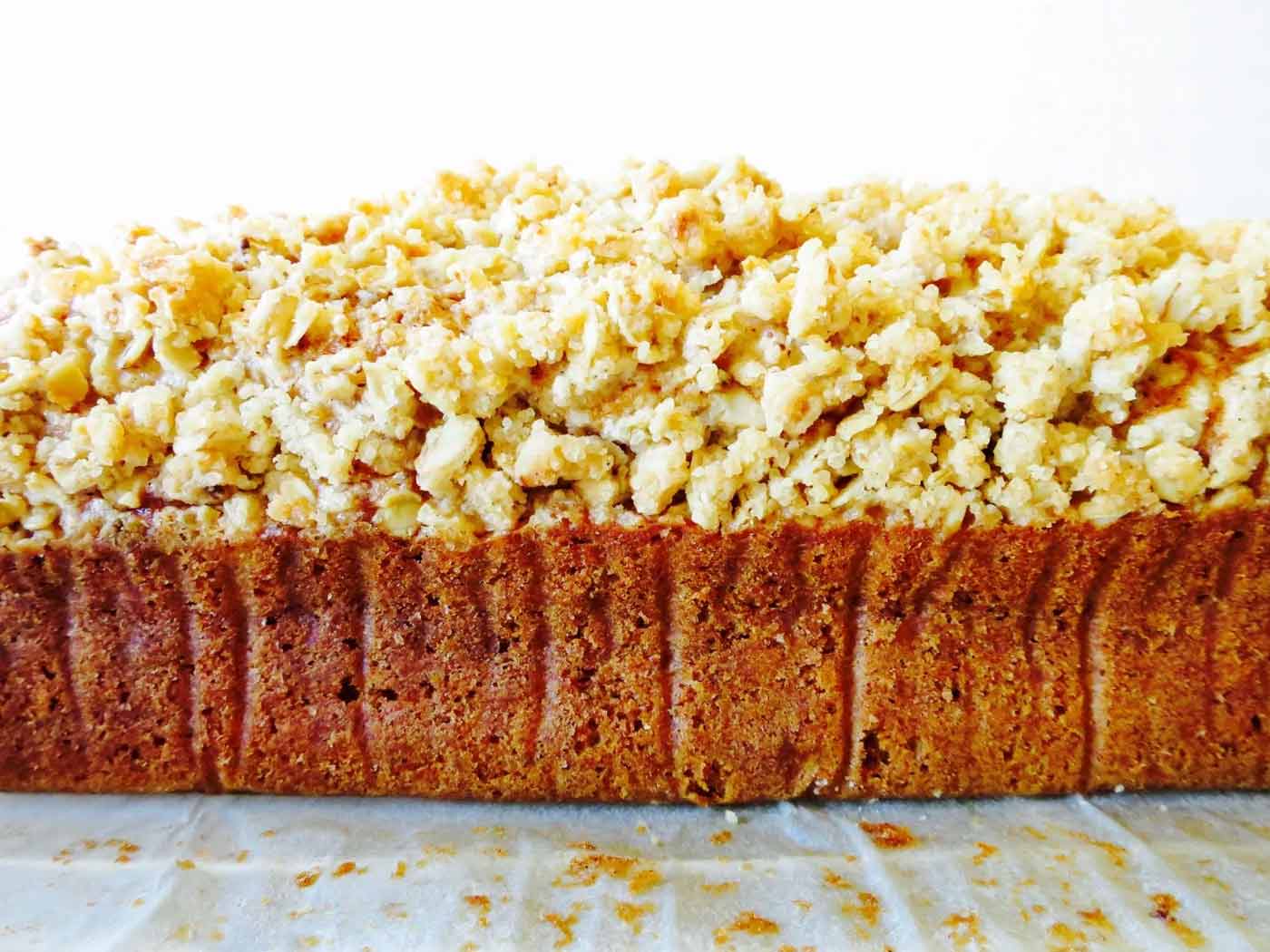 This spiced bread is oh-so-tender and full of flavour.
Let me introduce you to the most tender, moist and flavour rich spiced pumpkin bread that you may ever come across. I'm quite serious. This spiced pumpkin bread is so delicious that you'll want to eat the whole loaf in one sitting (I nearly did).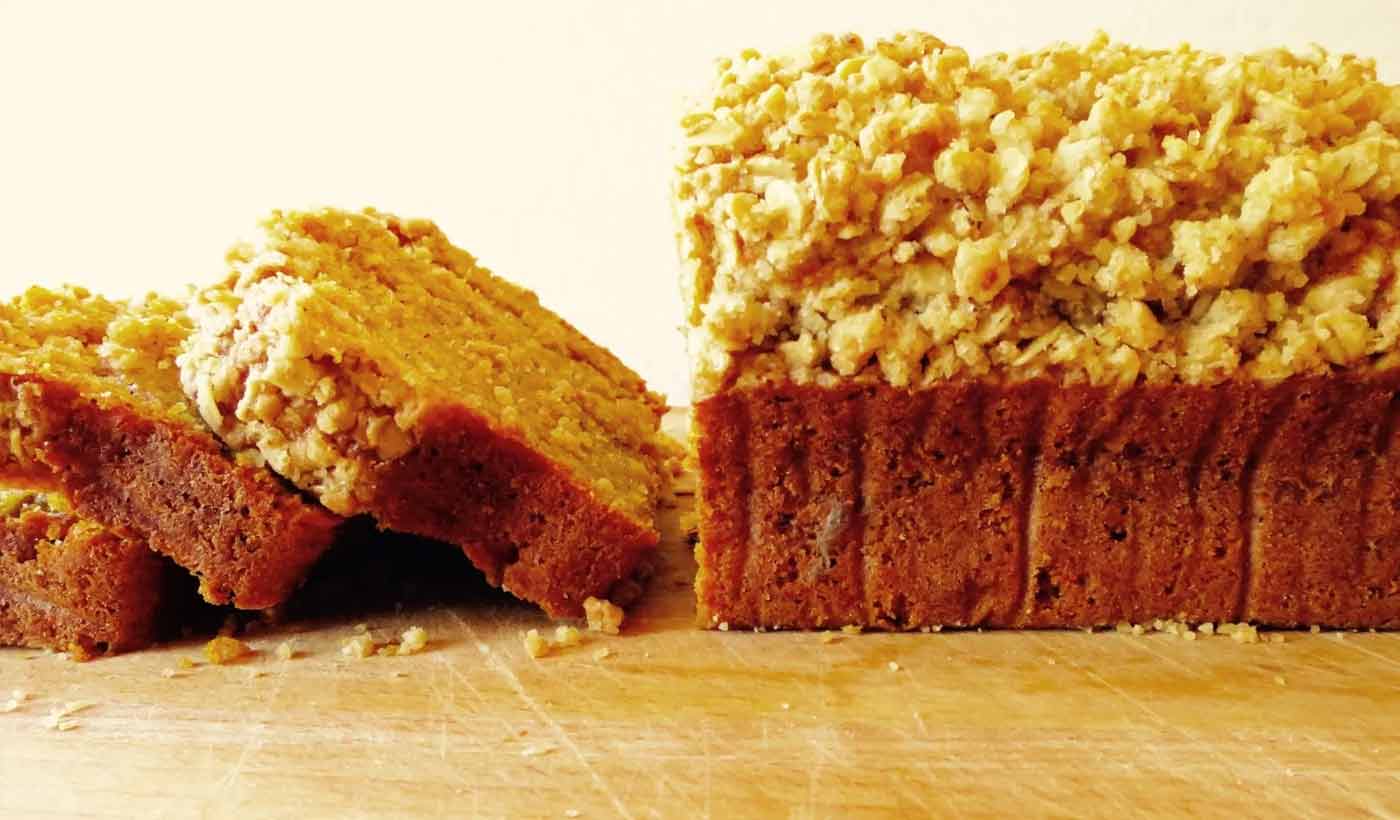 When you take a bite of this sweet pumpkin bread, your senses are hit with a soft, tender, almost mousse-like texture which is met by a hearty crunch from the oaty and buttery crumble topping. And the flavour? Well it's kind of like a sweet spice shop exploding in your mouth. It's a must try for any pumpkin lover or even pumpkin hater – it's a converter for sure. So if you've been wanting a new pumpkin recipe to add to your repertoire then this is it.
This bread can easily be made into mini loaves to give away as Christmas gifts or you can double the recipe to make two big 21.5cm x 8cm (8.5 inch x 3.5 inch) loaves. It also makes the perfect morning or afternoon tea snack or special breakfast treat.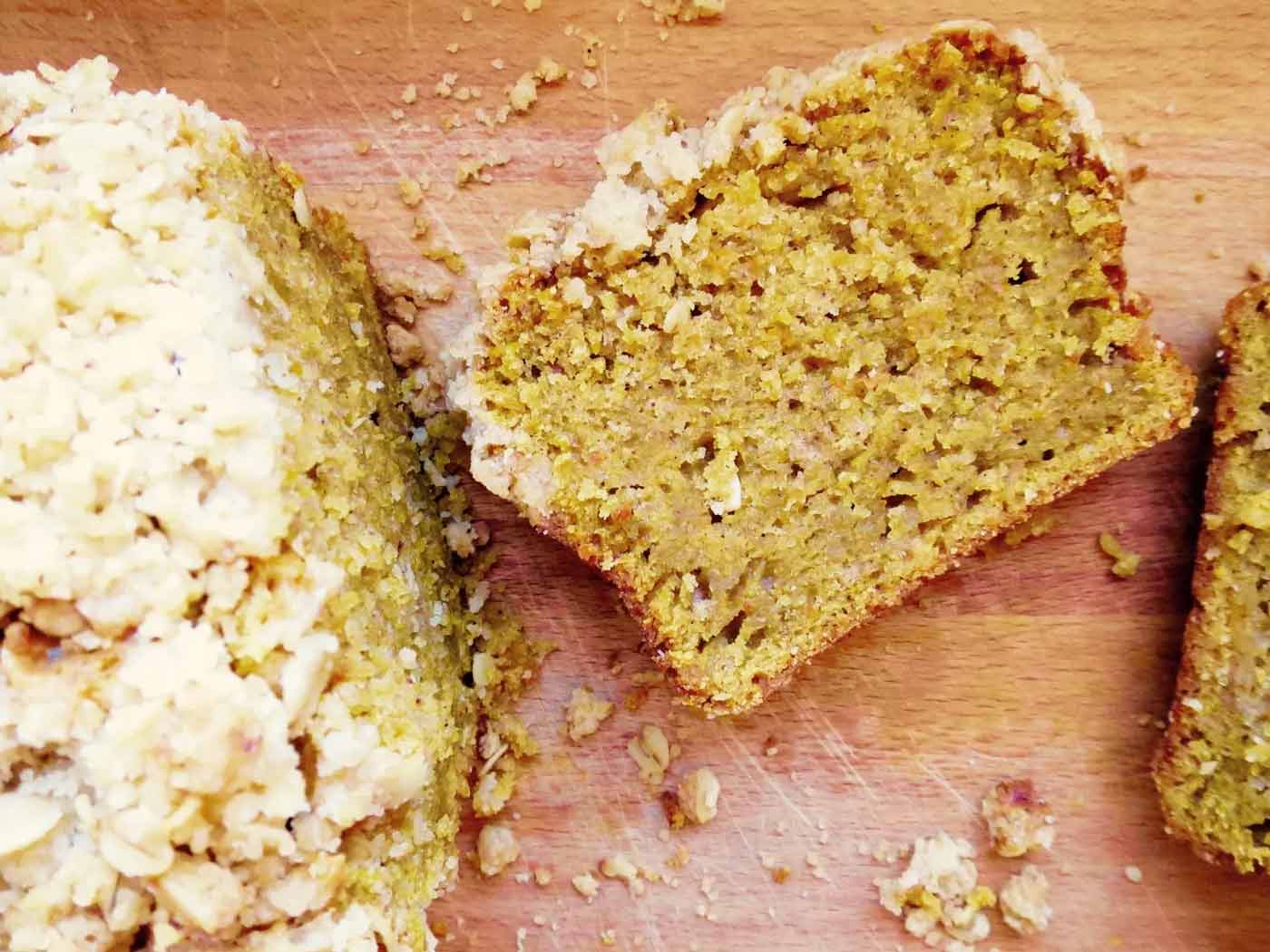 Would you like to know a few of the baking secrets I used whilst creating this recipe to achieve the perfectly moist and tender crumb?
Here they are:
The fat in this recipe is oil – oil coats the flour proteins better than butter and thus inhibits gluten formation (too much gluten creates a tough and chewy texture). Because the proteins are 'greased', they are too slippery to hold onto water so more is left in the cake, adding more moisture – bonus.
The yoghurt (which is acidic) + baking soda (alkaline) balance each other whilst also reacting, creating more bubbles and thus creating more lift/rise.
The muffin method is used to prevent too much gluten from forming (all dry and wet ingredients are mixed separately).
Other notes:
I used a combination of wholemeal and plain white flour for an extra nutty, and earthy taste but you can add all white if preferred.
YOU MIGHT BE INTERESTED IN