INGREDIENTS
1 cup greek yoghurt (or chocolate mousse/pudding)
250ml (1 cup) cream
1 teaspoon vanilla extract
1 tablespoon sugar
400g frozen berries, thawed (keep berry liquid), mixed with 1 tablespoon sugar
1 chocolate cake (store bought or home made), cut into cubes
1/2 cup fresh berries (optional)
(see post for variations)
METHOD

1. Beat cream until soft peaks form. Fold in the yoghurt (or chocolate mousse/pudding), set aside.
2. Place 1 tablespoon of berries in each glass and arrange 3-4 cubes of cake on top of the berries. Drizzle 1 tablespoon of berry juice/liquid on top of the cake.
3. Spoon 1 tablespoon of yoghurt-cream mixture on top of the berry juice, then add more cake, berries and juice.
3. Repeat this process until you reach the top of the glass. Decorate each trifle glass with fresh berries and extra berry juice or sprinkle sifted cocoa powder on top. Serve straight away or cover and refrigerate until ready to serve.
Notes
* Mini trifles can be prepared up to 24 hours in advance.
By Sarah Sears


PRO TIPS, TRICKS & EXTRAS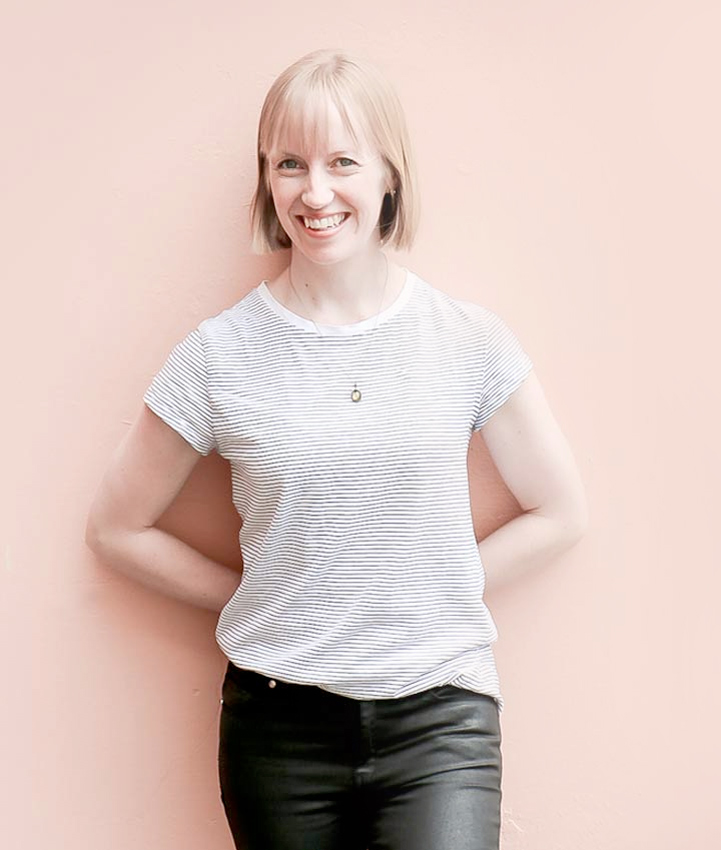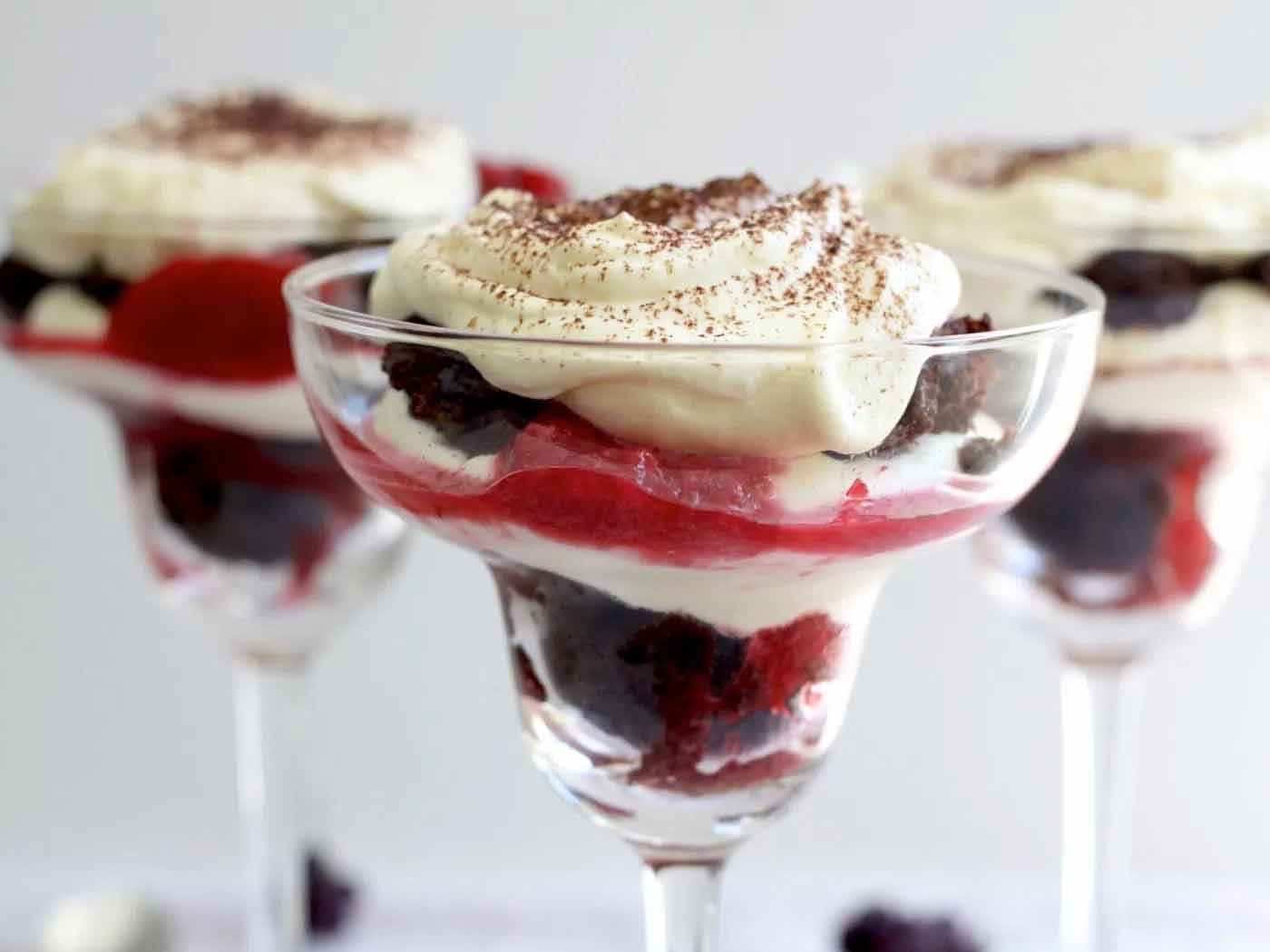 The easiest dessert recipe you can 'wow' your guests with and have prepared hours before they even arrive…
How's your week going so far? I'd like to think that however it is (good or bad), that I am about to make it that much better with these mini berry chocolate trifles…
These trifles are the answer to any immediate dessert craving you have and they are also the answer to a stress-free dinner party dessert. You can serve them as individual desserts or as one big dessert, served in a large glass trifle dish. However you make them, know that they have a lot of 'wow-factor' for very little effort.
When I'm having people over for dinner, I like to have most things prepared before our guests arrive so that I can enjoy their company instead of spending most of the time busy in the kitchen. That's just one of many great things about this dessert – it tastes even better when it's had time to 'soak' in it's flavours, which means you can prepare it ahead of time, all ready to go for when it's time for dessert (clearly the most important course of my evening). I've been making these little berry and chocolate trifles for a few years now and they are always a hit – I think you're going to like these.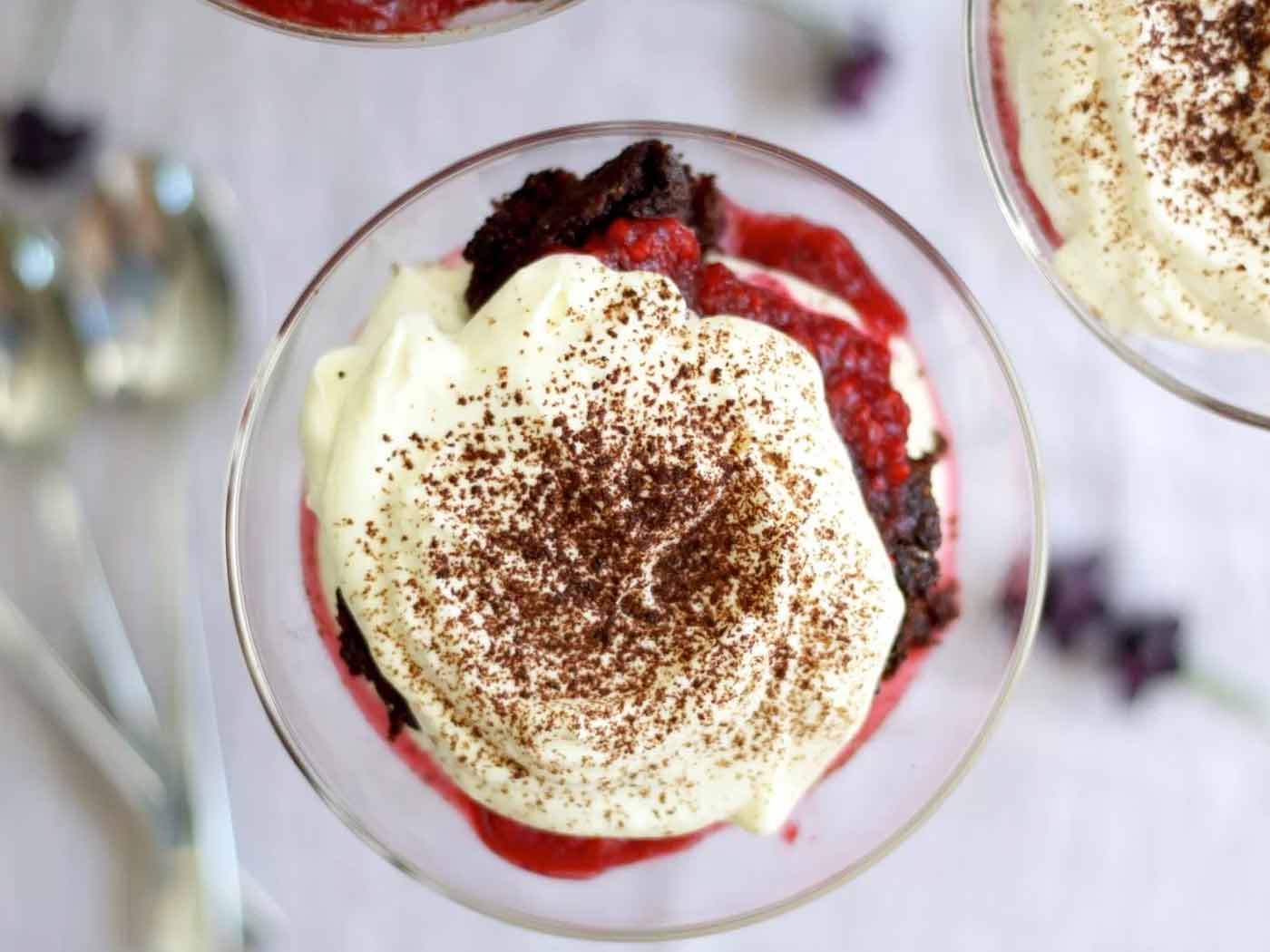 I usually make mine with pieces of chocolate cake, berries + their juice/or syrup, chocolate/plain yoghurt and cream.
I like to use up cake 'scraps' that I have in the freezer (I often have left over cake tops in my freezer from leveling cakes – never throw these away by the way!). In case you're not a cake hoarder like me and you don't have spare cake lying around, you can use any store bought cake, brioche, sponge fingers or whatever you fancy.
There are no rules with this dessert, you can get creative and add any flavour, cake, fruit, topping etc. that you like.
Here are some ideas…
Flavour Variations:
This dessert is great for any season, celebration or occasion. Mix it up and use what you have on hand, like:
Vanilla sponge cake, berries, and cream (great for summer)
Gingerbread, custard/eggnog and brandy/rum (for a winter-y/Autumn feel)
Chocolate brownie, chocolate mousse, berries, sherry and cream
Vanilla cake, banana slices, custard and cream
Chocolate/vanilla cake, jelly, ice cream, cookie crumbs (whoa, so yummy)
Banana cake, banana slices, cream and custard
vanilla cake, limoncello, lemon curd, blueberries, cream
GF/Vegan Option: GF/Vegan cake, berries, banana mixed with 1 tablespoon cocoa, cashew cream
The list could go on and on…what would you put in your mini trifle?
If you have never heard of a trifle before, (then you can thank me later…) you can learn more about them here and here.
How to Make Mini Trifles: Layer it up
Gather 4 drinking glasses, parfait glasses, glass jars or any other clear vessel and place on a tray.
Place 1 – 2 tablespoons of fruit in the bottom of each glass. Then place broken up cake over top, to reach 1/3 of the cup.
Pour 1 tablespoon fruit juice/syrup from berries or your favourite liquor over cake
Top with cream, yoghurt, mousse or whatever you fancy on top.
Repeat steps 1-4 and top with fresh berries
…and voila! Mini trifle.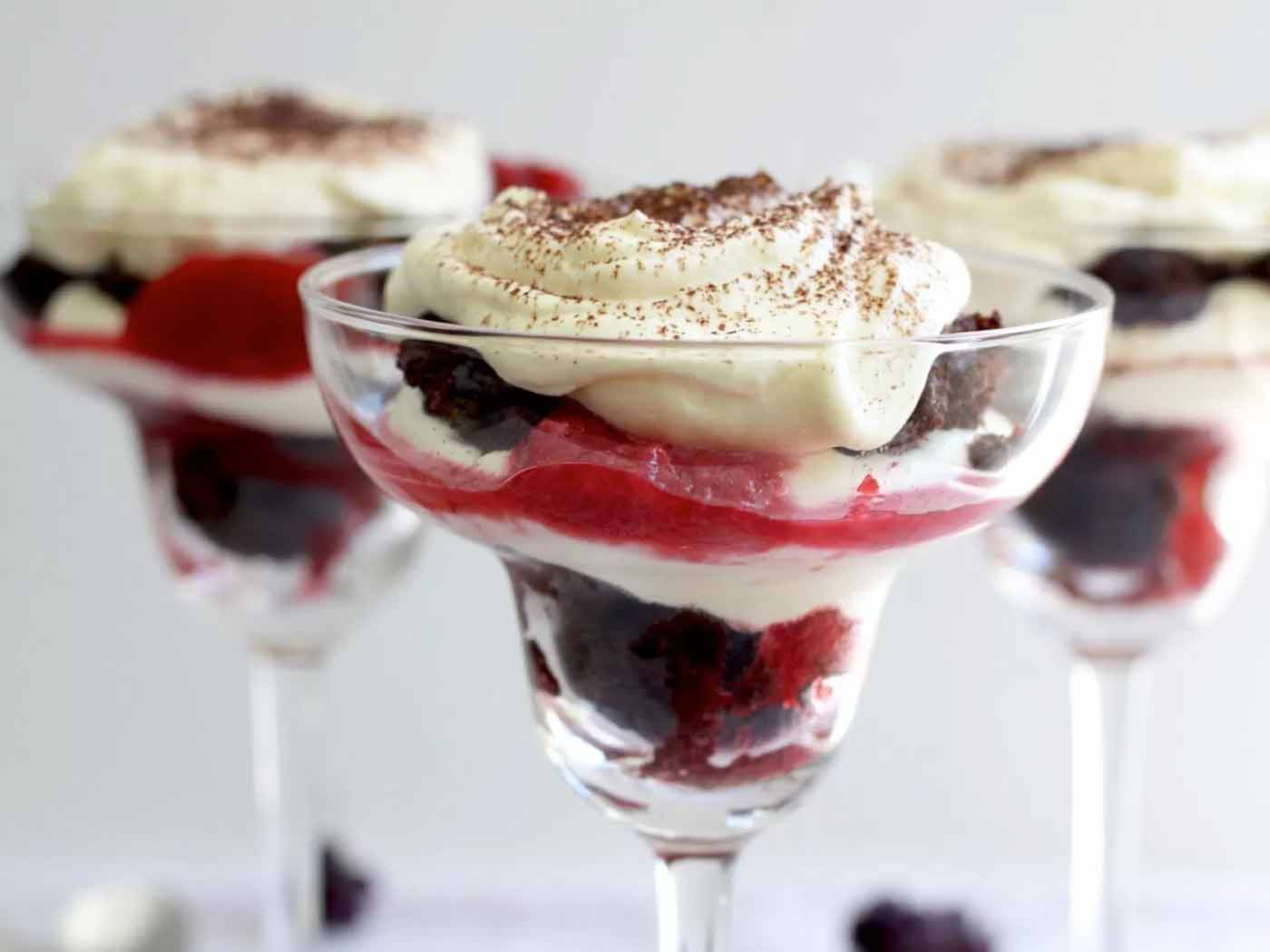 Do note that the more liquid, the better. The cake likes to soak up as much of it as possible so don't hold back 🙂
Enjoy!
YOU MIGHT BE INTERESTED IN