SHORTBREAD DOUGH
76g (1/2 cup + 3 tablespoons) icing sugar
200g (1+ 2/3 cup) plain flour
30g (1/4 cup) cornflour
1/2 teaspoon salt
230g (1 cup) butter, cubed and cold
1 teaspoon vanilla extract
LEMON CURD FILLING
1/2 cup lemon curd (lemon honey)
1 + 1/4 cups, full fat greek yoghurt (or whipped cream)
36 fresh berries
Icing sugar (to dust, optional)
METHOD

1. Sift sugar, flour, cornflour and salt together in a bowl and whisk well to combine. Add butter and using a pastry cutter, two knives, or finger tips, cut/rub the butter into the mixture and add vanilla. Continue mixing until the mixture comes together.
2. Roll 1 tablespoon of shortbread dough (about 15 grams) and place in the center of each muffin hole of a mini muffin tin. With your fingertips, press the dough onto the bottom and up the sides of the individual muffin tin. Once filled, cover and place the mini muffin tin, with the unbaked shells, in the freezer for about 15 minutes so the shortbread can become firm (this will help to prevent the shortbread from puffing up during baking).
3. Meanwhile, preheat oven to 170C (325F) and place rack in the center of the oven. Bake the shortbread shells for approximately 20 minutes or until lightly golden brown. Once they are fully baked, remove from oven and place on a wire rack to cool. You may need to 're-shape' them with your fingers or the back of a spoon when cool enough to touch. When completely cooled, remove the tarts from the pan.
4. To serve: Using two small spoons, fill the shortbread shells with a dollop of the lemon curd filling. (If desired, you could also place the filling in a piping bag, fitted with a small plain tip). Top with a fresh berry and dust with icing sugar.
Lemon Curd Filling
5. In a medium sized bowl, mix together the yoghurt or cream with the lemon curd. Add more or less lemon curd depending on the colour and taste you want.
Notes
*The filled shortbread shells can be made several hours in advance and refrigerated. Just before serving, top with fresh berries or other desired fruit.
** If you don't want to bake all the shortbread shells at once, you can freeze remaining dough in an airtight container/bag, ready for another time or use the dough to make shortbread cookies.
By Sarah Sears
Adapted from The Joy of Baking


PRO TIPS, TRICKS & EXTRAS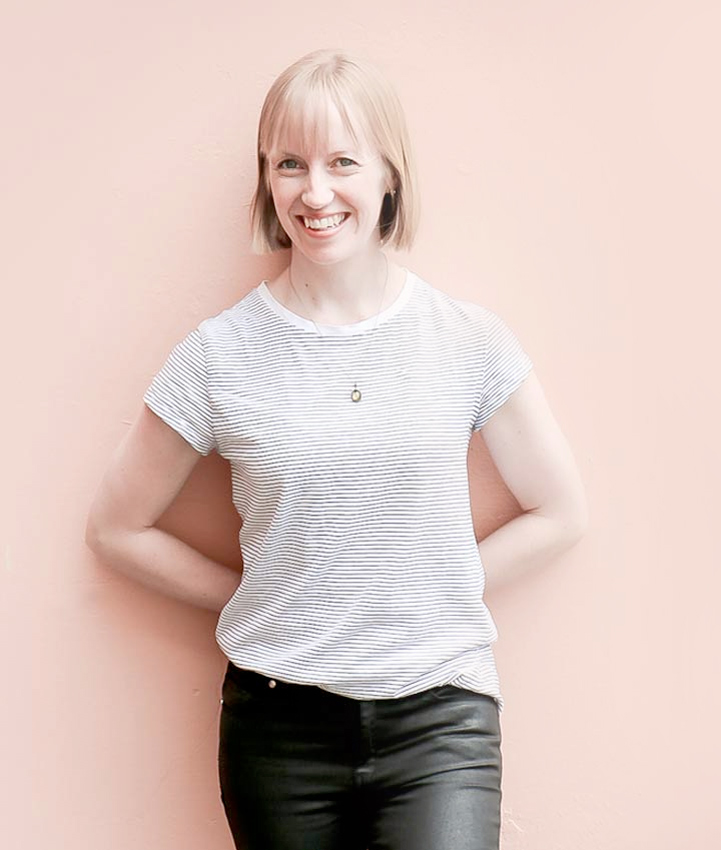 A super easy recipe for mini lemon curd tarts and a few must-know baking secrets to achieving perfect shortbread. A great dessert to serve for friends and family.
I made some lemon curd (lemon honey) the other day using my sister's recipe. We grew up on this stuff and usually ate it spread on toast fro breakfast or sneaking spoonfuls straight from the jar before our mum caught us. Thankfully there is no one to disapprove of me eating it straight from the jar these days 😋
When I'm not eating it straight from the jar, I also like to make no-bake lemon cheesecakes and these mini lemon curd tarts with it to serve as a quick and easy dessert. The tarts are made from an insanely tender and mouth-watering shortbread dough which are baked in a mini muffin tin. Once baked, the tarts are left to cool and are then filled with lemon curd which has been mixed with some greek yoghurt or whipped cream. To finish, I like to add a juicy berry on top along with a dusting of icing sugar.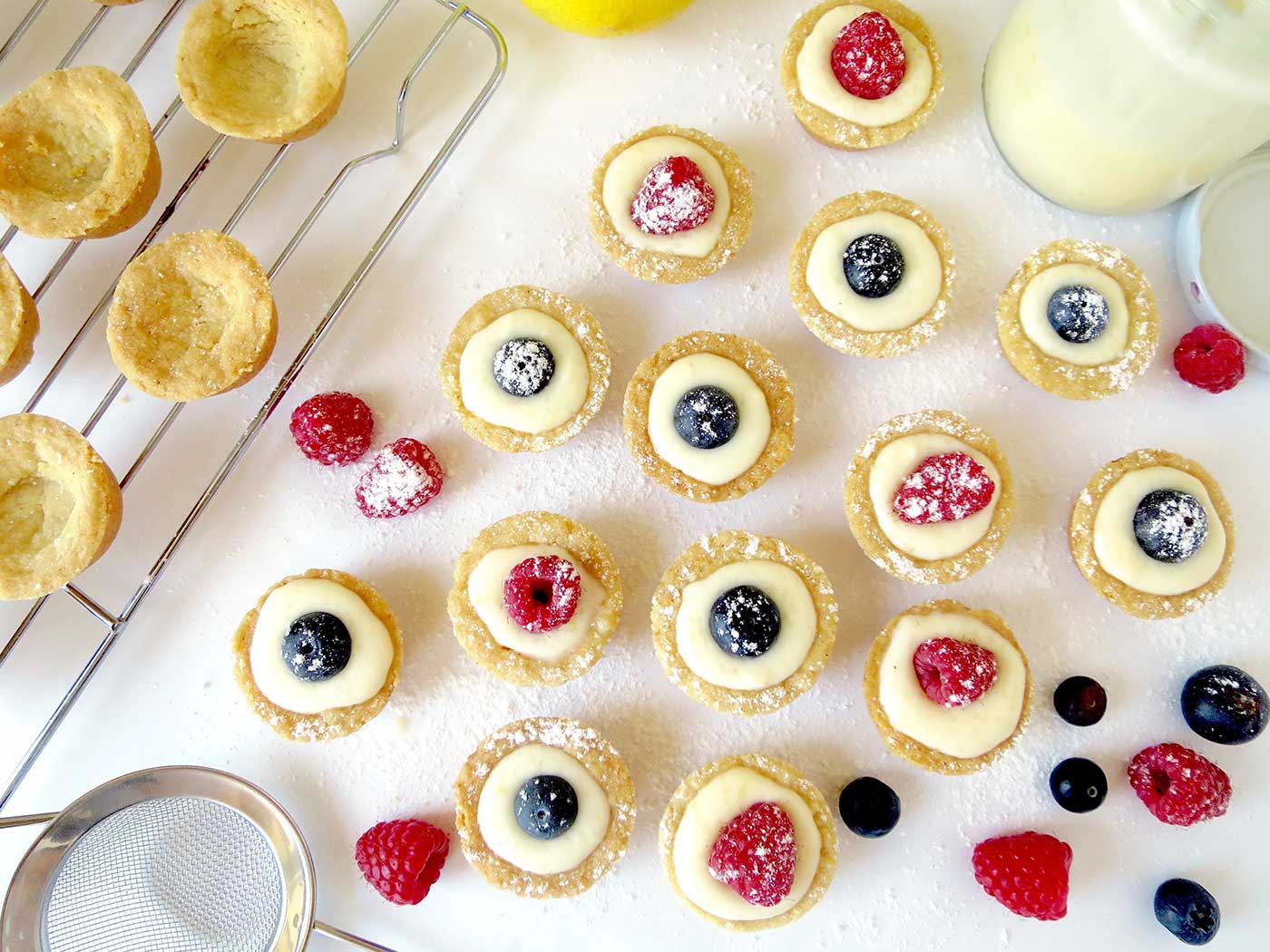 Baking secret: How to get tender, melt-in-your mouth shortbread
(Warning: this gets 'sciencey' ☺️) –
There's a few tricks you need to know in order to make your shortbread the best it can be. The main trick is to limit as much gluten as possible. We need a little bit of gluten to hold the dough together so that our shortbread isn't a crumbly mess, but that's all. Before we get into it, perhaps a quick recap of how gluten is formed might help us understand why we need to prevent it:
How is gluten formed?
Gluten in formed when the two proteins found in wheat flour (gliadin and glutenin) join together – which happens when they meet water. The more they are mixed together, the stronger the gluten strands will be – that's why it's important to not over mix.
So how do we prevent gluten in this recipe?
The recipe below cuts/rubs the butter into the flour mixture. When we cut or rub the butter into wheat flour, the flour proteins are coated with fat which protect them from forming gluten and creating a tough dough.
Adding cornflour. Cornflour lowers the protein content – the lower the protein, the lower the chances of gluten.
Having a high ratio of fat also helps limit gluten.
The little unbaked tarts are kept very cold before baking – this doesn't have much to do with gluten, but rather it prevents the dough from puffing up whilst baking and helps the water in the cold butter to evaporate in the hot oven, enhancing the tenderness of the dough.
…and there you have it, a few special secrets to help you make the best shortbread.
The recipe for the shortbread can be used to make shortbread cookies as well. Sometimes I halve the dough and use one half for the tarts and one half for shortbread cookies. Either way, I hope you give this tasty recipe a go with these baking tips in mind to help you.
These mini lemon curd tarts really do make the perfect summer dessert treat for any occasion. Like a pot-luck party or dessert night. And because they are so little, we can feel better about eating more than one…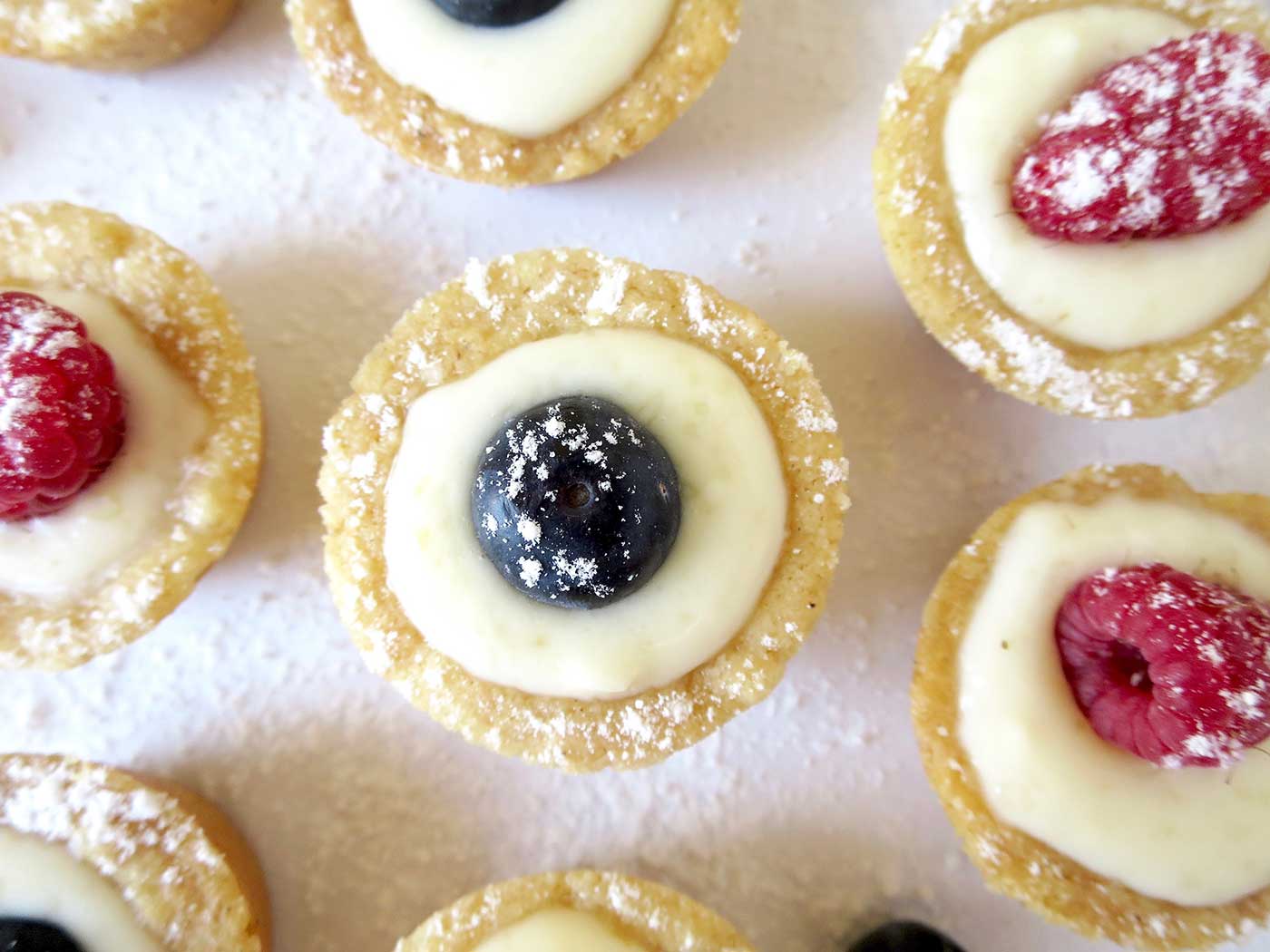 YOU MIGHT BE INTERESTED IN