PASTRY INGREDIENTS
165g (1+1/3 cups) plain flour
60g (1/2 cup) self-raising flour
30g (1/4 cup) custard powder
50g (1/4 cup) white sugar
150g butter, chilled, chopped
1 egg, lightly beaten
1-2 tablespoons iced water
CHERRY FILLING
600g frozen/jarred/canned pitted cherries
1 tablespoon lemon juice
1/2 teaspoon ground cinnamon
65g (1/3) )cup sugar
2 tablespoons cornflour
1 egg yolk, lightly beaten with 1 tablespoon milk
Yoghurt, whipped cream and or ice cream to serve
METHOD

1. Make Pastry: Sift flours, custard powder and sugar into a bowl. Whisk to combine, add butter then transfer ingredients to the bowl of a food processor. Process until mixture resembles fine breadcrumbs. Add egg and process again. Check consistency of pastry dough. If very wet add just 1 teaspoon of iced water. If dry, add more water until the dough is only slightly crumbly. Process until dough just comes together. Turn pastry out onto a large piece of baking paper, and bring it together gently – too much handling will result in a tough, chewy pastry. Shape into a disc and cover in plastic wrap. Refrigerate for 30 minutes.
2. Meanwhile, combine cherries, lemon juice, cinnamon and sugar in a medium saucepan over medium heat. Cook, stirring, for 5 minutes or until cherries have thawed and sugar is dissolved. Blend cornflour with 1 tablespoon cold water in a small bowl. Stir into cherry mixture. Cook, stirring, for 2 to 3 minutes or until mixture boils and thickens. If using unfrozen cherries, add 1-2 more tablespoons of water. Cool completely.
3. Preheat oven to 180C (350F) fan-forced. Place an oven tray in oven. Grease a 4cm-deep, 20cm (base) round pie dish (or use a tin foil pie dish). Roll out two-thirds of the pastry between 2 sheets of baking paper until large enough to line base and side of prepared dish (about 30cm). Line dish with pastry. Trim edge. Refrigerate for 15 minutes.
5. Spoon cooled cherry mixture into pastry base. Roll out remaining pastry between 2 sheets baking paper, to form a 25cm-round. Peel off one layer of baking paper and use the other one to help guide the pastry over the top of the pie. Once in place, peel the remaining paper off and crimp the pasty edges with your fore finger and thumb press to seal. Poke pastry with a fork several times and brush pastry top with a little egg and milk mixture. Sprinkle with extra sugar. Place pie dish on heated tray in oven. Bake for 40 to 45 minutes or until pastry is golden and crisp (cover pastry edge with foil if over-browning). Stand for at least 20 minutes before cutting.
By Sarah Sears
Adapted from Taste


PRO TIPS, TRICKS & EXTRAS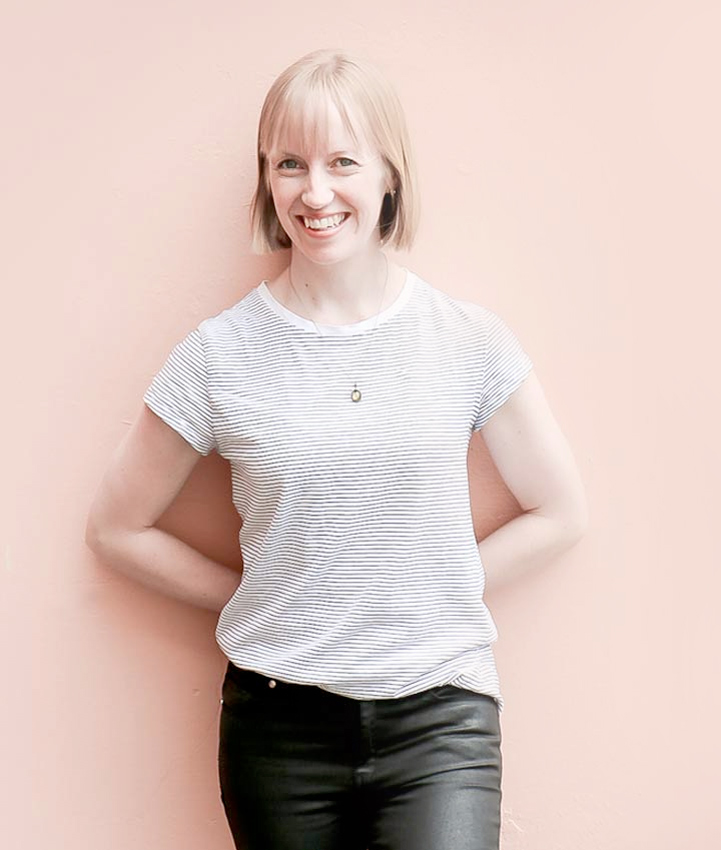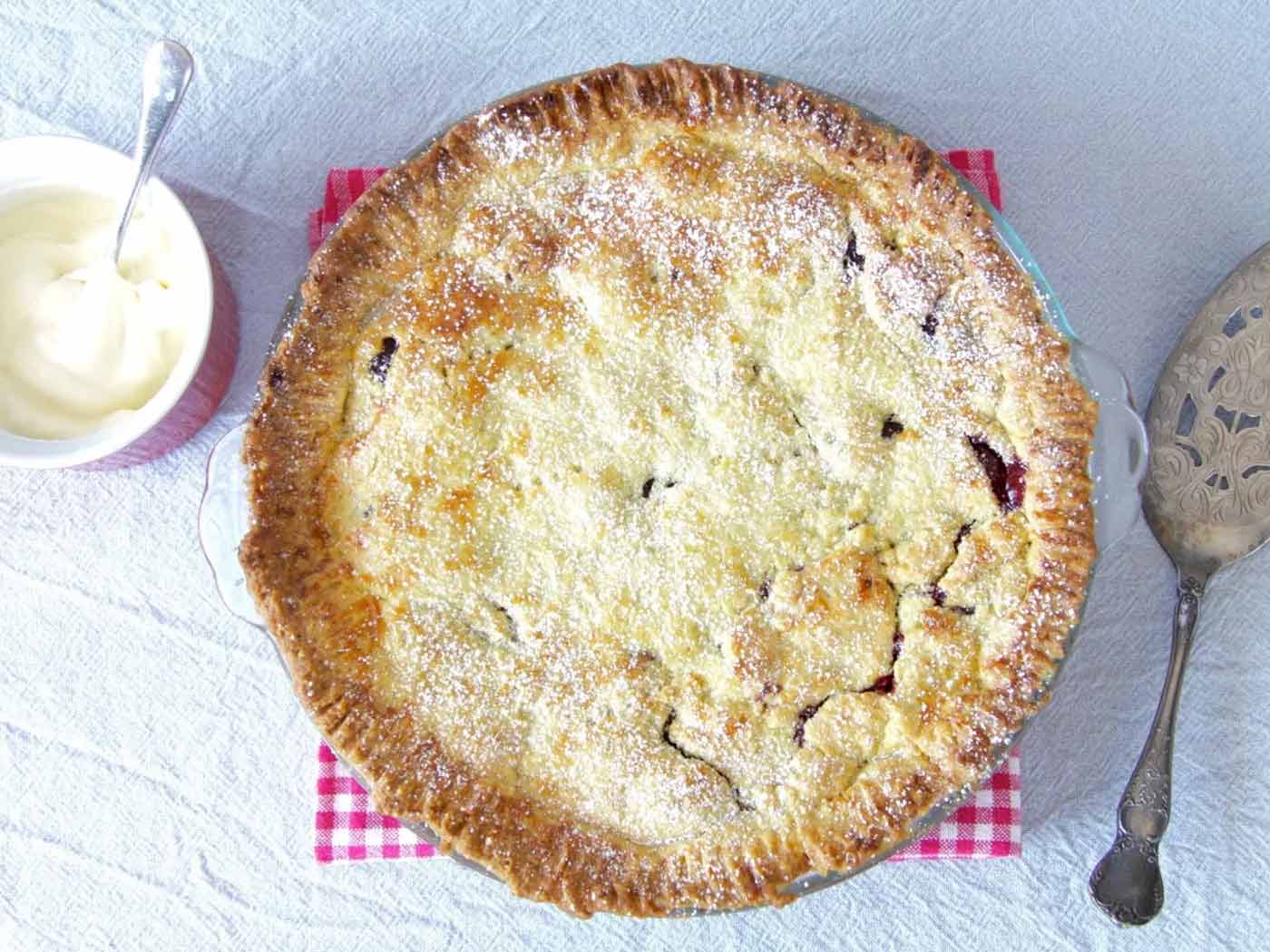 A tart yet sweet cherry pie with a mouth-watering pie crust
Until recently, I hadn't ever made a cherry pie before. Now that I have, I will be making it again and again and again. I used this recipe to teach at a friends hen's party and the recipients seemed to be big fans of this recipe, I'm sure you will be too.
This is a super easy recipe that you'll be able to prepare for guests in advance so that you can enjoy their company instead of being a slave to the oven. My favourite way to eat it is with a generous helping of greek yoghurt folded through whipped cream.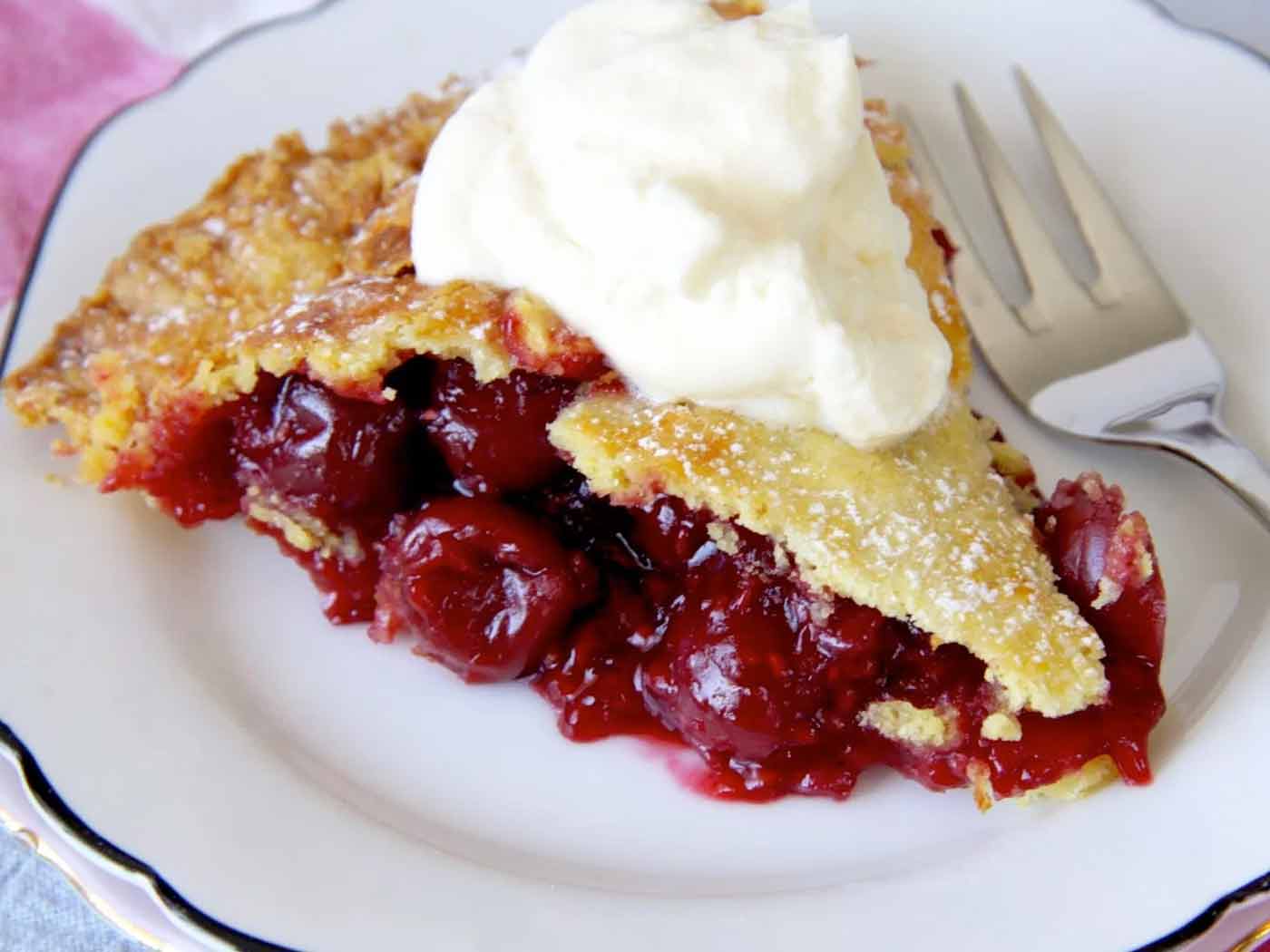 I must admit that I was a little impatient to wait for the pie to set before taking this photo. Once baked, the pie should be left for 20 minutes or so to do it's thing. This piece was cut after 5 minutes of waiting so the filling spilled out the sides, which to be honest wasn't all bad. But if you'd like a firm, set filling it pays to wait a few more minutes.
Tips for making this cherry pie:
I urge you before making this pie to have a quick read of these pastry tips here and here. These posts explain why you need to make sure your butter is stone cold as well as offering tips for when rolling your pastry out. It'll save you a lot of angst and time.
When adding the cornflour to the filling, make sure you use cold water and not hot otherwise the cornflour will loose it's magic. Also, when stirring the cornflour into the filling try not to over mix as this will break the strands formed when the cornflour is heated which makes it thick.
When adding water to the pastry, check the consistency of the pasty first. Depending on how hot it is in your kitchen, you may not need more than 1-2 teaspoons of water. Adding too much will result in a sticky/hard to work with mixture and adding not enough will make a dry and crumbly dough.
Variations:
There are a lot of variations to this pie filling and depending what's in season/available at your supermarket you can try all sorts of delicious combinations:
Replace half the cherries with frozen/fresh raspberries, or sliced
apple
If you like a lemon zing, add 2 teaspoons of finely grated lemon rind to the pastry when adding water.
To make it even more decadent add 1/2 cup chopped dark chocolate to the cooled cherry filling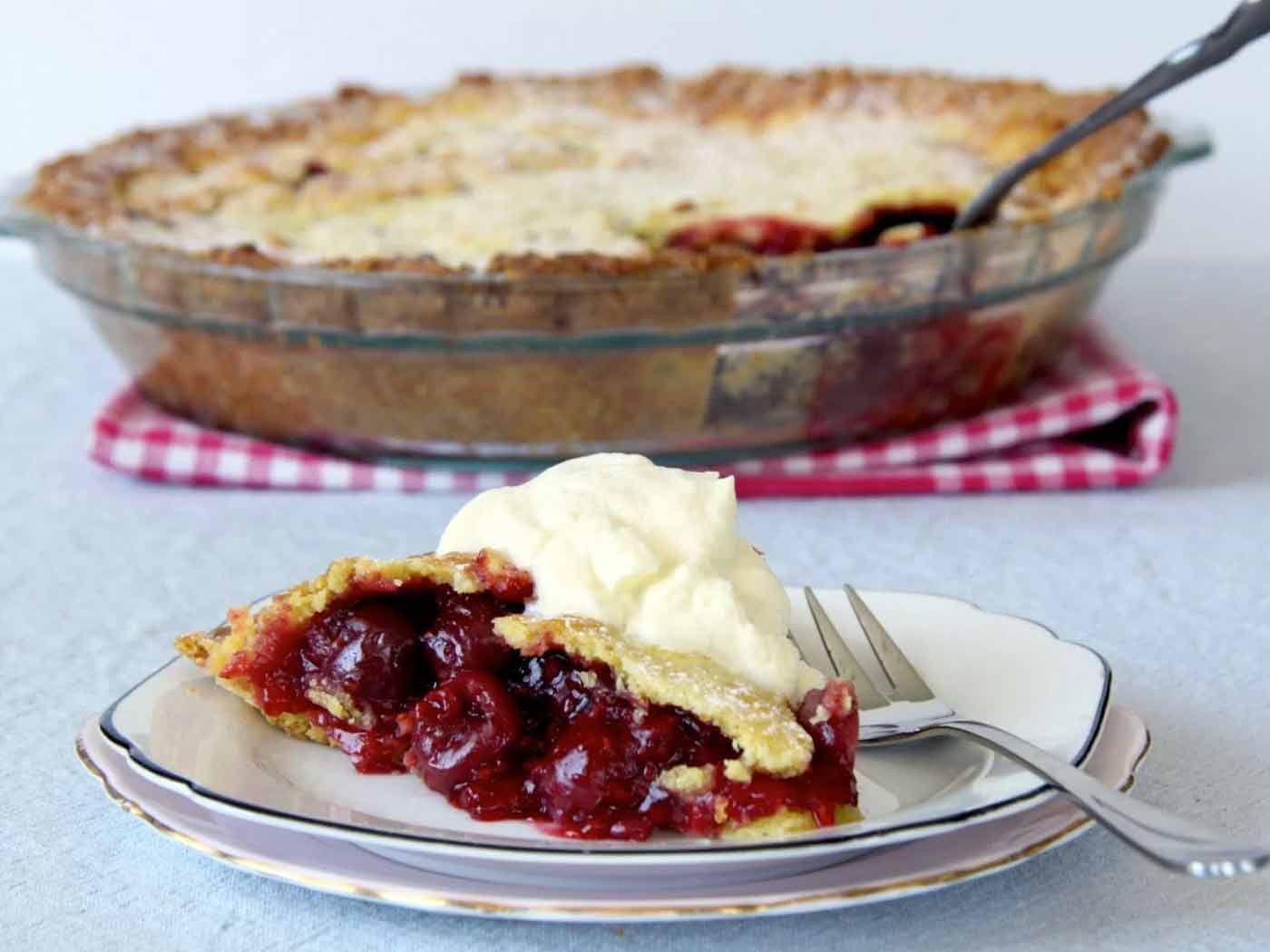 YOU MIGHT BE INTERESTED IN