BASE INGREDIENTS
1 + 1/2 cup cookie crumbs (e.g. 250g Digestive/Super Wine biscuits, 130g Graham crackers, etc.)*
70g (about 1/3 cup) butter, melted**
FILLING INGREDIENTS
280g (1 + 1/4 cup) castor sugar
Zest of 2 lemons
750g (26 ounces) cream cheese, at room temperature
2 teaspoons vanilla extract
1/4 teaspoon salt
3 eggs, room temperature
Juice from 2 lemons (about 1/4 cup)
190g (3/4 cup) sour cream, room temperature
TOPPING INGREDIENTS
190g (3/4 cup) sour cream
30g (1/4) icing sugar, sifted
1 teaspoon vanilla
2 tablespoons lemon curd (optional)
METHOD

1. Line the bottom of a 9 inch (23cm) spring-form cake tin with baking paper and grease the sides with butter or oil. Preheat the oven to 160C (325F).
2. Combine cookie crumbs and butter. Mix with your hands until combined then press into prepared tin.
3. Using your finger tips, rub the lemon zest and sugar together in a large bowl until fragrant. Add cream cheese and mix with a large spoon until smooth. Add vanilla and salt. Beat in 1 egg at a time (by hand), making sure each egg is well incorporated (be careful not to over-mix). Add lemon juice and sour cream and continue to mix until everything is well combined.
4. Pour cream cheese mixture over the cookie crumb base and place in oven along with two oven-proof ramekins of water. Bake for 25-30 minutes or until the edges of the cheesecake come away from the cake-tin and the center is 'jiggly'. Turn the oven off and leave the cheesecake in the oven for at least an hour with the oven door ajar. Once the cheesecake has completely cooled, remove from the oven and refrigerate for at least 4 hours (or overnight).
5. Prepare topping: Combine all topping ingredients in a small bowl and mix until combined. Spoon over cooled cheesecake. Decorate with lemon slices and lemon zest if desired.
NOTES
* To get cookie crumbs, either blend them in a food processor or place them in a bag and bash them with a rolling pin.
** Depending on what cookies/crackers you use, you may need more or less butter. Add enough butter until you reach 'wet sand' consistency. For a heavier biscuit like Digestives, I use 90g of butter.
*** The cheesecake will be very jiggly in the middle after 25-30 minutes and will look as if it isn't baked properly – don't be fooled though! This is the time to turn the oven off as the cheesecake will continue cooking and setting as it cools.
**** Make sure all your ingredients are at room temperature to allow for easier mixing and to ensure all ingredients combine well.
By Sarah Sears


PRO TIPS, TRICKS & EXTRAS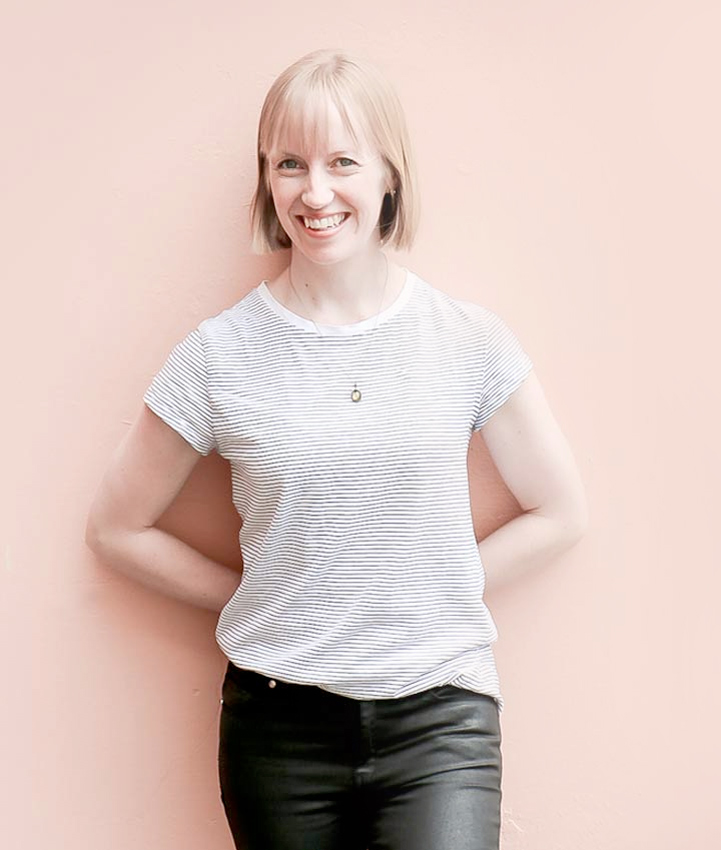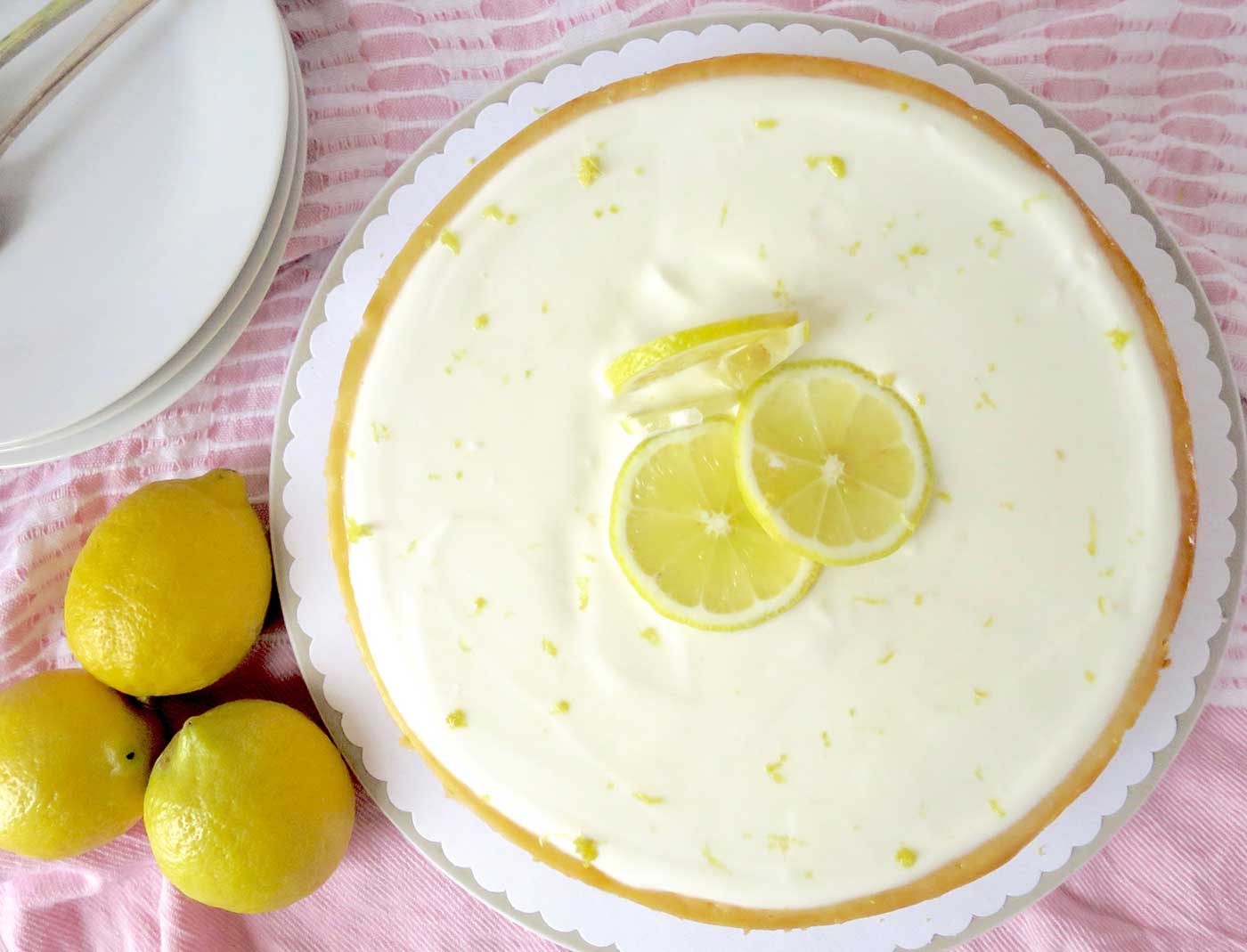 Baking a cheesecake should be nothing but a pleasure and this hassle-free lemon cheesecake recipe is just that. No water-baths and no mixer needed here!
I have a secret to confess… I'm scared of making cheesecakes! Well at least I used to be. I don't know about you, but I've had my fair share of baking disasters and making a cheesecake for the first time was one of them. It was a no-bake cheesecake that I had prepared for some friends who were coming over for dessert. All was fine until I took the cheesecake out of the pan to find that it hadn't set properly at all which resulted in a sea of cheesecake all over the table – not ideal!
It was a long time before I plucked up enough courage to give cheesecakes a second go. I eased myself into the baked cheesecake world starting with mini cheesecakes first, then progressing to a normal sized baked cheesecakes. I'm so glad I did, because not only are they delicious, they're actually really easy and the oven does most of the work for you!
This lemon cheesecake with sour cream topping recipe is proof that baking cheesecakes is not a scary process, so if you've been a little too afraid to test your cheesecake abilities, this recipe is the one to start with.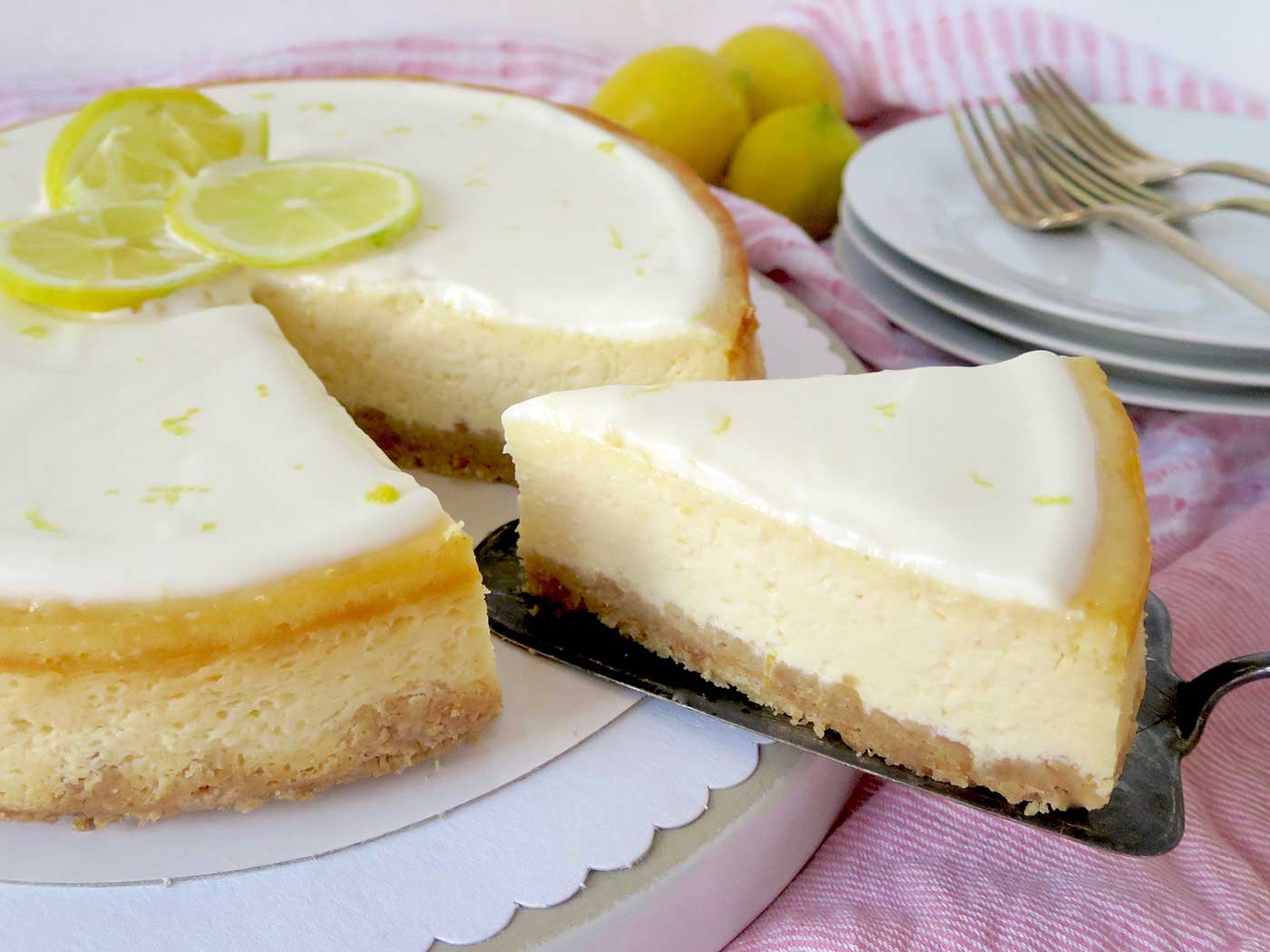 Here's why this lemon cheesecake is so easy and hassle-free:
No pesky water-baths are needed for this lemon cheesecake recipe! I've never been a fan of water-baths, somehow I always managed to get water in my cake-tin… We do need a little moisture to prevent cracking and to help produce a creamy and silky texture though, so we do this with two oven proof ramekins filled with water instead.
No hand/stand mixer is needed (this means one less appliance to get out for the job)! In fact, the cheesecake is a lot better without it. We don't want to create much air in the cheesecake batter, so a spoon, mixing bowl and a little elbow grease is all you need to do the trick.Just be sure that all your ingredients are at room temperature to allow for easier mixing.
No need to scrape the sides of the cake-tin! Some cheesecakes are notorious for getting stuck in the pan and are easily ruined when trying to do so. As this lemon cheesecake cooks and sets, it comes away from the cake tin making it super easy to take out of the tin. I also like to line the bottom of the spring-form tin with baking paper to make it easy to transfer onto a plate.
Here's why it is so, so yummy:
Lemon zest is rubbed into the sugar before it is mixed with the cream cheese. This releases the oils form the lemon zest into the sugar, enhancing the lemon flavour (you might remember doing that here).
Sour cream is added to the filling for extra creaminess and tanginess.
A sour cream topping is added to take this lemon cheesecake to the next level and to make our guests beg us for more.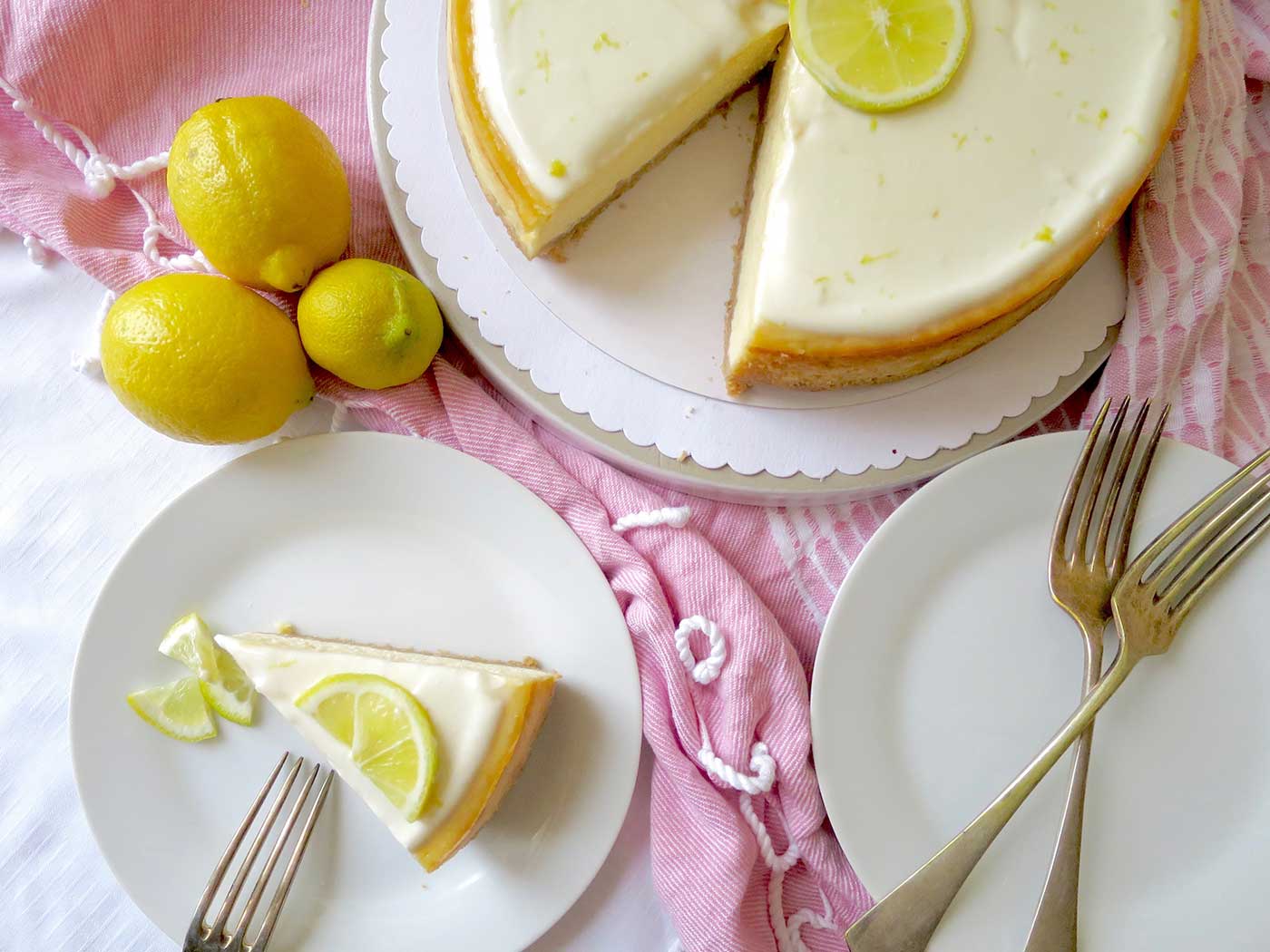 Fun cheesecake fact:
Have you ever realised that a cheesecake is really just a custard that is made with cream cheese instead of milk? I hadn't until recently. Like all custards, there are two ways of making them – with and without a starch (e.g. flour). Cheesecakes with starch tend to be a little firmer and coarser in texture however this helps prevent cracking. Cheesecakes without starch are much creamier and smooth in texture and rely on eggs as their thickening agent and need to heated and cooled gently.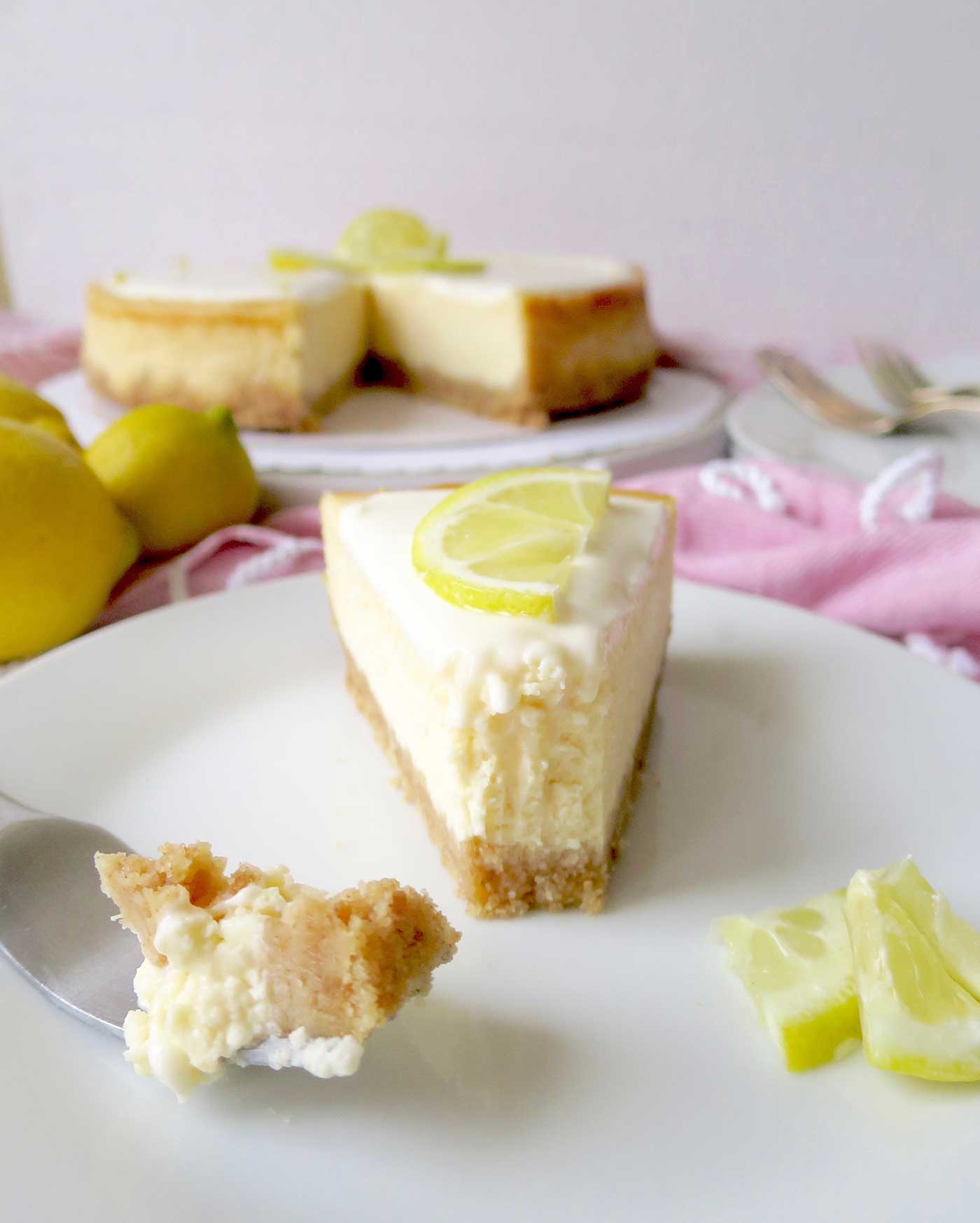 A good cheesecake has to be up there with one of the best desserts ever, or at least that's how I feel about them. Even Kevin, who doesn't have much of a sweet tooth, can't resist them. Hence, I thought it was about time I shared a cheesecake recipe with you. I hope you enjoy!
Do note that cheesecakes like to take their sweet time (excuse the pun) and thus they need to prepared ahead. They need at least 4 hours or even better, overnight in the fridge before serving. I promise the wait is worth it!
Stay tuned for next week's post where I get 'sciencey' and reveal all the secrets to ensuring crack free cheesecakes. In the mean-time, here are some helpful tips on baking cheesecakes from experienced cheesecake bakers:
YOU MIGHT BE INTERESTED IN