PREP TIME: 
35min (inlcudes chilling time)



INGREDIENTS
Pastry: *
310g (2 1/2 cups) plain flour
25g (2 tablespoons sugar)
1 teaspoon salt
225g (1 cup) cold butter, diced
125ml (1/2 cup) cold buttermilk
TOPPING
1 cup fresh berries (or thinly sliced peaches, apples, pears etc.)
Zest of 1 lemon
50g (1/4 cup) sugar
1 tablespoon almond meal (or semolina)
1 egg yolk mixed with 1 tablespoon milk
METHOD

1. Make the pastry: In a medium sized bowl, sift the flour, sugar and salt and whisk to combine.
2. Cut the butter in using a food processor, pastry cutter or rub the butter in with your finger tips until the dough resembles large and small 'clumps' of buttered flour.
3. Add the buttermilk and using a fork, bring the dough together (or use your hands). Form the into a ball and cut in half. Flatten each ball with your hands to form a disc shape and wrap in plastic wrap and place in the fridge for at least 30 minutes. Note that this will make enough for two large galettes. Double to topping to make two, or place one pastry 'disc' in the freezer for another time. Meanwhile, preheat the oven to 190C (375F).
4. Make the topping: Combine the berries, lemon zest and 1 tablespoon of the sugar in a bowl and gently mix together. Set aside. Place the dough on a piece of baking paper then place another piece of baking paper on top (the pastry should be sandwiched in-between the paper**). Roll out the pastry dough in a circle (roughly 26cm/10 inches in diameter).
5. Take the top layer of baking paper off, and place the pastry and remaining baking paper on a tray. Sprinkle the almond meal over the pastry, and add the berries, making sure to leave 2-3cm from the edge. Fold the edges in to enclose the galette. Using a pastry brush, brush the egg and yolk mixture over the galette and sprinkle the remaining sugar all over the galette.
6. Bake for 35-40 minutes or until golden brown. Serve with ice cream, whipped cream or yoghurt. This galette can be enjoyed cold too.
NOTES
* Note that this pastry makes enough for two 26cm in diameter galettes. I like to freeze one half for another time, but if preferred, just halve this recipe.
**This helps prevent the pastry from sticking to the bench and makes it easier to roll. Omit this step if preferred.


PRO TIPS, TRICKS & EXTRAS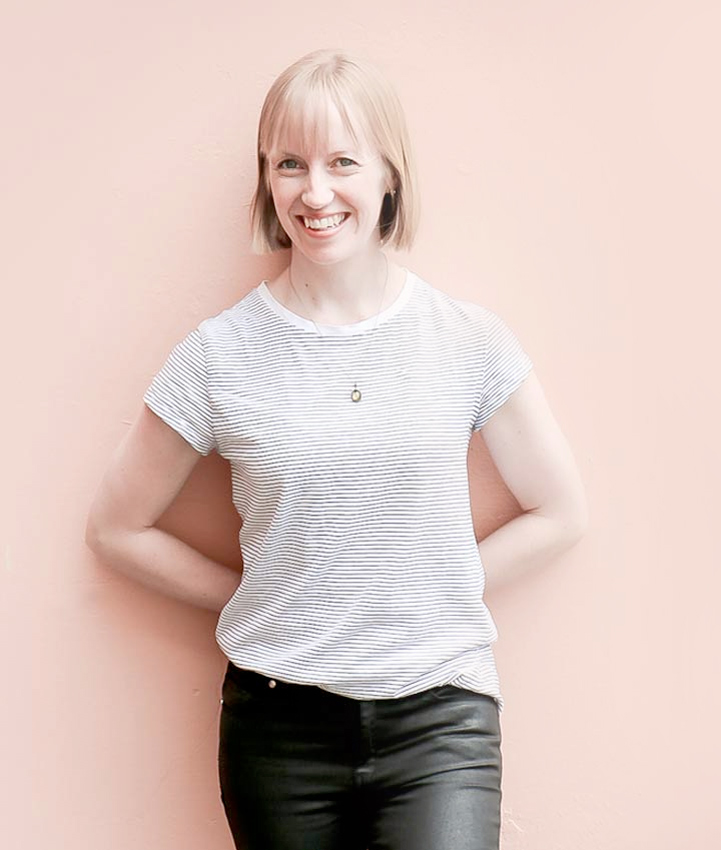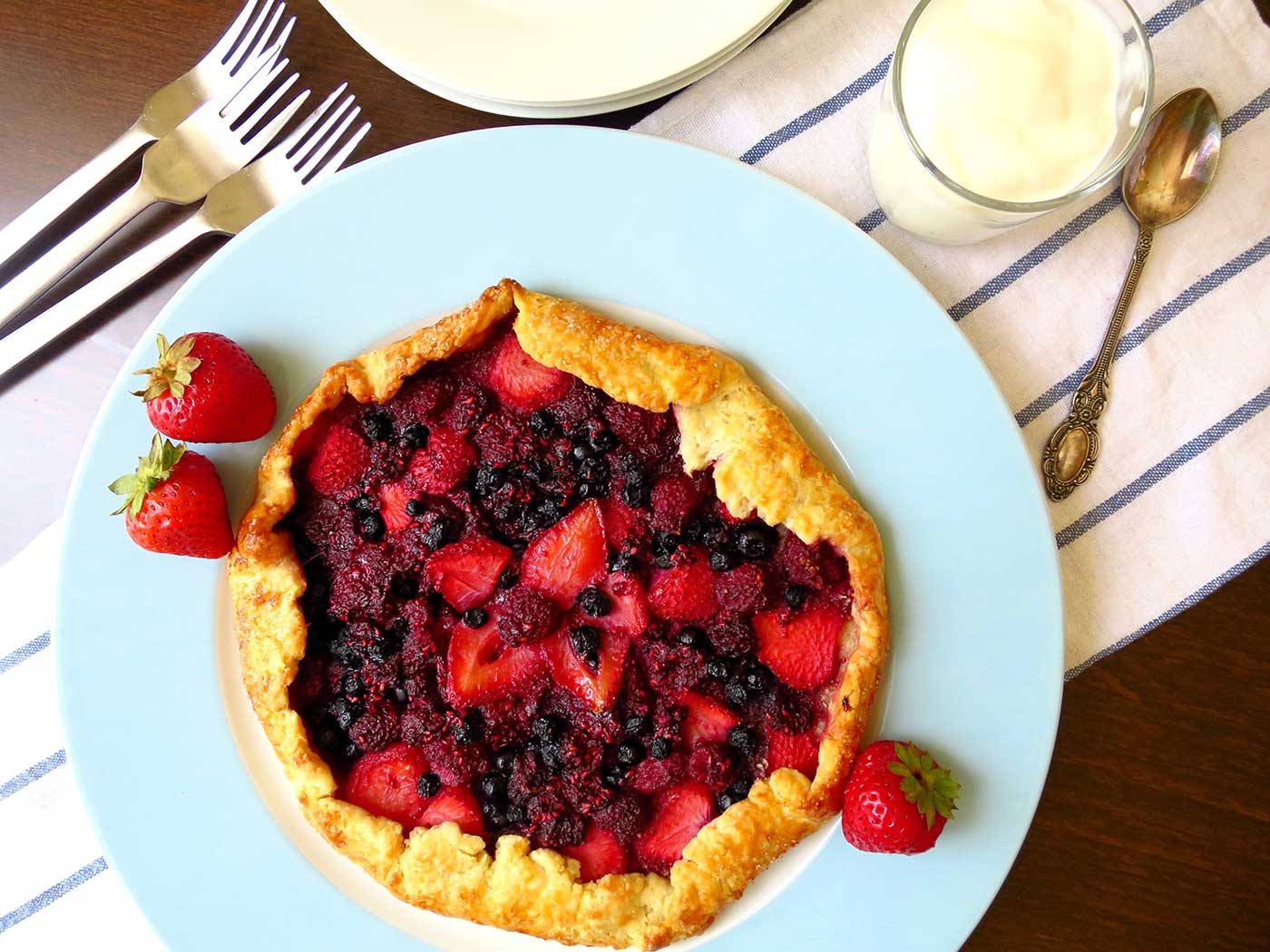 A free-from pie topped with fruit – the perfect thing to serve for brunch or dessert!
This fresh berry galette recipe comes with all the baking secrets you need to know about how to make a galette.And, it's made of pastry so flaky, it melts in your mouth…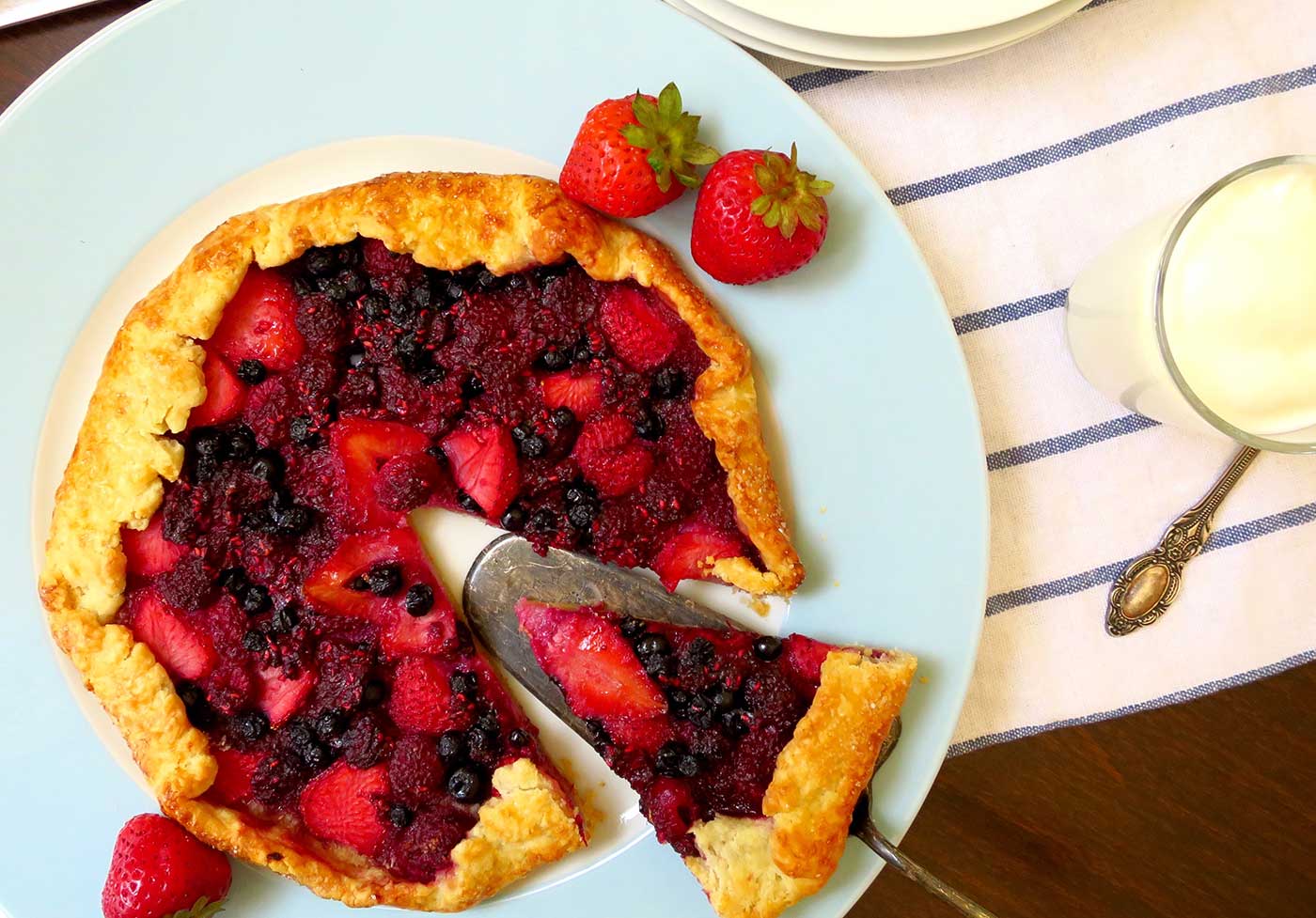 Last week we talked about how to make quick and easy pastry dough and this week we're using it to make a delectable fresh berry galette which is perfect to serve for breakfast, brunch, or dessert. It's one versatile dish.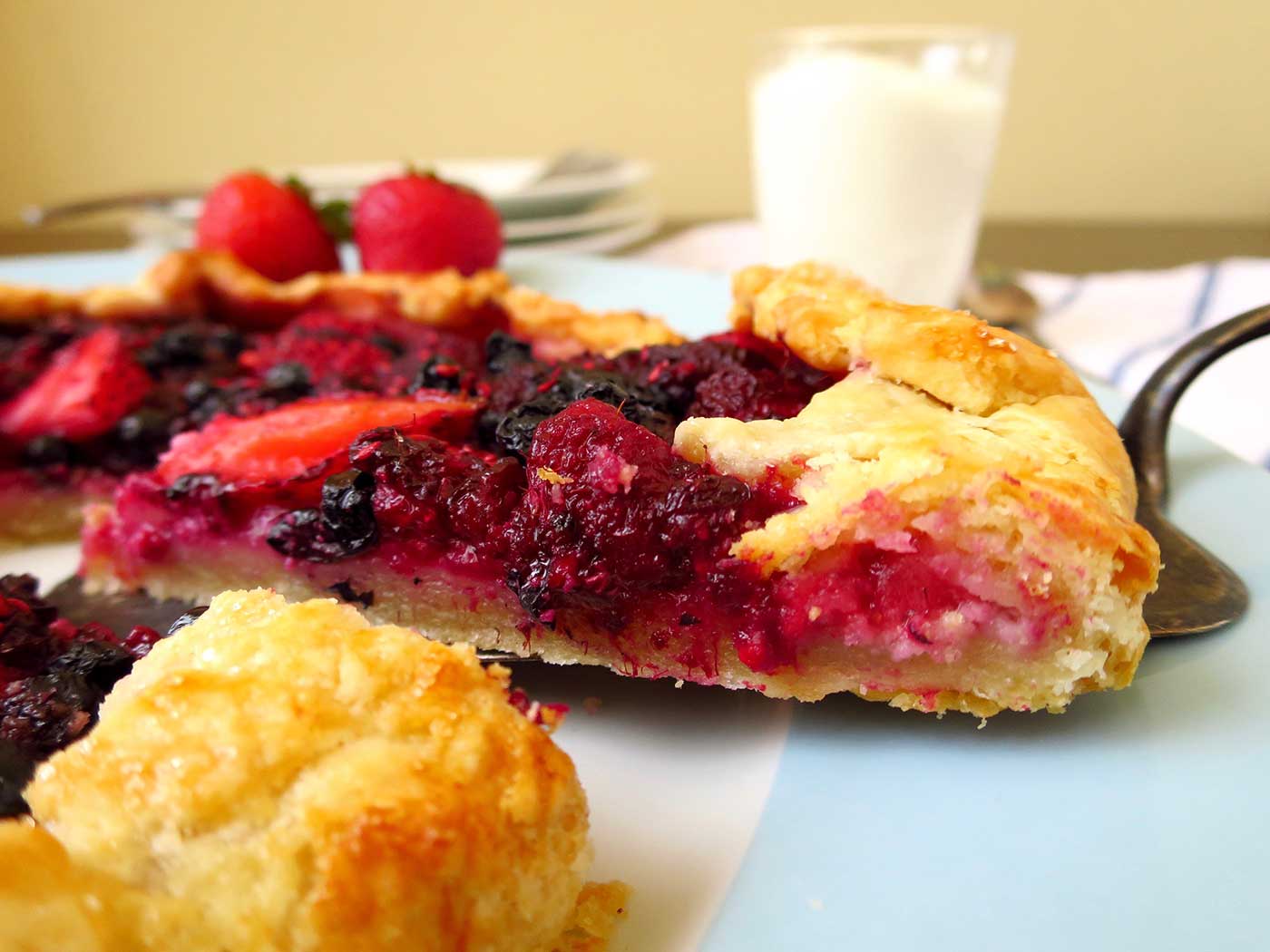 If you're not familiar with galettes, they're basically a pie but better because they are less time consuming to make but taste just as good. They involve rolling out pastry dough, adding desired toppings and folding the edges of the pastry in towards the middle, to enclose the toppings. Super easy and super delicious.
They remind me of my sister, who always made the best apple galette.
Speaking of which, apples make a great topping to this galette, as does any other fruit that you have lying around in your fruit bowl.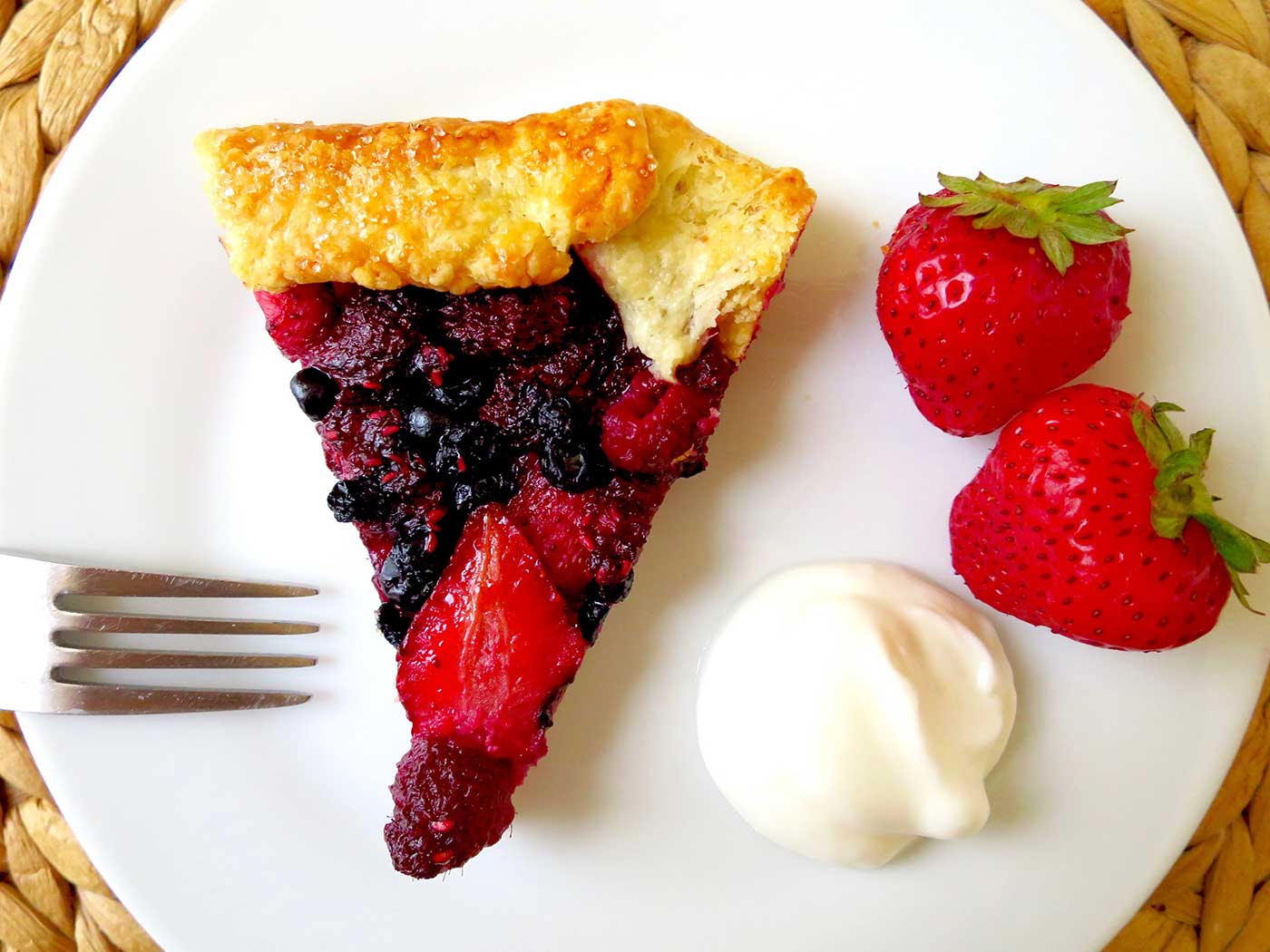 Galette Baking Secret:
See this flaky, non-soggy crust (pictured above?). Well there is a handy trick you need to know to get it and that is:
Sprinkle almond meal, semolina or even coarse flour over the pastry before adding your filling. This helps soak up the liquid from the topping and avoids a soggy crust. Also, be sure to bake it for the entire required time. Sometimes the topping looks done but the crust needs longer.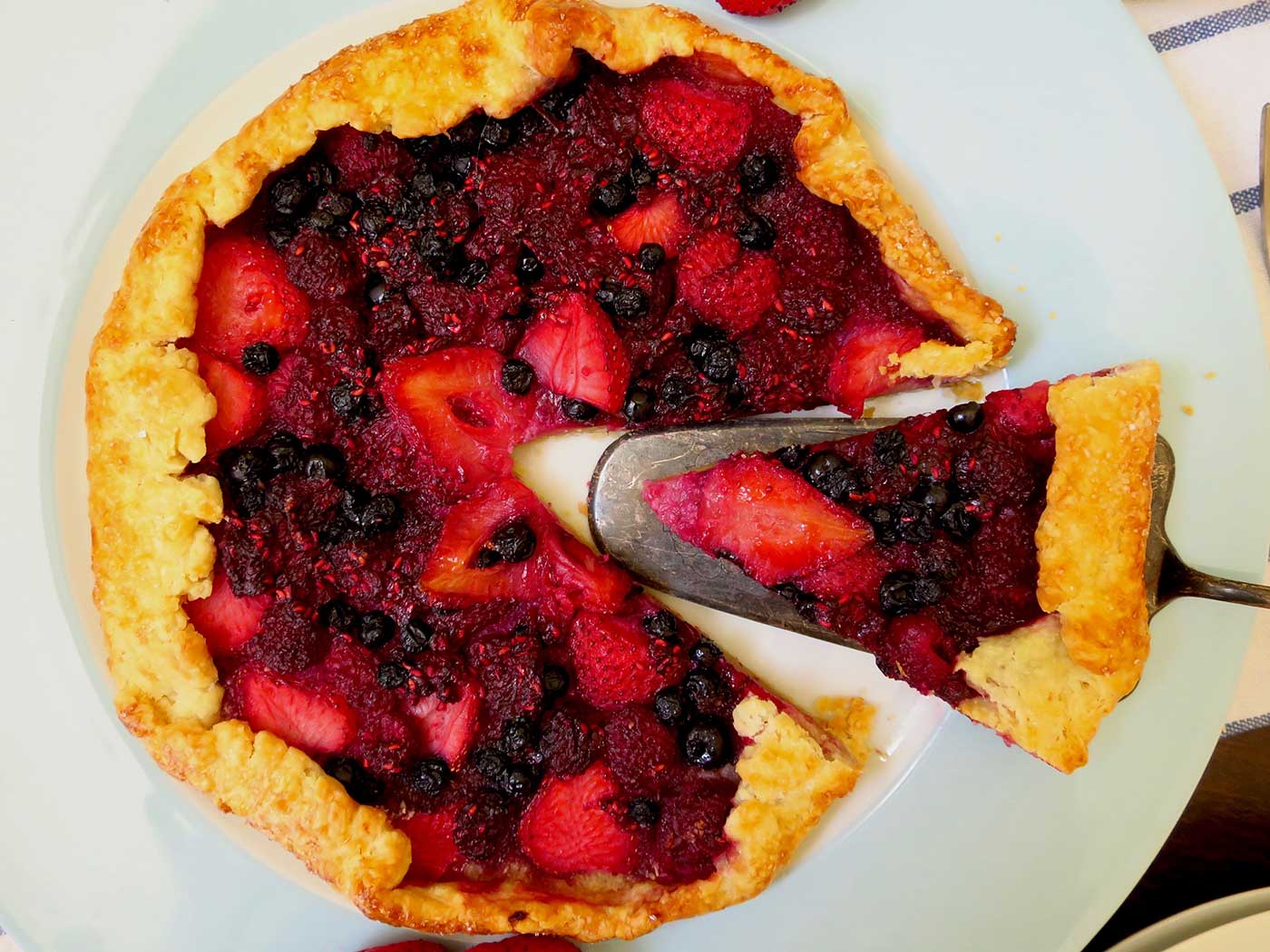 Pastry Rolling Baking Secrets:
Galettes require you to grab your rolling pin. But don't worry, if you've ever had trouble rolling out pastry before, then I hope this little tip helps.
Instead of of rolling the pastry out on a floured surface, I like to use two pieces of baking paper with the pastry sandwiched in-between. It makes pastry rolling much easier and you don't need excess flour which can often dry the pastry out. Once finished, simply peel the top layer of paper off and place the bottom layer and pastry directly onto the baking tray – so easy!
As follows: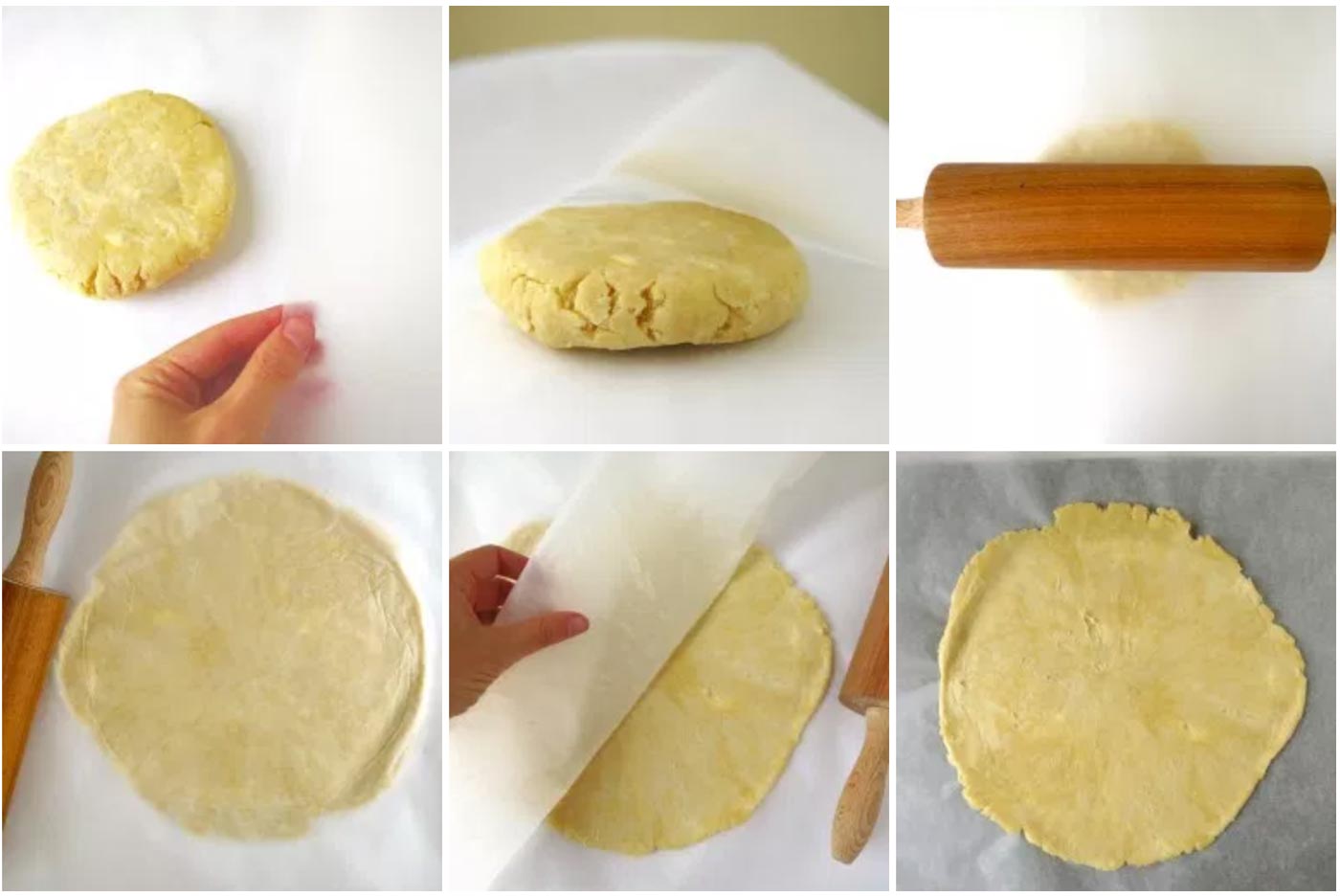 How to assemble a galette:
Once you have rolled out your pastry, sprinkle the almond meal on top, add the berries (or other fruit), fold in the edges and brush with egg wash. Sprinkle sugar on the fruit and pastry and bake!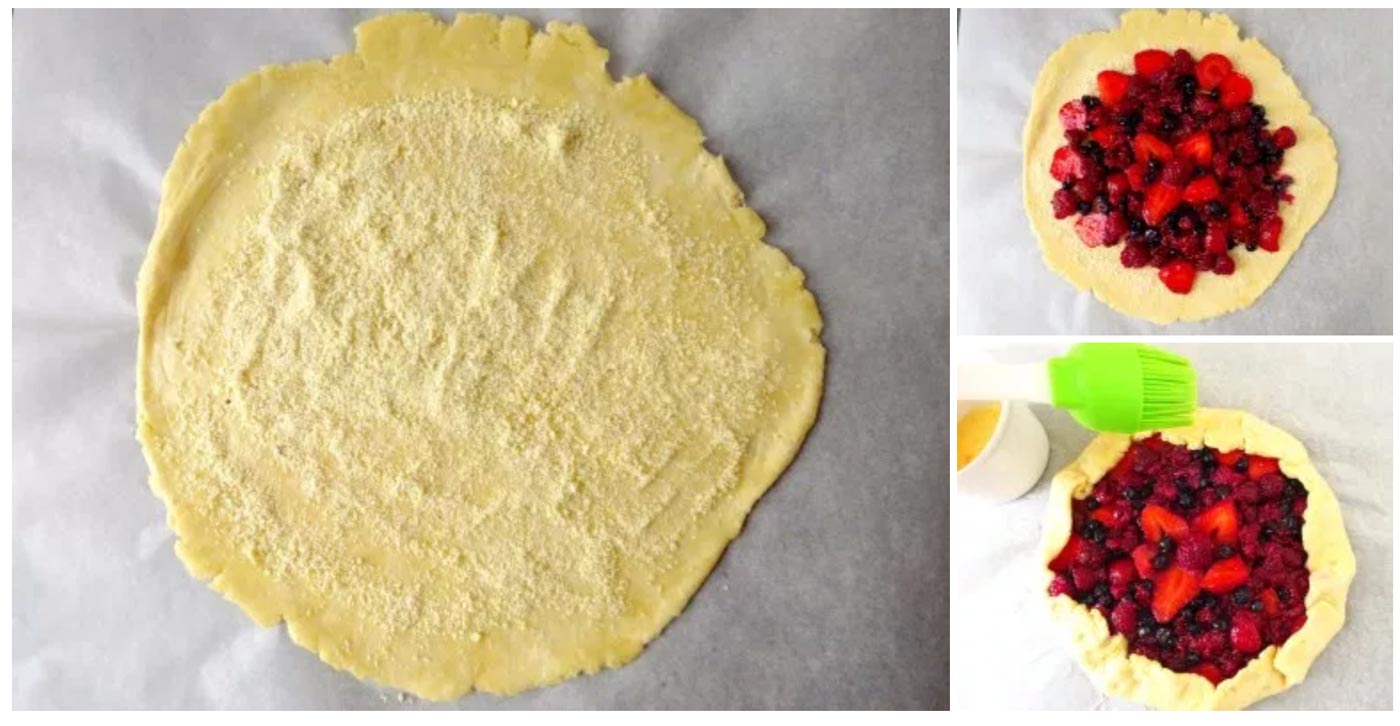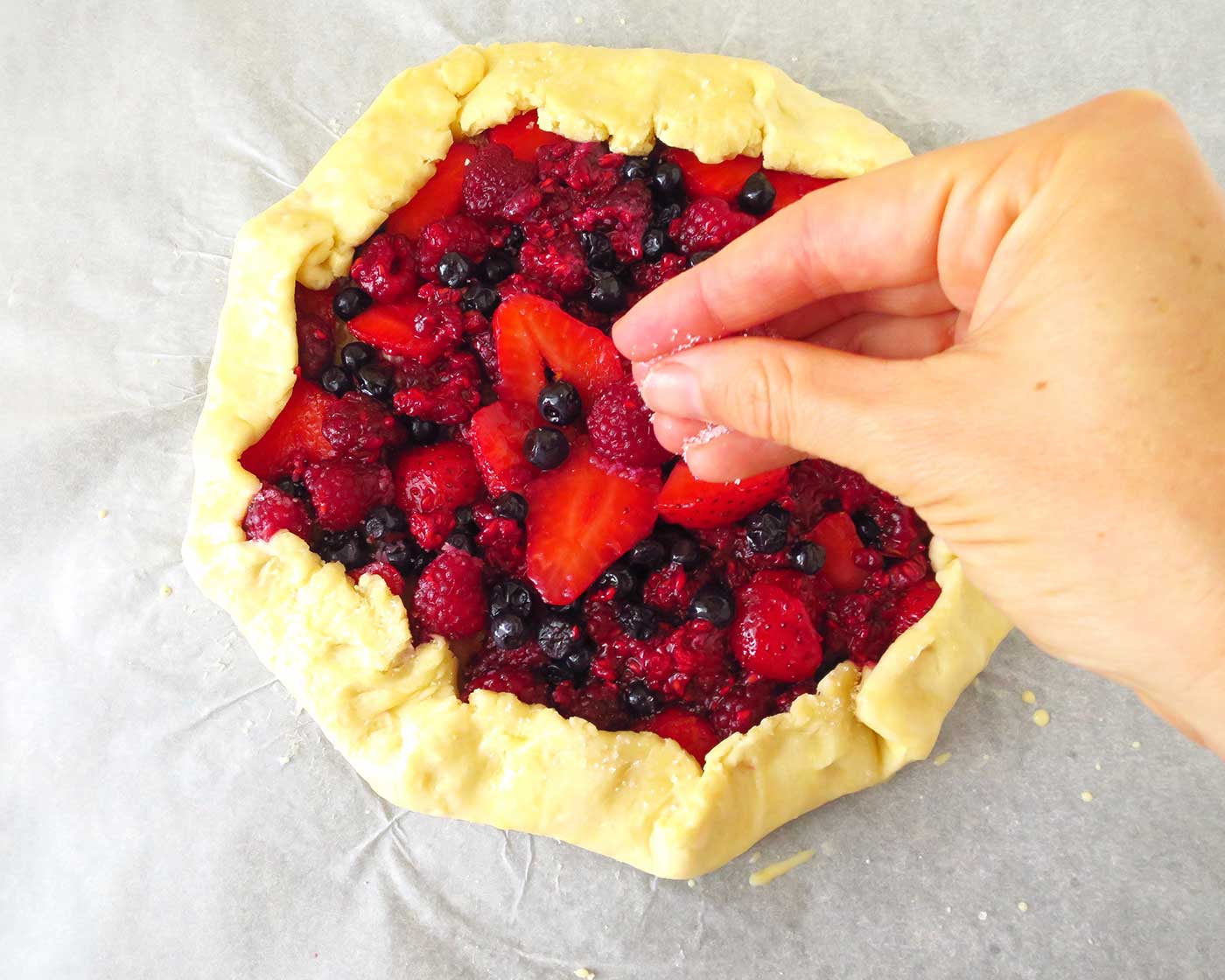 Easy as pie, right? (pun intended).
For more pastry making tips head to this guide. 
YOU MIGHT BE INTERESTED IN